Sarria is one of the most recognized places in the Camino de Santiago. It is located in the province of Lugo, just over 100 km away from Santiago.
This place marks the minimum distance to walk to Santiago along the French Way in order to obtain the so coveted Compostela.
Due to the short distance between Sarria and Santiago, it becomes a great option for all types of pilgrims, including families with children or pilgrims with their dogs.
Along this course, no pilgrim ever walks alone. Stage after stage, bonds of friendship are forged, so if you are thinking about undertaking the Camino on your own, Sarria is one of the best possible starting points.
ADVANCE INDICATIONS
Before venturing into the Camino, we believe there are a few things we need to point out so you can have a clearer idea of what you should expect.
Although we have already posted an article with tips to organise your Camino, here we will focus on them from the point of view of a pilgrim who is going to start from Sarria.
HOW DO I KNOW IF I AM PREPARED?
Perhaps you are worried or scared of becoming a pilgrim because the Camino might be too hard.
While the Camino will certainly challenge you at some points along its course, that is part of its essence. Overcoming them is the reason why many pilgrims dare to immerse into the Jacobean routes, spending days or even weeks in achieving their goals.
We can assure you that walking into Santiago's Praza do Obradoiro and seeing the cathedral will be worth all the effort.
Preparing yourself for the Camino from Sarria is not complicated and does not require big sacrifices. Simply, adopt a few habits that will improve your physical condition to face this adventure:
2 or 3 months before your Camino: start walking longer distances than what you usually do, so that your body joints get used to it.
3 or 4 times a week: that is the ideal frequency for your training. Just spend between one and a half to two hours.
Try different types of ground: this way, you will be prepared for all the different grounds you will find along the stages
Use the footwear and the backpack you will take to the Camino: towards the last couple of weeks of your training, you should try with a loaded rucksack to simulate the actual Camino. Remember that, in order to avoid getting blisters, you should never take brand-new footwear to the Camino.
WHEN DO I DO THE CAMINO?
Choosing the time of the year when you will undertake the Camino is vital in order to plan your experience.
If you do it in summer, you will need to carry thinner clothes than in winter, where you will need thicker clothes to protect from the cold and possible rain. In Galicia, the winter can become a real challenge for any pilgrim.
Likewise, temperatures in summer do not reach too high a level, although you might well coincide with a heat wave that will cause you extra tiredness, making constant hydration a key aspect of your day.
In our opinion, spring and autumn are the best seasons to embark on the Camino. Temperatures are mild and, moreover, the course will not be as crowded as it might be in summertime.
HOW DO I DO THE CAMINO?
The Camino from Sarria can be done in three different ways on foot, by bycicle and on horseback.
Given it is just a 5-stage route with little more than 100 km, we recommend to walk. This way, you obtain the Compostela, whereas if you do it cycling, you will need 200 kilometres to get the certificate.
BY GROUP OR BY YOURSELF?
Depending on what you are looking to get out of this experience, one option might be more convenient for you than the other. Below, we list some of the advantages of each of them so you can consider which one suits you better:
Group
Time-saving.
Good for all ages: with children, elder people, families…
More safety: you will always have support from guides and other pilgrims.
Specialised guide: travelling by group makes having a guide more affordable, and you will ensure you do not miss any secrets or curious facts along the way.
Have a look at our reduced organised groups of up to 10 persons, our departure dates and everything we offer.
Alone
Your call: you set the pace, when and where to stop, etc.
Find and discover yourself.
Meet other pilgrims: people in the Camino are very open and social, so you will always find someone to get on with.
Bonus: with your dog:
Why not enjoying this fantastic experience with your loyal friend?
They deserve to live this adventure, too, which will bring you closer together.
We must say it might not be easy. It requires previous physical and behavioral training, as well as following a few guidelines to avoid mishaps, ensuring that your best friend has the best time and does not suffer at all.
You need to keep in mind, also, that finding accommodation that accept pets along the course of the Camino is no easy task. That is why we have gathered a few of them and listed them here: accommodation to do the Camino with your dog.
WHY TO DO THE CAMINO FROM SARRIA
As we have already mentioned, this route can be done in just 5 stages, the last ones before Santiago.
If this is your first time in the Camino and you do not want to risk doing a longer route in one go, this is the best option to try out the pilgrim adventure and obtain the Compostela.
It might be that you cannot spend more than one week in the Camino to reach the cathedral and hug the apostle. This part of the Camino takes just 5 walking days with 6 nights in total, depending on whether you want to spend the night in Sarria before setting off and in Santiago once you have finished.
Plan your adventure!
We can fill you in, no strings attached!
HOW TO GET TO SARRIA
In our pilgrim blog, we have another post where we provide very detailed information about the public transport options and their timetables to get to Sarria.
Additionally, we list all the possibilities from the main Spanish cities, whether it is directly to Sarria or via Santiago de Compostela or Lugo, places from where you can easily reach Sarria.
WHERE TO SLEEP IN SARRIA
As this is a very popular starting point for so many pilgrims, this town has a wide offer of accommodation, counting more than 20 hostels, number that keeps increasing over the years.
They are all aimed for pilgrims, offering pilgrim menus and all kinds of services a walker may need prior to their start or at the end of the stage, for those that started farther away.
Out of all the hostels, guesthouses and other types of accommodation – where you can also eat – we recommend the following
Albergue La Casona:

Capacity: 38 place
Location: Rúa San Lázaro, 24. 27600 Sarria, Lugo.

Albergue de peregrinos:

Capacity: 40 places
Location: Avenida de Compostela 16 — Sarria – Lugo.
Contact: 660 396 813.
WHERE TO EAT IN SARRIA
In this town you can find a wide variety of restaurants due to the large number of pilgrims walking by each day.
Most of the accommodation offer meals all day, but, if you wish to try other places, head towards the Paseo del Malecón, next to the river, where you can choose amongst a wide selection of restaurants.
Most bars and cafes open quite early, between 6 and 7 AM, to serve breakfast, essential meal for every pilgrim.
WHAT TO SEE IN SARRIA
Whether you arrive in Sarria the day before starting your Camino or you come from Triacastela (previous stage along the French Way), you can relish the great cultural and historical heritage in Sarria:
Fortress tower
Residence of the Merinos and the Major Justice of the Marquisate until the first third of the 18th century.
La Magdalena Monastery
Possibly, Sarria's most important monument, built in the 12th century. Over the years, it served as a wood store, barracks and a prison, until it is given to the Order of Mercy in the 19th century.
Church of Santa Mariña
The current church has a Gothic appearance with a Latin cross plan, retaining from the previous one only a drawing of the front and a capital.
STAGES OF THE CAMINO DE SANTIAGO FROM SARRIA
As you probably already know, the Camino from Sarria to Santiago takes just 5 days and it is one of the busiest parts of the French Way. It is therefore a very popular starting point for many pilgrims. These are the usual stages:
| STAGES | START | END | KM |
| --- | --- | --- | --- |
| Stage 1 | Sarria | Portomarín | 22,2 |
| Stage 2 | Portomarín | Palas de Rei | 24,8 |
| Stage 3 | Palas de Rei | Arzúa | 28,5 |
| Stage 4 | Arzúa | O Pedrouzo | 19,3 |
| Stage 5 | O Pedrouzo | Santiago de Compostela | 19,4 |

WHERE TO GET THE PILGRIM CREDENTIAL IN SARRIA
You must not forget to get your credential for the Camino de Santiago. In Sarria, it is available in the following places:
Santa María church, in Rúa Maior, from 11:00 to 13:00 and from 18:00 to 20:00 h.
Nuestra Señora del Rosario church, in Gran Vía Alfonso IX, from 10:30 to 13:30 and from 17:00 to 20:00 h.
La Magdalena Monastery, in Rúa da Merced, from 10:00 to 13:00 and from 16:30 to 19:00 h.
Protección Civil's headquarters, in Rúa Maior 20
Peregrinoteca, in Benigno Quiroga 16, groundfloor
Once you have it, you are ready to go.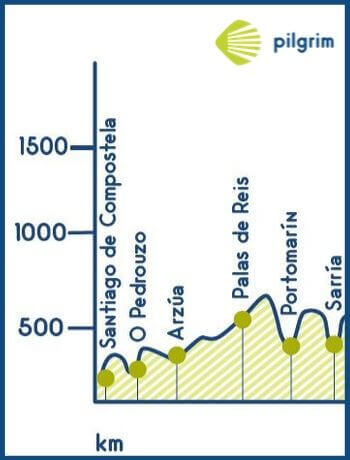 PLACES OF INTEREST AND GASTRONOMY IN THE ROUTE FROM SARRIA TO SANTIAGO
STAGE 1: SARRIA – PORTOMARÍN
You will walk along the paths that connect Sarria and Portomarín, passing through Paradela council and the emblematic parishes of Barbadelo, Ferreiros or Vilachá, where you can find places of long historical significance, such as Santiago de Barbadelo or San Fiz de Reimondez churches, apart from the magnificent San Nicolás church in Portomarín.
Along this first stage, you can enjoy the fantastic local gastronomy, worth mentioning the typical carne ó caldeiro (beef stew), lacón con grelos (pork shoulder with turnip tops) and desserts such as filloas (very think pancakes) or Portomarín's artisanal pie.
STAGE 2: PORTOMARÍN – PALAS DE REI
You will leave Portomarín council behind to pass through Monterroso and Palas de Rei councils, passing by renowned enclaves such as Gonzar, Castromaior or Ligonde.
This second stage is marked by quite a lot of tarmac roads, which might be seen as an inconvenience for many pilgrims, but that will not prevent you from enjoying some beautiful spots along the journey.
Do not forget to visit the pre-Roman settlement in Castromaior, the two-faced cruceiro in Os Lameiros or the St. Mark's chapel.
STAGE 3: PALAS DE REI – ARZÚA
Today's walk will take you from Lugo province to A Coruña province, bringing you closer to the cathedral and its famous incense burner, the Botafumeiro, with its mighty pendular movement. This stage marks a turning point in your Camino, as you enter the province that safeguards the apostle's remains.
Along the almost 29 kilometres of this stage, you will walk through many parishes of Melide council, where you should not miss trying some of its famous pulpo á feira (seasoned boiled octopus) and its typical dessert named melindres, to finally stop in Arzúa for the night, where you can taste some of its precious Arzúa-Ulloa cheese.
If you happen to be in this town during the first weekend of March, you will be able to attend the cheese festival that pays tribute to the local Designation of Origin cheese.
STAGE 4: ARZÚA – O PEDROUZO
This stage will take you to the last town before undertaking the last stage of your Camino. You will leave Arzúa behind and enter O Pino, passing by Santa Irene and O Pedrouzo.
This stage's musts are Santa Irene's chapel and its legendary water fountain or the San Pedro de Lema church. Once you finish your walk in O Pedrouzo, take a walk and visit the Santa María de Gonzar church or O Pino's former school.
In regards to the food, the most popular dishes in the area include pork, beef and game meat, with special mention to the piñeira rooster, very valued locally.
STAGE 5: O PEDROUZO – SANTIAGO DE COMPOSTELA
Tie your boots one last time and dive into the last few kilometres of your Camino. Today you will reach the Galician capital, pilgrim's staff in hand, to enter Santiago de Compostela after walking around Lavacolla's airport.
Excitement fills the air as you are about to walk into the Praza do Obradoiro.
ONCE THE CAMINO IS OVER…
Once you have finished your Camino, you can wander around Santiago's full of history old town and enjoy the atmosphere created by the many euphoric pilgrims that reached Santiago.
This is the perfect moment to taste the local gastronomy, which includes different types of meat and seafood, present across most of the Galician territory, as well as sweet items such as the famous Tarta de Santiago (almond pie) or the Santiago's stones (chocolate covered almonds), well deserved after reaching the end of your Camino!
FINALLY IN SANTIAGO DE COMPOSTELA, WHAT DO I DO?
PILGRIM'S RITUALS
There are a number of rituals that pilgrims have been performing over the years and that every romero – an ancient word to refer to pilgrims – should do upon arrival to Santiago:
A big entrance to the Praza o Obradoiro
Attend the pilgrim's mass
Visit the Apostle's crypt and remains
Climb to the side-chapel and hug the Apostle
Rituals at the Pórtico de la Gloria
GET TO KNOW THE CITY
While the cathedral is Santiago's main attraction and the reason why so many people take on this pilgrimage, this city has a lot more to offer: a rich cultural and historical patrimony.
In Pilgrim, we can organise group or private guided tours so that you can discover all the secrets and hidden places in this vibrant town.
CONTINUE TO THE END OF THE WORLD
Many pilgrims conclude their Camino experience in Santiago, but you should know there is more. You can continue to Finisterre, the town that in Roman times was considered the end of the world, and visit the very end of the Camino de Santiago, passing by the Costa da Morte.
In Pilgrim, we also offer the possibility of joining a 9 hours tour which will take you to the coastal villages of Fisterra and Muxía, as well as to the Ézaro waterfall, the only river in continental Europe that empties as a waterfall into the ocean.
The Camino de Santiago from Sarria inspires both new and veteran pilgrims, so do not miss the chance to walk across the iconic towns and villages in this last 100k of the French Way and relish the history, culture and gastronomy of Lugo and A Coruña provinces to make the Camino an unforgettable experience.
¡Ultreia Peregrinos!
Plan your adventure!
We can fill you in, no strings attached!