Portuguese Way
Stages on Foot / Stages by Bike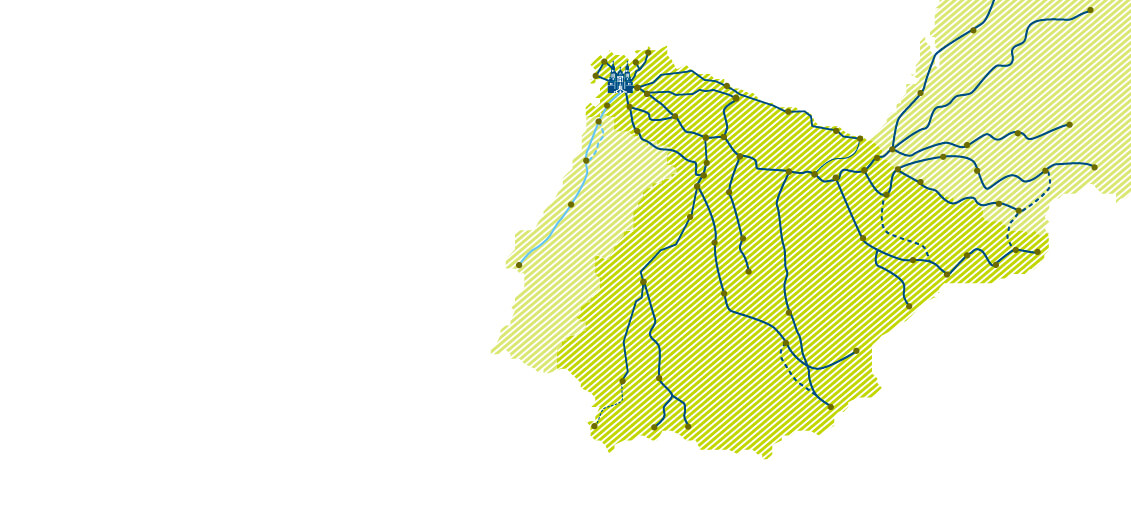 Plan your way
Make your way to measure with our new platform
Stages on foot
25 stages / 620 km
Stages of Portuguese Way by bike
11 Stages / 582 km
| Stage | Path | Km | Difficulty |
| --- | --- | --- | --- |
| Stage 1 | Lisboa – Santarem | 93,5 | |
| Stage 2 | Santarem – Tomar | 62 | |
| Stage 3 | Tomar – Rabaçal | 63,4 | |
| Stage 4 | Rabaçal – Mealhada | 51,7 | |
| Stage 5 | Mealhada – Oliveira de Azeméis | 60,5 | |
| Stage 6 | Oliveira de Azeméis – Oporto | 43,2 | |
| Stage 7 | Oporto – Barcelos | 53 | |
| Stage 8 | Barcelos – Rubiães | 51 | |
| Stage 9 | Rubiães – Redondela | 53 | |
| Stage 10 | Redondela – Caldas de Reis | 41 | |
| Stage 11 | Caldas de Reis – Santiago de Compostela | 39 | |

We send you your planning
Please tell us your details and receive your Camino planning by email
Other recommended routes
There are many other routes, take a look below at the best alternatives:
Frequently asked questions about the Portuguese Way
As reflected in the stages section the Portuguese Way is composed of a total of 25 stages over a distance of 620 km starting from the the Portuguese capital, Lisbon. If you do the Portuguese Way by bike there will be 11 stages.
If your goal is to get the Compostela, you must walk at least the last 100 km of the Camino, in the case of this route the starting point would be the town of Tui, on the border with Portugal. However, if you do the Camino by bike, the minimum distance is 200 km, which would take you to start from Oporto.
Along the Portuguese route you will pass through a large number of towns, each with its own charm. However, there are a number of towns/cities that make pilgrims fall in love wth them as they pass through: Lisboa, Oporto, Coímbra o Redondela, among others.
The Portuguese Way does not stand out especially for its landscapes but for the richness of its historical and cultural heritage. In the towns of Coimbra and Porto you will find ancient buildings worthy of admiration and that will make you want to spend more than one day in these towns.
The Portuguese Way is the second most popular pilgrimage route of all those that make up the Camino de Santiago. Along with the French Way, it is the only one that runs through two different countries and ends in Santiago de Compostela.On arrival in Porto there is a detour towards the Portuguese coast, which is rejoined in Galicia (Spain), in the town of Redondela; this alternative route is called the Coastal Portuguese Way.
In Pilgrim.es we have the most complete information about this Camino and many more. Enter our website and discover all the routes that make up the Camino de Santiago, its stages, maps and even the villages with their indications on what to see in each one.