Tour Finisterre-Costa da Morte
35 €
Discover what in the old days was considered as the end of the known world A 9 hours trip, where apart from Finisterre, you will visit Muxía, the Ézaro Waterfall, Carnota and its impressive hórreo (traditional Celtic granary) or the majestic sea inlet (ría) of Muros. Departures in high season, everyday at 9:00 am Check available dates off-season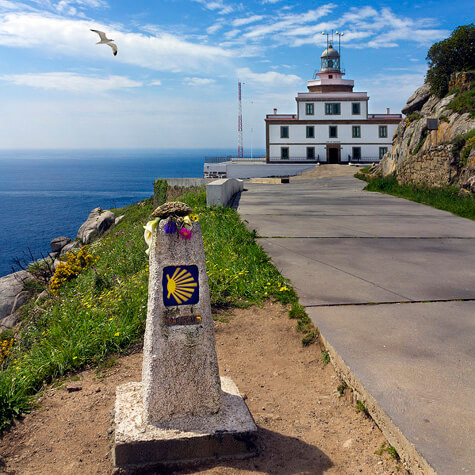 About
Popular Route to the End of The Way of St. James, where Km 0 is located Pilgrimage site walked by the ancient Celt and Roman people Costa da Morte (The Death Coast), is an area with a long history of shipwrecks behind it.
Land of legends, inhabited by magical individuals as the Celts, left us dozen of mystery stories. First Stop: Muxia. We will find here one of the astonishing stories of The Way. For many centuries it was thought that beyond the coast, there was only an abyss when the sun used to vanish every night. Next stop: The Ézaro Waterfall. This is the unique river in Europe which flows to the sea through a waterfall. Among other stops we will see the biggest raised granary (horreo in the local language).
Starting Point and Return:
Every day during high season. Check dates for low season.
Starting Time 9:00 h
Place: Plaza Galicia
Return Time: 18:30 h
Public opening hours in our office in Santiago.
Our office is just 100 meters away from the Cathedral . Please contact us. We will help you.
Monday: 9:30 – 20:00
Tuesday: 9:30 – 20:00
Wednesday: 9:30 – 20:00
Thursday: 9:30 – 20:00
Friday: 9:30 – 20:00
Saturday: Closed
Sunday: Closed
Our office is just 100 meters away from the Cathedral
Make your booking with us
Will contact you back from Monday to Thursday 10:00 am – 03:00 am and Friday 10:00 am -10:00 pm

On-line
Make your reservation on-line.

By e-mail
info@pilgrim.es

By telephone
+34 912 913 756
Payment methods