Do your own way
×
Planner
Thank you for planning with Pilgrim!
The price is a non-binding estimate subject to confirmation upon payment.
Get 5% off today! Click here and one of our travel agents will get in contact with you shortly.
Torremejía – Mérida (16 km – 1o miles)
There are approximately 16 kilometres from Torremejía and Mérida. If you have stayed the night in Almendralejo you will have to walk approximately 30 kilometres. The Guadiana River will welcome you to the city founded by Augustus.

You will leave Torremejía early to get to Mérida at noon and enjoy all the monuments and available places to visit. You will start walking through the national road, through a path that goes parallel to it and sometimes through the hard shoulder; you have to take into account that when you are walking through the hard shoulder you must be very careful. Aproximadamente tres kilómetros después nos toparemos con el enlace de la autovía, siguiendo en todo momento el camino anteriormente mencionado. Tras cruzar las vías ferroviarias seguimos con la misma dinámica hasta internarnos más adelante por un camino que desciende hasta Mérida, aún a unos siete kilómetros. El Guadiana nos abrirá las puertas de esta majestuosa ciudad con siglos de historia, accediendo a la misma por el Paseo de Roma, en honor a sus fundadores. A la entrada también podremos apreciar una escultura que representa a Luperca, la loba que amamantó y cuidó a Rómulo y Remo, siguiendo por este paseo y dejando a un lado el puente Lusitania. Llegaremos a una glorieta y seguiremos en dirección a un parque infantil, en cuyas proximidades se encuentra el albergue de peregrinos. Tras dejar nuestras pertenencias y refrescarnos un poco nos adentramos en la ciudad para visitar sus principales atractivos turísticos, la mayoría relacionados con el Imperio Romano y destacando el teatro, anfiteatro, el arco de Trajano….
Remember.
Mérida is a wonderful city full of monuments and things to visit so you will need to get there at noon to have all the afternoon to visit it. Esta etapa es perfecta para ello, ya que podemos recorrer los escasos dieciséis kilómetros por la mañana y llegar así a Mérida para degustar alguno de sus platos típicos y visitar la pegada del Imperio Romano.
What to eat
Gazpacho
Ajo blanco
Typical legume stew
Patatas al rebujón
Game meat
Trout
Bear in mind
Si no queremos andar "saltando" entre el camino paralelo a la nacional y el arcén podemos seguir siempre por este último, prestando mucha atención al tráfico y caminando lo más pegados posible. This stage does not pose any additional difficulties for cyclists or people with reduced mobility.
What to see
| Towns | Public Hostel | Bike rental | Medical assistance | Coffe bar | Teller | Pharmacy | Hotel | Touristic Information | Guesthouse | Restaurant | Supermarket | Veterinarian |
| --- | --- | --- | --- | --- | --- | --- | --- | --- | --- | --- | --- | --- |
| Torremejía | ✔ | | ✔ | ✔ | ✔ | ✔ | ✔ | ✔ | ✔ | ✔ | ✔ | |
| Mérida | ✔ | ✔ | ✔ | ✔ | ✔ | ✔ | ✔ | ✔ | ✔ | ✔ | ✔ | ✔ |
Towns
Hostels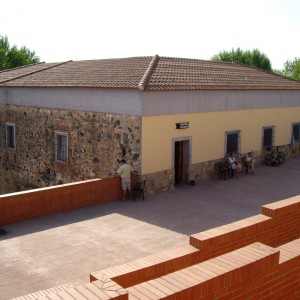 Albergue Molino de Pancaliente
18 beds
---
Avenida de José Fernández López, s/n
Mérida (Badajoz)
646 216 341
Hostal Salud
12 rooms.
---
C/ Vespasiano, 41
Mérida (Badajoz)
924 312 259 / 696 230 075