Do your own way
×
Planner
Thank you for planning with Pilgrim!
The price is a non-binding estimate subject to confirmation upon payment.
Get 5% off today! Click here and one of our travel agents will get in contact with you shortly.
Mérida – Alcuéscar (36,4 km – 22,6 miles)
You will have to cross the Parque Natural de Cornavalo park to leave Badajoz and get to Cáceres. You will have to cross the Embalse Romanos de Prosperina reservoir.

You will leave Mérida crossing the reservoir called Albarregas walking towards the Embalse de Prosperina reservoir. Firstly, you will have to walk through an avenue called Vía de la Plata and the go through the Avenida del Lago avenue, after a roundabout. After 500 metres you will see a road in the right side that goes straight forwards to the reservoir, this paths crosses the dual carriageway after crossing the reservoir you will get to a neighbourhood that you will have to cross. Then you will have to go through a path to the right. Then you will get to the national road for approximately three kilometres, then you will have to go to the left through a path. You will have to walk through the same path for a while and you will cross a pig's farm that is located one kilometer from El Carrascalejo. This small village is the one with less inhabitants in Badajoz. Here you will find a lovely church from the end of the 14 century, the church is devoted to Santa María del Camino. Pasaremos junto a su portada renacentista, rodeando así el templo poniendo rumbo a una zona llena de vides. Then you will continue wakling and you will cross the dual carriageway through an underpass to get tot Aljucén where the Cruz de Santiago cross is located. Este símbolo era la principal representación de la Orden Militar Religiosa de Santiago, fundada para proteger los lugares santos y a los propios peregrinos. Algunos optan por dividir la etapa en dos y pernoctar en el albergue de esta localidad, donde además encontraremos algún que otro servicio y un curioso establecimiento rural que rememora las antiguas termas romanas. If you decide to continue your way you have to know that there are 20 kilometres left to Alcuéscar. You will leave Aljucén through the Avenida de Extremadura avenue and then you will have to walk through a road that will lead you to the national road. Then you will walk through a path that will lead you to the Parque Natural de Cornalvo park. You will walk near the river and here you will see another cross. Despidiéndonos poco a poco del río y traspasando varios campos de cultivo llegamos al punto fronterizo entre las provincias de Badajoz y Cáceres, desde donde abandonamos el parque natural y emprendemos una subida hasta una cruz de San Juan. After a few kiloimetres you will finally get to the hostel.
Remember.
One of the best things of travelling through all Spain is taste all the different typical dishes. One of the best things of travelling through all Spain is taste all the different typical dishes.
What to eat
Cold meat
Pickled beans and fish
Migas
Typical stews
Typical wine
Bear in mind
If this stage is too long for you, you can divide it into two and stay the night in Aljucén. Once you have leaved Aljucén you have to take into account that there is no more services until get to Alcuécar. This stage does not pose any additional difficulties for cyclists or people with reduced mobility.
What to see
| Towns | Public Hostel | Bike rental | Medical assistance | Coffe bar | Teller | Pharmacy | Hotel | Touristic Information | Guesthouse | Restaurant | Supermarket | Veterinarian |
| --- | --- | --- | --- | --- | --- | --- | --- | --- | --- | --- | --- | --- |
| Mérida | ✔ | ✔ | ✔ | ✔ | ✔ | ✔ | ✔ | ✔ | ✔ | ✔ | ✔ | ✔ |
| Proserpina | | | | ✔ | | | | | | ✔ | ✔ | |
| Carrascalejo | ✔ | | | ✔ | ✔ | ✔ | | | | ✔ | ✔ | |
| Aljucén | ✔ | | | ✔ | | ✔ | ✔ | | | ✔ | ✔ | |
| Alcuéscar | ✔ | | ✔ | ✔ | ✔ | ✔ | ✔ | ✔ | ✔ | ✔ | ✔ | ✔ |
Towns
Hostels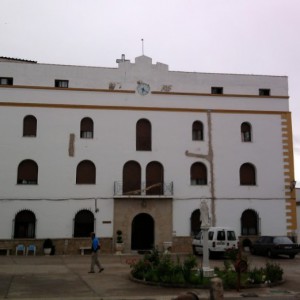 Acogida de Peregrinos de la Casa de la Misericordia de Alcuéscar
12 beds
---
Avenida de Extremadura, 2
Alcuéscar (Cáceres)
651 323 466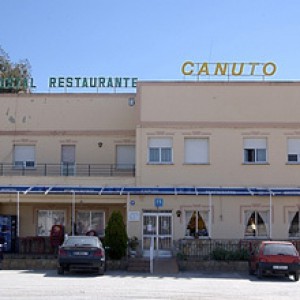 Hostal Canuto
9 beds
---
Cruce de las Herrerías, s/n
Alcuéscar (Cáceres)
927 384 197