Do your own way
×
Planner
Thank you for planning with Pilgrim!
The price is a non-binding estimate subject to confirmation upon payment.
Get 5% off today! Click here and one of our travel agents will get in contact with you shortly.
Rodeiro – A Laxe (27,2 km)
On this day, we will leave the vineyards behind progressively to enter Laxe, a meeting point with the pilgrims of the Sanabresa or Mozarabic route and capital of the Deza region. We will cross countless times over the Arnego River, a tributary of the Ulla River to continue in search of the Pontiñas, which bathes the city of Lalín, capital of the Cocido and the kilometric center of the Galician community.

The exit from Rodeiro is simple, we only have to go in search of the local road that leads to Lalín. Quickly, we will reach A Ponte and leave this road behind to enter a dirt path surrounded by trees on the right hand side and, thus, reach the Arnego River.
We continue following its course, crossing it a little further on and saying goodbye to it momentarily, ascending a track to the place of Penerbosa. From here, we will continue up the villages of A Puza and A Penela, where we will have to cross the river again by a bridge and follow it along its right bank. The next nucleus that we will pass through will be Eirexe de Pedroso, where we will be able to fill our canteens with the delicious water of the mountain of A Costa.
We take the paved road again with our eyes set on Ponte Pedroso in the distance. After passing through Laxas and turning left, we will arrive at this village famous for the quality of its trout, crossing over a stone bridge and the immediate road to turn right again towards the Val do Boi. We will then gradually ascend towards the Anta Reserve, where a recent granite boundary stone will encourage us to continue on this Winter Trail.
The mámoas or burial mounds are very common in this area, especially in the area known as Coto da Manuela, by which we will officially leave behind the lands of Deza. When you reach a crossroads, take the path to the left and a few metres down you will reach the Rego de Ribadeiro stream. There, we must take a rural path that will lead us to Palmaz, a small village that we cross uphill up to the road that joins Lalín and Monforte. We cross it with great caution, as we must continue straight on along a dirt road and then turn right, just before reaching the place of Lagazós, its parish church and a seventeenth-century transept.
A narrow, uphill street will link us to the street of A Calzada, an old road that linked this church with the medieval tower of the Deza family that has now disappeared. If we continue along this route, we will arrive at a more modern church, from the 20th century and dedicated to the Virgen de los Remedios. We are in the very centre of the Galician community and this is shown by a plaque on the ground that reads: "kilómetro cero de Galicia". We enter Colón Street, also famous for its pork sculpture, symbolizing the importance of the Lalinense stew festival. At the next junction, continue straight ahead, entering a large park and leading to the Pontiñas river promenade.
The hostel in A Laxe is still about four and a half kilometres away, so if you have time, you should stop to walk the streets of the stew capital or retrace your steps from A Laxe. Following the route, we leave through the river area of As Pontiñas and, crossing under a tunnel, always going straight ahead and ascending towards the road that joins Ourense and Lalín. We cross it later and connect with a local road parallel to the national road that leads to an industrial estate. Continuing through the centre of the ships, we will cross the motorway under a tunnel again and a few metres further on we will find the public hostel.
Remember.
Lalín is the stew capital and, as such, you cannot say goodbye to it without having tried it. Pilgrim, select the best establishments for you to taste this typical Galician food.
What to eat
Lalin stew
Lacón con grelos (Lamb with turnip greens)
Filloas
Bear in mind
It is advisable to buy supplies in Lalín and stop to walk its streets before continuing towards A Laxe. This stage does not present additional difficulties for bicyclists or people with reduced mobility.
What to see
| Towns | Public Hostel | Bike rental | Medical assistance | Coffe bar | Teller | Pharmacy | Hotel | Touristic Information | Guesthouse | Restaurant | Supermarket | Veterinarian |
| --- | --- | --- | --- | --- | --- | --- | --- | --- | --- | --- | --- | --- |
| Rodeiro | | | ✔ | ✔ | ✔ | ✔ | | ✔ | ✔ | ✔ | ✔ | ✔ |
| Lalín | | ✔ | ✔ | ✔ | ✔ | ✔ | ✔ | ✔ | ✔ | ✔ | ✔ | ✔ |
| Bergazos | | | | ✔ | | | ✔ | | ✔ | ✔ | | |
| A Laxe | ✔ | | | ✔ | | | | | | ✔ | | |
Towns
Hostels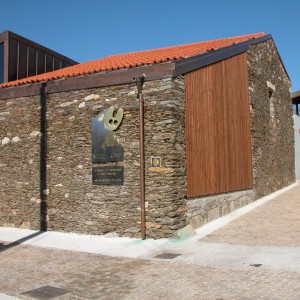 Albergue de peregrinos de A Laxe
30 beds
---
A Laxe, s/n
Lalín (Pontevedra)
658 038 042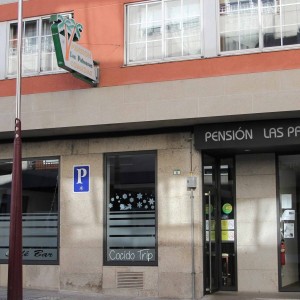 Pensión Las Palmeras
16 rooms.
---
Rúa Areal, 8
Lalín (Pontevedra)
986 780 222