Do your own way
×
Planner
Thank you for planning with Pilgrim!
The price is a non-binding estimate subject to confirmation upon payment.
Get 5% off today! Click here and one of our travel agents will get in contact with you shortly.
San Martín del Camino – Astorga (23,7 km- 15miles)
After two asphalted stages today you will be walking through a path parallel to the N-120 that goes next to the agricultural landscape with many slopes. Today you will have to options to continue the way and the goal is Astorga that is a city full of Roman heritage such as the famous thermal baths, the medieval buildings and also its modernist houses. This small city is where the French Way and Vía de la Plata get unified.

You will return to a path that goes parallel to the N-120 for at least 8 kilometres up to Hospital Órbigo Then you will see a turn away that will lead you to Santa Marina del Rey and Villavante.
You have to continue straight forward and after the Canal de Cerrajera canal you will leave the road to get to a provincial road that will lead you to Hospital de Órbigo. Lost of pilgrims decide to conclude yesterday's stage here because there are much more hostels.
You will get to this small city through its bridge where according to the legend, in the 15 century took place a battle. Nowadays we can reminisce this in the Capillas de las Reliquias chapel that is housed in the Catedral de Santiago cathedral. This battle took place due to the request of the León knight Suero de Quiñones, who asked the king for permission to perform a tournament where all knights who would cross the bridge would have to participate. Those who refused would need to leave a glove as a sign of their defeat. Suero de Quiñones would carry each Thursday a ring with a blue ribbon pending from his neck, as proof of loyalty towards his beloved one. He could only take it off in case he won all fights and after doing a pilgrimage to Santiago. Nowadays we can reminisce this in the Capillas de las Reliquias chapel that is housed in the Catedral de Santiago cathedral.
You will cross the bridge to get to Órbido and then you will walk through its main street, at the end you will find two options: you can continue straight forward through the path parallel to the N-120 or go to the right and go through small villages such as Santo Toribio and San Justo de la Vega. The first option could seem boring because it is the same that you have done yesterday and the day before, so the most common is going through the small villages, this route has to kilometers more than the other one. The first village that you will find is Villares de Órbigo You will have to walk a couple of kilometers more. it has many services such a pharmacy or a bar to rest, you can also visit a church devoted to Santiago Mayor. You will leave this first village through a path that goes to a local road, very close to Santibáñez de Valdeiglesias, you will get here going through the Calle Camino de Villares street. You will continue through the Calle Real street and then to the right to Carromonte Bajo
Every summer here it happens something amazing, lots of pilgrims come to this village to walk through one of the biggest maize maze in the world. Each edition has many different competitions, games and riddles so the participants could enjoy this tradition. The Way has always been linked to this kind of games and especially to a board game called La Oca, Game of the Goose in English (it consist of a track with consecutively numbered spaces, usually 63, and is often arranged in a spiral with the starting point at the outside. Each player's piece is moved according to throws of one or two dice), people believe that this game is linked with the Way.
You will leave Santibañez through a complicated path that goes parallel to some industrial warehouses. You will get to a high plateau, where it is located a bar called Casa de los Dioses where you can rest, eat or drink something. You will get to a high plateau, where it is located a bar called Casa de los Dioses where you can rest, eat or drink something. Here pilgrims pay the amount of many that they consider appropriate.
Then, you will continue through a plain to get to the Crucero de Santo Toribio stone cross here you can see Astorga and also the Monte Teleno mount. You will have to descend to get to San Justo de la Vega a village that is next to Astorga. Here you can find lots of different establishments in its Calle Real street. In your way you will cross the Tuerto river and also the Jerga river We will start the few meters left and end this stage by crossing Tuerto river, and then taking a path that will lead us to Jerga river, which we will cross through the river.
You should cross a flyover to walk the last kilometres of today's stage, after crossing a roundabout you will get to Asturica Augusta. You will get to the Calle Perpetua Socorro street and then you should go to the left to visit the Iglesia de Los Padres Redentoristas church and the city council's square. The Catedral de Santa María cathedral is a must in Astorga, you can't leave this city without visiting it.
Remember.
If you want to taste the typical dishes of the place, we can recommend you the best restaurants and establishments. We walk by your side! If you have any doubts about this stage or about other stages, please contact us, we will help you. Have a nice Way, Pilgrim!
What to eat
Cocido maragato stew
Congrio al ajoarriero (conger ell with garlic)
Garlic soup (soup mainly made with garlic, bread, eggs and olive oil)
Cold meat
Mantecadas (typical cupcake mainly made with flour, butter, sugar and egg)
Bear in mind
It is not a long stage but the terrain could be a little bit complicated and sometimes dangerous. Some parts of this stage could be complicated for cyclists.
We recommend people with reduced mobility go through the N-120 between León and La Virgen del Camino but being careful and paying attention to the traffic.
What to see
| Towns | Public Hostel | Bike rental | Medical assistance | Coffe bar | Teller | Pharmacy | Hotel | Touristic Information | Guesthouse | Restaurant | Supermarket | Veterinarian |
| --- | --- | --- | --- | --- | --- | --- | --- | --- | --- | --- | --- | --- |
| San Martín del Camino | ✔ | | | ✔ | | | | | | ✔ | ✔ | |
| Hospital de Órbigo | ✔ | | ✔ | ✔ | ✔ | ✔ | ✔ | ✔ | ✔ | ✔ | ✔ | |
| Santibáñez de la Valdeglesias | ✔ | | | ✔ | | | | | | | | |
| San Justo de la Vega | ✔ | | | ✔ | | ✔ | | | ✔ | | ✔ | |
| Astorga | ✔ | ✔ | ✔ | ✔ | ✔ | ✔ | ✔ | ✔ | ✔ | ✔ | ✔ | ✔ |
Towns
Hostels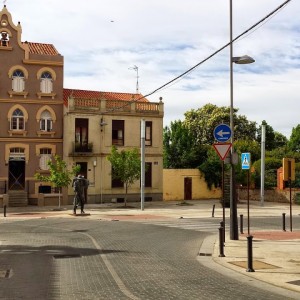 Albergue de peregrinos Siervas de María
164 beds
---
Plaza de San Francisco, 3
Astorga (León)
987 616 034 / 618 271 773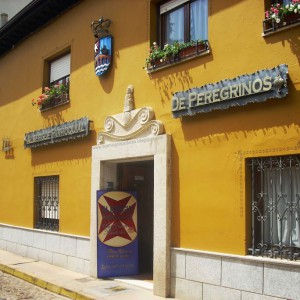 Albergue parroquial Karl Leisner
90 beds
---
C/ Álvarez Vega, 32
Hospital de Órbigo (León)
987 388 444 / 661 994 238