Do your own way
×
Planner
Thank you for planning with Pilgrim!
The price is a non-binding estimate subject to confirmation upon payment.
Get 5% off today! Click here and one of our travel agents will get in contact with you shortly.
Saint Jean Pied de Port – Roncesvalles (24,2 km – 15 miles)
Saint Jean Pied de Port is the second most used starting point in the French Way. This old city has a city wall and is surrounded by enormous mountains. In this village is where many different ways get unified: Vía de Arlés. Vía de Lepuy, Vía de Vélezay and also Vía del Piamonte.
This is one of the most difficult stages in the French Way. There are over 1,200-metre walk up (3,937 feet) between Saint Jean Pied de Port and the Puerto de Lepoeder pass that is the entrance to Spain, also known as Napoleon route. Nevertheless, all this effort is worthwhile because at the end of the stage you will see enjoy the wonderful landscape of Pyrénées-Atlantiques and you will be excited about the fact of having crossed the frontier such as Napoleon did.

Comenzaremos esta primera etapa cruzando la puerta de Santiago, paso tradicional de los romeros que se dirigían a Roncesvalles y declarado Patrimonio Mundial de la Humanidad por la Unesco en 1998. Está situada en la parte alta de la localidad y que conecta las calles de Chemin de St. Jacques y la Rue de la Citadelle. Tras cruzar esta senda, nos adentraremos en la histórica Rue d'Espagne a través de un puente sobre el río Nive, donde los comerciantes y artesanos de antaño negociaban con sus productos. Tras haberla recorrido completamente abandonaremos la ciudad amurallada, dejando a nuestra izquierda la antigua Ciudadela del siglo XVII situada en la Colina de Mendiguren. En este punto, un poste de madera nos muestra la primera indicación: Chemin de Saint Jacques de Compostelle, también conocida como Route de Napoleón. Si continuamos por esta pista asfaltada, un poco más adelante, otro cartel amarillo señala un sendero alternativo marcado en color verde hacia mano derecha: la ruta de Arnéguy y Valcarlos. Este camino está especialmente indicado para aquellos días con sucesos meteorológicos adversos, ya que a diferencia de la ruta napoleónica, esta posee un menor desnivel (895 metros). Si viajamos en invierno es aconsejable seguir este desvío para evitar accidentes debido a las fuertes nevadas, la niebla o la lluvia, muy habituales en esta época del año. Este "atajo" nos llevará directamente hasta Roncesvalles por carreteras asfaltadas, pasando por la localidad de Valcarlos, municipio donde acampó Carlomagno tras ser diezmado su ejército en la Batalla de Roncesvalles.
If you choose the other option, the Napoleon route you have to keep calm and be patient because at this point is where the difficulty starts. You will have to cross a sequence of steep paths that will make you be careful and slow down. We recommend you do it slowly, appreciating the amazing landscape. After crossing 5 kilometres (3 miles) of hard rises you will enter in a village called Huntto. It is the best place to rest for a while, drink and have a snack to then continue your way with a lot of power and energy. You will now leave the asphalted road to go to a path with a hard slope that will take you to a viewpoint. From this viewpoint you can see all the way that you have walked till this moment and read in an informative panel a wonderful passage of the Codex Calixtinus that is about this stage of the way. After one kilometre (0.6 miles) you can buy something in at Orisson's because until get to Roncesvalles there will be nowhere to buy some snack or have any drinks.
After another 4 kilometres (2 miles) full of green fields with Manech sheep (typical sheep from this region) and also wild horses, you can also make an offering to Biakorri virgin. After another 4 kilometres (2 miles) full of green fields with Manech sheep (typical sheep from this region) and also wild horses, you can also make an offering to Biakorri virgin. If you have change your mind and you decide to go through the Valcarlos route you get to it through a path called Arnegi. If you don't change your mind you will continue and then you will see a signposting that says Roncesvaux/Orrega (15 kilometres – 9 miles) and then you will go downhill to get to Bentarte hill. 600 metres (1,968 feet) after you will leave behind another monument, the Cruz de Thibault stone cross and then you will enter in a leafy beech tree forest, going through Bentarte and seeing the Fuente de Roldán spring. You are now close to the frontier you will know it because there is a huge monolith: you are now in Navarra. Then you will cross Izandorre shelter and two kilometres after you will be on top of Collado de Lepoeder 1,430 metre high (4,691 feet). Here you should stop, take a breath and just see the amazing landscape, this amazing place is located just 4 kilometres (2 miles) from the end of the stage.
The one that is in the left will take you through the shorter way, we don't recommend you do this way with fog and also if your backpack is too heavy because there is a huge slope. The one that is in the left will take you through the shorter way, we don't recommend you do this way with fog and also if your backpack is too heavy because there is a huge slope. This way you will get to Roncesvalles just after 4 kilomtres (2 miles). On the other hand, if you decide to take the other route, the largest and safer, you will go through the village where according to popular legend Battle of Roncevaux Pass took place. This hill his known as La Puerta del Prineo (Pyrenees door) because is the point where the Peninsula communicates with the rest of the continent. This entrance was not used just by pilgrims, lots of people; shepherds; Celtics, Romans, Barbarians and Muslims contingents; Napoleonic troops and more people crossed this place walking for centuries. The Capilla de San Salvador chapel is also devoted to many centuries of history, it was built to commemorate an old monastery of the 11 century that used to help pilgrims.
Remember.
We walk by your side! If you have any doubts about this stage or about other stages, please contact us, we will help you. Have a nice Way, pilgrim!
What to eat
Typical cheese from the region (Ossau Iraty, Roncal o de Idiazabal sheep cheese)
Typical stew
Trout with Parma ham
Fired spicy sausage
Txantxigorri pastries(mainly made with pork scratching and lard)
Pacharán (a typical liquor from the Basque region), cider and wine
Bear in mind
As we mentioned, this stage is one of the hardest stages in the Way so you should know it before start and be forewarned. If you are not fit or you have mobility problems, we recommend you walk through the Valcarlos route because is an easier route and you will get straight to Roncesvalles with no problem.
This tip is also for pilgrims that are traveling by bike because otherwise they will have to push your bike to get to the highest part of the mountain. For the ones that are doing this options you have to take into account that most part of the stage goes through the national lroad N-135 so you should be careful with vehicles. Cyclists should be careful when they are descending Bentarneta Mountain where we recommend you to go through the largest route to get to Ibañeta
For people that are not fitwe recommend to start in Roncesvalles and forget about this hard stage.
What to see
| Towns | Public Hostel | Bike rental | Medical assistance | Coffe bar | Teller | Pharmacy | Hotel | Touristic Information | Guesthouse | Restaurant | Supermarket | Veterinarian |
| --- | --- | --- | --- | --- | --- | --- | --- | --- | --- | --- | --- | --- |
| St. Jean Pied de Port | ✔ | ✔ | ✔ | ✔ | ✔ | ✔ | ✔ | ✔ | ✔ | ✔ | ✔ | ✔ |
| Valcarlos | ✔ | | ✔ | ✔ | | ✔ | | ✔ | ✔ | ✔ | ✔ | ✔ |
| Hunto | | | | ✔ | | | ✔ | ✔ | ✔ | ✔ | | |
| Orisson | | | | ✔ | | | | | ✔ | | | |
| Roncesvalles | ✔ | | ✔ | ✔ | ✔ | ✔ | ✔ | ✔ | ✔ | ✔ | ✔ | |
Towns
Hostels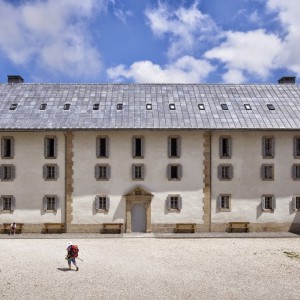 Albergue de peregrinos de Roncesvalles
183 beds
---
Real Colegiata de Roncesvalles
Roncesvalles (Navarra)
948 760 000 / 948 760 029
Albergue de Luzaide/Valcarlos
24 beds
---
Plaza de Santiago
Valcarlos (Navarra)
948 790 199 / 696 231 809