Do your own way
×
Planner
Thank you for planning with Pilgrim!
The price is a non-binding estimate subject to confirmation upon payment.
Get 5% off today! Click here and one of our travel agents will get in contact with you shortly.
Roncesvalles – Zubiri (21,4 km – 13 miles)
Aunque la anterior etapa es el inicio de esta ruta francesa, muchos peregrinos toman la localidad de Roncesvalles como inicio de su andadura por el Camino de Santiago.
Why? La subida pronunciada desde Saint Jean Pied de Port hasta Roncesvalles es de más de 1.500 metros de altitud, lo que puede resultar una auténtica odisea para más de un peregrino. Sobre todo para todo aquel que no dispone de unas condiciones físicas muy idóneas o para aquel romero que no se puede permitir un entrenamiento adecuado para el Camino.
Este factor descrito, unido a la característica de evitar el cruce entre dos países, este punto ya más dedicado al aspecto económico, provocan que la localidad de Roncesvalles sea el punto de inicio de los peregrinos. 790 km hasta llegar a la capital gallega, Santiago de Compostela. Puedes aprovechar para sacar una foto en la característica señal que marca dicha distancia ¡Te quedará una fotografía increíble para el recuerdo!

You will start your route seeing for the last time the entrance to Spain and you will walk through the N-135. A parallel path will take us to Brujas Oakwood, a forest where according to a legend Basajaun the sorcerer (this village was named after this sorcerer) used to do its pagan rituals. A little bit forward you could recall the heroic deed of Charlemagne in the Cruz Blanca cross or the Cruz de Roldán cross. If you continue through this path you will get to Ipetea industrial area and if you get left you will return to the N-135 that will take us straight to Burguete, our first stop. Local people will welcome you in its ancestral houses from the 16 and 18 centuries and also the Iglesia de San Nicolás de Bari church that was rebuilt many times during the middle ages. You will cross the main street to turn away to the right that is well indicated, this way you will cross a small wooden bridge over a stream of the Urrobi River. While walking through this stage you will see many industrial warehouses camouflaged among green fields where cattle are grazing free. Then, an asphalted road will take you to Valle de Erro. Ernest Hemingway fell in love with this wonderful village and he used to visit it to trout-fishing. He wrote about its experience there in his novels.
Atravesaremos su casco urbano para salir, de nuevo, a la N-135, no sin antes apreciar la moderna iglesia de San Bartolomé, con algunas piezas de orfebrería muy interesantes. Inmediatamente después, tomamos un desvío a la derecha para continuar nuestro camino por la acera, prestando especial atención ya que tras un paso de peatones debemos girar a la izquierda para subir hacia el alto de Mezkiritz. Una imagen labrada de la Virgen de Roncesvalles nos animará ante el tramo más exigente de esta ascensión, bajo la sombra y el abrigo de numerosos hayedos. Tras cruzar un estrecho sendero de tierra podremos recuperar el aliento mientras disfrutamos de las asombrosas vistas del valle a nuestros pies. Tras un breve encuentro con la carretera, cogeremos un camino a mano derecha hasta llegar a una rotonda y atravesar así Gerendiain. Esta pequeña localidad era parada obligatoria para los antiguos peregrinos, ya que albergaba un hospicio hasta que se inauguró el complejo de Roncesvalles. Cuenta con un supermercado donde abastecernos y una cafetería donde descansar un poco antes de seguir la ruta hacia la vecina Lintzoain. Multitud de ovejas nos acompañarán mientras atravesamos este pequeño pueblo hasta que un mojón nos redirige hacia una pista asfaltada a la izquierda. Afrontaremos desde este momento una serie de repechos a través de una pista forestal para alcanzar los ochocientos metros en el alto del Erro. Nos veremos recompensados por su ecléctico bosque, repleto de multitud de especies como robles, pinos y abedules. También nos cruzaremos con una zona de descanso que rememora el fallecimiento de un veterano peregrino japonés. Cruzaremos de nuevo la N-135 para afrontar el peligroso descenso hasta Zubiri. Multitud de rampas con piedras sueltas y de distintos tamaños dificultan este último tramo de la etapa, por lo que debemos prestar mucha atención por donde pisamos durante los cuatro kilómetros de descenso para evitar accidentes.
El puente medieval de la Rabia nos permitirá cruzar sobre el río Arga mientras sus longevas piedras nos cuentan una sorprendente historia. Esta construcción gótica ha sido objeto de numerosas leyendas a lo largo de la historia: la creencia popular aseguraba que los animales que rodeaban alguno de sus pilares podían sanar la rabia. Tal es su importancia, que el propio nombre de Zubiri significa en vasco: el pueblo del puente. Estos poderes de sanación se le atribuyen desde el siglo XI, cuando según cuenta la leyenda se hallaron los restos de Santa Quiteria (virgen mártir del siglo II). Así pues, entre leyendas de mártires y poderes sanadores, nos adentramos al fin en el valle de Esteribar y en el "pueblo del puente", finalizando por lo tanto esta segunda etapa.
Remember.
We walk by your side! If you have any doubt about this stage or about other stages, please contact us, we will help you. Have a nice Way, pilgrim! Have a nice Way, Pilgrim!
What to eat
Typical gastronomy from Navarre
Trout
Mushrooms
Typical migas
Bear in mind
If you decide to continue you should do it on the left side of the Arga River. If you decide to continue you should do it on the left side of the Arga River. After some farmhouses, you will get to the end of the stage.
This is not a recommended stage for people with reduced mobility due to its descents. n optional way is going through the N-135 but you have to be careful because there are some dangers. Cyclists could also go through the road, it will be better for them. El resto del trayecto no alberga ninguna otra dificultad salientable, salvo un par de momentos donde los ciclistas deberán bajarse de la bici para cruzar algún arroyo o puente de difícil acceso.
What to see
| Towns | Public Hostel | Bike rental | Medical assistance | Coffe bar | Teller | Pharmacy | Hotel | Touristic Information | Guesthouse | Restaurant | Supermarket | Veterinarian |
| --- | --- | --- | --- | --- | --- | --- | --- | --- | --- | --- | --- | --- |
| Roncesvalles | ✔ | | ✔ | ✔ | ✔ | ✔ | ✔ | ✔ | ✔ | ✔ | ✔ | ✔ |
| Burguete | ✔ | | ✔ | ✔ | ✔ | ✔ | ✔ | | | ✔ | ✔ | |
| Espinal | ✔ | | | ✔ | ✔ | | ✔ | | ✔ | | ✔ | |
| Gerendiain-Bizkarreta | ✔ | | | ✔ | | | ✔ | | | | ✔ | |
| Lintzoain | | | | ✔ | | | ✔ | | | | | |
| Zubiri | ✔ | | ✔ | ✔ | ✔ | ✔ | ✔ | | ✔ | ✔ | ✔ | |
| Larrasoaña | ✔ | | | | | ✔ | ✔ | ✔ | ✔ | ✔ | ✔ | ✔ |
Towns
Hostels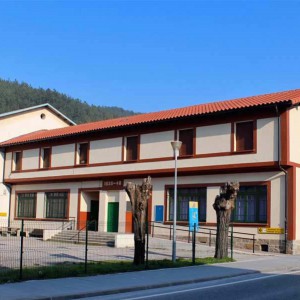 Albergue de peregrinos de Zubiri
78 beds
---
Avenida Zubiri (Antiguas escuelas)
Zubiri (Navarra)
628 324 186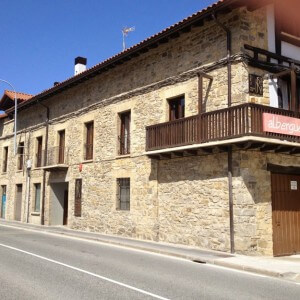 Albergue El Palo de Avellano
57 beds
---
Avenida de Roncesvalles, 16
Zubiri (Navarra)
948 304 770 / 666 499 175