Do your own way
×
Planner
Thank you for planning with Pilgrim!
The price is a non-binding estimate subject to confirmation upon payment.
Get 5% off today! Click here and one of our travel agents will get in contact with you shortly.
Zubiri – Pamplona (20,4 km -13 miles)
De puente a puente y tiro porque me lleva la corriente. You will walk through many bridges over the Arga River along this stags. This river is the most famous river in Navarre because all its course is along Navarra. Its abundant tributaries will guide you up to Pamplona that is the first city that you will find in the French Way. Pamplona is very famous due to Sanfermines (a popular fest).
This is the perfect moment to take a breath and enjoy one of the shortest stages in the way.

You will cross the urban area of Zubiri and we will go through the Puente de la Rabia Bridge leaving behind us the wonderful village of Zubiri. The first thing that you will see is Magna factory that extracts magnesite from the deposit that is located next to it. After crossing this factory you go through a staircase and then through a paved route that concludes it a wonderful path among nature and next to a river. The Arga river will take you to Ilarraz where you can take a breath and refill your water bottle. Then, after 800 metres (2,624 feet) you will get to Eskirotz.
Arga river will be next to you till the next stop: Larrasoña, a village from the 10 century built next to the Monasterio San Agustín de Larrasoáin monastery. The route don't go through the village but you just have to cross the Puente de los Bandidos Bridge to get to it. The route don't go through the village but you just have to cross the Puente de los Bandidos Bridge to get to it. In the past, agotes (a small group of people from this area) were discriminated because of their race and their economic position for more than 8 centuries.
After crossing this village we will be able to see Akerreta farmhouse (nowadays it is a holiday cottage) and also the Iglesia de la Transfiguración church. You will continue, this time through the road and then you will meet again the river. You will soon see the Puente de Zuriain bridge where we can rest for a while.
Before getting to the next village, Irotz, you will leave the river for a while, while you are crossing the N-135, then you will continue your way next to the river. You will enter in Irotz crossing the Monte Iturratx mount; there are also many houses with benches where you can rest for a while. We recommend you go to a pilgrim's establishment called Horno de Irotz, and also to the Iglesia de San Pedro church and its roman bridge. At this point we have to options: continue to the lefts going through a fluvial path to finally get to Huarte or you can continue straight forward to get to Arre. The first route a little bit more larger than the other one but there are less slopes; both routes get unified after 2 kilometres (1 mile). If you decide to continue through the traditional one (the one that goes straight forward) you have to take into account that is a route that rises that will take us to the Señorío de Arleta dominion, that is mostly a desert place sicne the 15 century but that still has the remains of the old castle and the remains of an old road.
You will cross the Valle de Esteribar valley through an underpass; this underpass will take you to a medieval bridge over the Ultzama River. After crossing the bridge you will have the feeling of being in the 12 century thanks to the hermitage that is located there, the Ermita de la Trinidad de Arre hermitage that still has its Romanesque apse, this hermitage is located between the hostel and a portico that is next to a private house.
Now you are in the last part of the stage, in Villave. You will cross its main street where you can find a hostel for pilgrims. We will cross this village straight forward going through a road, this way we will leave behind the village where Miguel Indurain (a very famous Spanish cyclist) was born. You next stop will be in Burlada, the fifth most populated village in Navarre, a village that has lots of services that you could need. You will walk next to some little palaces and gardens full of flowers, when you get to a local garage you have to use the right road and cross the pedestrian crossing. The signposting will lead you to the right a few metres forward and then to the left. After crossing a small path you will get to Pamplona entrance. A kilometre and a half after (0.9 miles) you will find again the Arga River, we should cross it through the Puente de la Magdalena bridge.
The hostel Casa Paderborn is located on the left side. The hostel Casa Paderborn is located on the left side. On the other side it is located the Baluarte de Nuestra Señora de Guadalupe Magdalena bastion that has a drawbridge. The Portal de Francia will lead you to Calle del Carmen Street. On this street you can find another hostel and at the end of the street you will find you should tur left to the Calle de la Curia street and then go through the Calle de la Compañía street. You have finished the stage!
Remember.
We walk by your side! If you have any doubt about this stage or about other stages, please contact us, we will help you. Have a nice Way, pilgrim! Have a nice Way, Pilgrim!
What to eat
Tudela Artichokes with clams (stew)
Piperrada (mixed vegetables: mainly onion pepper and olive oil) and gazpacho from Navarre
Asparagus and Piquillo peppers
Typical cheeses (Roncal and Idiazábal) Roncal e Idiazábal
Beef T-bone steak
Chorizo from Pamplona and Txistorra
Bidasoa salmon, kokotxas (a jelly parth the fish) and also Navarre style hake
San Blas pastries
Pacharán (typical liquor)
Bear in mind
it is an easy stage and also a calm stage You should pay attention before getting to Zuriain because this part could be a little bit dangerous, especially when it rains. If you are doing the way by bike you should know that this is not a complicated stage for you.
There are other different ways of crossing Irotz, but the best one is the one that leads you straight to Huarte. The one that crosses Arleta is easy but it has many slopes in which you should get off the bike and walk.
What to see
| Towns | Public Hostel | Bike rental | Medical assistance | Coffe bar | Teller | Pharmacy | Hotel | Touristic Information | Guesthouse | Restaurant | Supermarket | Veterinarian |
| --- | --- | --- | --- | --- | --- | --- | --- | --- | --- | --- | --- | --- |
| Zubiri | ✔ | | ✔ | ✔ | ✔ | ✔ | ✔ | | ✔ | ✔ | ✔ | |
| Larraosaña | ✔ | | ✔ | ✔ | | ✔ | ✔ | ✔ | ✔ | ✔ | ✔ | |
| Akerreta | | | | | | | ✔ | | | | | |
| Zuriain | | | | ✔ | | | ✔ | | | ✔ | | |
| Irotz | | | | ✔ | | | | | | ✔ | | |
| Zabaldika | | | | | | | | | ✔ | | | |
| Huarte | | ✔ | ✔ | ✔ | ✔ | ✔ | ✔ | ✔ | ✔ | ✔ | ✔ | ✔ |
| Trinidad de Arre – Villalba | ✔ | ✔ | ✔ | ✔ | ✔ | ✔ | ✔ | | ✔ | ✔ | ✔ | ✔ |
| Burlada | ✔ | | ✔ | ✔ | ✔ | ✔ | ✔ | | | ✔ | ✔ | ✔ |
| Pamplona | ✔ | ✔ | ✔ | ✔ | ✔ | ✔ | ✔ | ✔ | ✔ | ✔ | ✔ | ✔ |
Towns
Hostels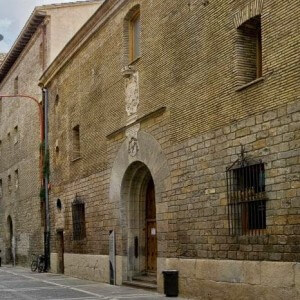 Albergue de Jesús y María
114 beds
---
C/ Compañía, 7
Pamplona (Navarra)
948 222 644 / 648 008 932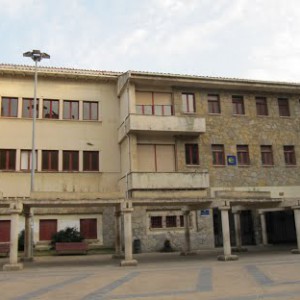 Albergue Municipal de Huarte
60 beds
---
Plaza de San Juan, s/n. Huarte (Navarra)
Zubiri (Navarra)
948 333 413 / 948 330 761