Do your own way
×
Planner
Thank you for planning with Pilgrim!
The price is a non-binding estimate subject to confirmation upon payment.
Get 5% off today! Click here and one of our travel agents will get in contact with you shortly.
Pamplona – Puente la Reina (23,9 km – 15 miles)
Today you will change the Arga River for the Sadar River and the oak trees for beach trees and cereal lands. You will start in Pamplona and your main objective will be reaching Alto del Perdón that is 750 meter high (2,460 feet). Wind will be with you on your way. The wind was the reason why the first wind farm of the community was installed here.
It is not a long stage but you have to be careful because there are many complicated areas that you should cross carefully, this area will be a challenge. After crossing the Sierra del Perdón Mountain pass you will get to the same place as the pilgrims that come from the Aragones Way, to Obanos, after this village you will walk with them to Puente la Reina.

You will start your route through Curia Street and then you will go through Mercaderes. After crossing the Plaza Consistorial square where Sanfermines fest starts officially with the burst of fireworks the 6th of July, you will go through all Mayor Street to get to Avenida del Ejercito avenue. You should cross all the parks and fields that surround the citadel, also known as Vuelta al Castillo and then you will cross Fuente del Hierro street to get to the university area. You could think that cross the university area is boring but the truth is that there is a river in this area that will be your companion through all this part, you will cross it through the Puente Azella bridge that is located in a park with an amazing garden. After going through 2-kilometer path (1 mile) to get to Zizur Menor. While crossing this village you will see the Iglesia de San Miguel and after going a little bit downhill you will see the old Señorío de Guenduláin domain where still remain a church and a palace from the 17 century.
Seguimos el camino hacia la siguiente localidad: Zariquiegui, donde el templo románico de nave única de San Andrés nos recibirá anunciando que estamos casi a la mitad de nuestro destino. En esta parada previa a la Sierra del Perdón podremos abastecernos en una pequeña tienda de víveres o hacer un alto en la Posada de Ardogi. Siguiendo las flechas del Camino, tomamos la senda que nos llevará a la famosa Fuente de Gambellacos o de Reniega. Cuenta la leyenda que tras un largo viaje bajo el sol, el diablo se le apareció a un sediento y exhausto peregrino para ofrecerle algo de beber a cambio de que este renegara de su fe. El romero, a pesar de la tentación, rechazó la invitación y rezó hasta que este desapareció. Como recompensa, el mismísimo Apóstol Santiago apareció ante él para darle de beber de una fuente que milagrosamente había aparecido allí mismo. Es el momento idóneo para, al igual que este fiel peregrino, beber algo y coger fuerzas para afrontar lo más duro de esta etapa: la subida al Alto del Perdón.
Si tenemos suerte, el viento nos empujará en este ascenso de dos kilómetros y medio, rodeados de extensos prados y con el zumbido de fondo de los molinos de viento. Las espectaculares vistas y un curioso monumento erigido en honor a todos los peregrinos que coronan esta sierra, nos reciben en el lugar que debe su nombre a una antigua basílica en honor a la Virgen del Perdón. Tras quedar absueltos de todos nuestros pecados, como reza la leyenda, emprenderemos el descenso a Uterga. Debemos tomárnoslo con calma ya que debido al mal estado de la calzada es fácil tropezar y lastimarse.
Cruzaremos de punta a punta esta localidad para, tras recorrer dos kilómetros entre campos de cereal, llegar a Muruzábal. Este pueblo cuenta con bastantes servicios y en él admiraremos su restaurado palacio barroco reconvertido en bodega, y la iglesia de San Esteban, que alberga varias obras de gran valor. Otra iglesia que conviene visitar, a pesar de estar fuera de nuestro itinerario (deberemos desviarnos unos dos kilómetros aproximadamente), es la situada en el ayuntamiento de Eunate. Esta solitaria ermita del siglo XII, punto de reunión entre el Camino Aragonés y el Francés, alberga numerosos misterios. Se sospecha que en algún momento de la historia sirvió como cementerio de peregrinos ya que se han encontrado numerosos cadáveres acompañados de las compostelanas vieiras, símbolo inequívoco de este milenario peregrinaje.
De vuelta en Muruzábal, reanudaremos el Camino ascendiendo en dirección a Obanos, donde cada año se realiza una representación teatral rememorando el Misterio de Obanos (leyenda del Camino de Santiago donde el príncipe Guillermo de Aquitania asesinó a su hermana Felicia y, tras arrepentirse, realizó el viaje a Santiago y pasó el resto de su vida como ermitaño en Arnotegui). Esta festividad fue declarada Fiesta de Interés Turístico Nacional en 2001. Tras revivir estos acontecimientos pondremos rumbo al río Robo, el cual recorreremos a su vera para entrar finalmente en el Puente de la Reina, construido para facilitar el paso a los peregrinos en el siglo XI.
Remember.
We walk by your side! If you have any doubts about this stage or about other stages, please contact us, we will help you. Have a nice Way, Pilgrim!
What to eat
Señorío de Sarria wines
Costillas al Sarmiento (lamb ribs grilled in a fire made with vineyard wood)
Pochas de Campollano (typical beans)
Typical cheeses from Urbasa
Magras con tomate (pork lard with tomato sauce)
Trout with Parma ham
Codfish cooked with garlic
Bear in mind
If you are lucky the wind will be your best friend during this stages. You should pay attention because in this stage there are many false indications that will lead you to a commercial area.
Bear in mind that if you want to visit the Ermita de Eunate hermitage you should turn aside in Muruzábal or in Obanos, from this village there are just two kilometres (1 miles) to Eunate. If you have doubts about how to get there you can ask local people, they will help you.
If you are doing the way by bike we don't recommend you descend Alto del Pedrón by bike; we recommend you go through the N-111 road, we also recommend this route reduced mobility people, to avoid possible accidents due to a lot of rocks that you could find there. The road route is not easy due to the traffic, but it would be better than the other one. Be careful with all the vehicles that you will find.
What to see
| Towns | Public Hostel | Bike rental | Medical assistance | Coffe bar | Teller | Pharmacy | Hotel | Touristic Information | Guesthouse | Restaurant | Supermarket | Veterinarian |
| --- | --- | --- | --- | --- | --- | --- | --- | --- | --- | --- | --- | --- |
| Pamplona | ✔ | ✔ | ✔ | ✔ | ✔ | ✔ | ✔ | ✔ | ✔ | ✔ | ✔ | ✔ |
| Cizur Menor | ✔ | ✔ | | ✔ | | ✔ | | | | ✔ | ✔ | |
| Zariquiegui | ✔ | | | | | | | | | | | |
| Uterga | ✔ | | | ✔ | | | | | ✔ | ✔ | | |
| Muruzábal | | | ✔ | | | | ✔ | | | | ✔ | |
| Obanos | ✔ | | | | | | ✔ | | | | ✔ | |
| Puente la Reina | ✔ | ✔ | ✔ | ✔ | ✔ | ✔ | ✔ | ✔ | ✔ | ✔ | ✔ | ✔ |
Towns
Hostels
Albergue de peregrinos de la Orden de Malta
27 beds
---
Encomienda Sanjuanista
Cizur Menor (Navarra)
616 651 330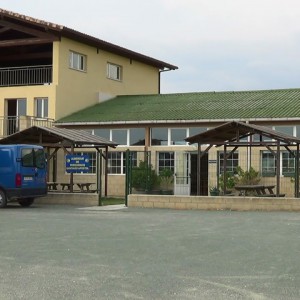 Albergue Santiago Apostol
100 beds
---
Paraje el Real
Puente la Reina (Navarra)
948 340 220 / 660 701 246