Do your own way
×
Planner
Thank you for planning with Pilgrim!
The price is a non-binding estimate subject to confirmation upon payment.
Get 5% off today! Click here and one of our travel agents will get in contact with you shortly.
Lugo – San Romao da Retorta (19,6 km – 12 miles)
You will be combining asphalted roads and paths. Today you will leave Lugo and you will walk towards San Román da Retora. There are just 20 kilometers between both places so you can keep calm. You will have two options: conclude in San Román or get to Ponte Ferreira, in Palas de Rei.
You will start going through the Rúa de San Pedro street. Once you get to the Plaza Mayor square you will have to get to the Plaza de Santa María square after going through the staircase. Then you will continue through the Rúa Bispo Basulto street to get to another square, where you will find a fountain devoted to San Vicente Ferrer, you will have to turn left to get to the Rúa do Miño street. You will cross a tourism office to get to the Pazo de Orbán s Sangro country house that is currently a hotel.
Then you will get to Porta Miñá and Porta do Carme leaving the city that is inside the city wall. Descendemos hacia el rural gallego y al llegar a un cruce debemos de prestar atención a la señalización. You will have to cross through Calzada da Ponte to get to the Minho river. You will have to cross the river over a bridge called A Ponte Vella and then you will have to go to the right to see the Capilla de San Lázaro chapel that is located next to the Minho river and in front of the viewpoint called Blanco Amor. You will have to cross Louzantea and then cross the national road through a tunnel. Then you will get to the LU-2901 and you will walk through it towards Burgo and Palas de Rei. It has no hard shoulder but it has a path parallel to it. You will get to San Vicente do Burgo where you will see a baroque church from the 18 century. Continuing through the same road you will get to Poutomillos and once you get to a crossing the way continues straight forward. Nevertheless there is a signal that will indicate you an optional way towards Santa Eulalia de Bóveda. Este santuario tardío-románico del siglo III rendía culto a la diosa Cibeles y posteriormente a Santa Eulalia. Supone el único edificio de estas características en todo el territorio del antiguo imperio romano. Volviendo al trazado jacobeo continuamos aproximadamente un kilómetro hasta un desvío a mano derecha para dirigirnos hacia Bacurín y a su iglesia románica dedicada a San Miguel. Además, justo al lado se encuentra el pazo de San Miguel, sobre una finca llena de árboles.
After some kilometres you will be walking through paths surrounded by fields and forest and you will get to Lugar de San Pedro de Mera where you will return to the asphalted road again. Then you will cross San Pedro de Baixo and Taboeiro where you will find an establishment where you and rest for a while before getting to the end.
You are now in Guntín, where you will find the Iglesia de A Retorta church, you are really close to the hostel located in Castrelo, the end of your stage.
Remember.
We could give you all the information available about this stage and about all the other stages. We can also plan all your journey so your own worry is walk and get to Santiago.
What to eat
Pimientos de Mougán
Galician stew mainly made with pork and vegetables
Typical peppers
Typical bread
Typical beef meat
Bear in mind
Como se comenta en la descripción del itinerario, las opciones para finalizar esta etapa son varias. Una buena alternativa es hacer noche en Ponte Ferreira, en el concello de Palas de Rei y a unos siete kilómetros de San Romao da Retorta. Otra posibilidad es continuar hasta As Seixas, a cinco kilómetros y con varias opciones para pernoctar. This stage is easy for everyone.
What to see
| Towns | Public Hostel | Bike rental | Medical assistance | Coffe bar | Teller | Pharmacy | Hotel | Touristic Information | Guesthouse | Restaurant | Supermarket | Veterinarian |
| --- | --- | --- | --- | --- | --- | --- | --- | --- | --- | --- | --- | --- |
| Lugo | ✔ | ✔ | ✔ | ✔ | ✔ | ✔ | ✔ | ✔ | ✔ | ✔ | ✔ | ✔ |
| San Romao da Retorta | ✔ | | | ✔ | | | | | | ✔ | | |
Towns
Hostels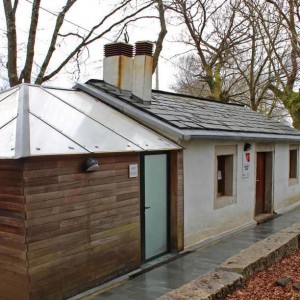 Albergue de peregrinos de San Román da Retorta
12 beds
---
San Roman da Retorta, s/n
San Romao (Lugo)
628 173 456
Albergue O Cándido
7 rooms
---
Barrio de O Castrelo (al lado de la cantina)
San Romao (Lugo)
693 063 146