Do your own way
×
Planner
Thank you for planning with Pilgrim!
The price is a non-binding estimate subject to confirmation upon payment.
Get 5% off today! Click here and one of our travel agents will get in contact with you shortly.
Gijón – Avilés (25 km – 15 miles)
You will get to Avilés after crossing the Monte Areo mount and also after crossing some villages. You will enjoy Avilés' old city due to its beauty. In this city you will find some of the biggest beaches in Asturias such as Sablón, Bayas and Salinas.

Nos disponemos a abandonar la localidad de Gijón. Para ello nos dirigimos al paseo marítimo de la ciudad y continuamos por la Avenida Rodríguez San Pedro todo recto hasta llegar a la glorieta de la plaza Padre Máximo. Siguiendo las indicaciones y pasando por las avenidad Mariano Pola, Galicia y República Argentina, llegaremos hasta la AS-19, la cual nos marcará nuestro camino durante un tiempo. Seguimos la carretera en cuestión y pasamos unas vías del tren continuamos hasta tener que cruzar bajo otras vías de ferrocarril y, previa llegada a una rotonda, tomamos un camino a nuestra mano derecha que nos lleva a una carretera más pequeña. Seguiremos el camino hasta llegar a la localidad de Veriña (cruzando previamente el viaducto de la AS-19) y continuamos por la carretera hacia Poago. Pasando unas vías de ferrocarril nos disponemos a subir al Monte Areo hacia la aldea de Poago.
Continuamos ascendiendo hacia el Monte Areo, pasando por la aldea de Pavierna. Llegados a un desvío hacia el dolmen de San Pablo, lo elegimos para más tarde descender por el valle de Carreño hasta la carretera CE-6. Cruzamos dicha carretera hasta que más adelante, aproximadamente 500 metros después tomar un desvío que nos lleva a la carretera AS-326. Seguimos nuestro camino hasta llegar a una rotonda grande, este será el punto donde debemos abandonar nuestro trazado y, viendo la rotonda a nuestra derecha, continuamos por un sendero hasta llegar de nuevo a la AS-19. Seguimos un trayecto largo pasando por la localidad de Tabaza hasta llegar a un campo de fútbol, cruzar unas vías de tren y continuamos de lado de la ría de Avilés. Llegaremos a un parque urbano que nos indica el momento de subir a la carretera AS-238, por una pasarela. Poco después siguiendo la avenida Marqués de Suances hasta que nos cambie la carretera a la avenida Cervantes. Siguiendo alcanzaremos así la ciudad de Avilés, tras recorrer algo más de veinte kilómetros, en el corazón marítimo de la región y declarado Conjunto Histórico Artístico. Además de sus calles asoportaladas esta localidad alberga la zona de dunas más extensa de toda Asturias, rodeadas de impresionantes acantilados y playas de ensueño. Si aún tenemos fuerzas podemos continuar hasta Muros de Nalón para restar kilómetros a la etapa de mañana. Para ello redirígete a la etapa número 20 y en el itinerario te explicamos como llegar hasta allí.
Remember.
There are lots of activities that you can do once you get to Avilés. We will choose the best options for you.
What to eat
Typical cheeses
Typical spicy pork sausage
Beans with calms and rice
Marañuelas (typical pastries made with flour, sugar, eggs and lard) and Niemeyitas (typical pastries similar to macaron)
Bollo de Pascua y Colasinos
Pumariegas y Arrecifes de Salinas
Bear in mind
This is an easy stage for everyone. The only problem is the dual carriageway, you should be very careful. It is an easy stage.
What to see
| Towns | Public Hostel | Bike rental | Medical assistance | Coffe bar | Teller | Pharmacy | Hotel | Touristic Information | Guesthouse | Restaurant | Supermarket | Veterinarian |
| --- | --- | --- | --- | --- | --- | --- | --- | --- | --- | --- | --- | --- |
| Gijón | ✔ | ✔ | ✔ | ✔ | ✔ | ✔ | ✔ | ✔ | ✔ | ✔ | ✔ | ✔ |
| Tabaza | | | | ✔ | | | | | | ✔ | ✔ | |
| Trasona | | | | ✔ | ✔ | ✔ | | | | ✔ | ✔ | |
| Avilés | ✔ | ✔ | ✔ | ✔ | ✔ | ✔ | ✔ | ✔ | ✔ | ✔ | ✔ | ✔ |
Towns
Hostels
Albergue de peregrinos Pedro Solís
56 beds
---
C/ Gutiérrez Herrero, 1
Avilés (Asturias)
698 520 425 / 619 619 700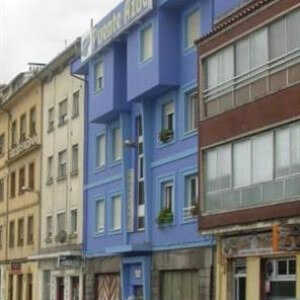 Hostal Puente Azud
15 rooms
---
C/ Acero, 5
Avilés (Asturias)
985 550 177