Continuación del Camino Primitivo
Melide – Arzúa (14 km)
This is the longest stage in Galicia. In this stage you will leave Lugo and enter in A Coruña. At this stage, the province of Lugo is abandoned to enter the last of the provinces through which it passes, the province of A Coruña, where it enters through the village of O Coto, bordering both provinces. It is a demanding stage, with a broken and irregular profile, where short but physically difficult climbs are frequent, in which stretches in an exceptional state of conservation coexist, crossing wonderful villages of deep Galicia with less gratifying areas, such as industrial estates or stretches with a very improvable state of conservation.
When they arrive at their destination, Arzúa, the pilgrims of the French Way join those who come from the North Way to face the last two stages that separate them from Compostela.

We bid farewell to one of the largest villages on the entire French track in Galicia: Melide. We cannot leave these lands without tasting its world famous octopus, and is that we have a wide gastronomic offer in this town considered as the epicenter of the Galician community and full of cultural and patrimonial riches that we should not overlook in our stay.
We continue our route again along the national road 547, which we will cross to enter the county 4603 in the direction of San Martiño, turning right a few meters further on towards Santa Maria de Melide, a small village that keeps a Romanesque church with a spectacular façade, waiting to be portrayed by the eyes of the pilgrim and, if you wish, also by his camera. Between large meadows and eucalyptus forests, we cross the places of Raido and Parabispo, to cross the stream of Valverde, where, on the other side, the place of Peroxa awaits us, the anteroom of the parish of Boenete, divided in two by the national road and where we can find a cafeteria, and two private shelters, as well as the fountain of La Saleta, a place where hundreds of pilgrims take advantage of to fill their canteens with natural water.
We leave Boente facing a hard slope that leads us to the parishes of Figueiroa and Castañeda, where we will begin to descend again to the Ribeiral stream, located between the parishes of Pedrido and Rio. At this point, the Way becomes steep again for the umpteenth time, where we will cross the road once again and reach a short cobbled stretch of road and head down to what is perhaps the most magical place of our entire stage, Ribadiso, with a hostel ideal for overnight stay. We enter Ribadiso by a bridge over the river Iso, on the banks of which is the aforementioned hostel, with direct stairs to the river and a rest area that is difficult to find in other stages. Leaving Ribadiso means not only leaving this paradisiacal enclave, but also facing the 3.4 km that remain until Arzúa, with an odious slope that runs along a service road parallel to the national road. As soon as the terrain begins to flatten out, we finally see the entrance sign to Arzúa, which welcomes us just 900 metres from the centre of the village, where we will end our stage and find all the necessary services we need to end our day, without forgetting to try the cheese with a designation of origin that they make in these lands.
Remember.
We walk by your side! If you have any doubt about this stage or about other stages, please contact us, we will help you. Have a nice Way, pilgrim! Have a nice Way, Pilgrim!
What to eat
Typical octopus
Melindres (pastries mainly made with eggs, anisette, milk, flour and sugar
DO Arzúa-Ulloa Cheese
Bear in mind
For people with reduced mobility, it is necessary to study the possibility of taking the LU-663 road as an alternative route, but always bearing in mind that it is a road without hard shoulders with a high danger level.
For the cyclists, this is a stage of moderate difficulty, since, although there are complicated descents, in rainy seasons they are easy to overcome if we carry out the descent carefully and with the appropriate bicycle.
| Towns | Public Hostel | Bike rental | Medical assistance | Coffe bar | Teller | Pharmacy | Hotel | Touristic Information | Guesthouse | Restaurant | Supermarket | Veterinarian |
| --- | --- | --- | --- | --- | --- | --- | --- | --- | --- | --- | --- | --- |
| Melide | ✔ | ✔ | ✔ | ✔ | ✔ | ✔ | ✔ | ✔ | ✔ | ✔ | ✔ | ✔ |
| Boente | ✔ | | | ✔ | | | | | | ✔ | ✔ | |
| Castañeda | ✔ | | | ✔ | | | | | ✔ | ✔ | | |
| Ribadiso | ✔ | ✔ | | ✔ | | | | | ✔ | | | |
| Arzua | ✔ | ✔ | ✔ | ✔ | ✔ | ✔ | ✔ | ✔ | ✔ | ✔ | ✔ | ✔ |
Towns
Hostels
Albergue O Cruceiro
---
Ronda de A Coruña, 2
Melide (A Coruña)
616 764 896 / 948 76 00 29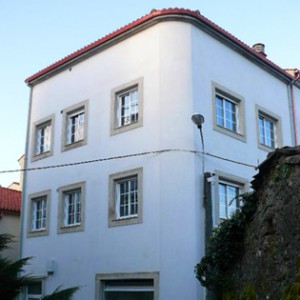 Albergue O Apalpador
---
C/ San Antonio, 23
Melide (A Coruña)
981 50 62 66 / 679 837 969