Do your own way
×
Planner
Thank you for planning with Pilgrim!
The price is a non-binding estimate subject to confirmation upon payment.
Get 5% off today! Click here and one of our travel agents will get in contact with you shortly.
Olveiroa – Fisterra (34,4 km – 21,7)
You are close to Costa da Morte and also to the famous Cabo de Fisterra cape that was considered the most occidental part in the world during the Roman Empire. But first, you will have to cross more villages and small villages to get here. Once you have crossed Hospital you will have to make a decision: go to Fisterra or to Muxía. You will also go through Cee and also through Corcubión. From this village there are just 15 kilometers left to get to the end of the stage.

It is a long stage, so you can divide it into two, staying the night in Corcubión, after Cee.
You will leave Olveiroa through the same street where the hostel is located, going through the right through an asphalted road. After some meters, you will find a marker and you will have to turn left towards a small stream. After crossing you will have to get to a path that will lead you to the Embalse de Castrelo reservoir. Then you will have to walk up through some paths in the Monte do Sino mount following the indications of the markers. Your companion at this moment will be a lot of windmills, after two kilometers and through the same path you will start to descend to get to the river located in Hospital you will have to cross it through a stone bridge to get to Logoso. After four kilometers walking you probably will need to stop and rest or eat something, or maybe buy some snacks because until getting to Cee you won't find any establishments. Now the road gets to a roundabout and then you will find a marker that will indicate you that now there are two possible routes: Muxía or Fisterra. You will have to continue to Fisterra going through the left, a few meters after you will have to leave the road's hard shoulder to get to a path through the right once you have crossed a curve. Near the way, but not going through it, you will find a petroglyph called Pedra Ancha, located in Buxantes. It shows the image of a battle. If you want to see it you will have to take a turn away from a factory called Ferroatlántica. You will also cross the Cruceiro de Marco do Coutostone cross that is located between Buxantes and Dumbría. Lots of pilgrims leave stones there. Now there are just two kilometers to get to the Santuario das Neves sanctuary near the sea and close to Monte Pindo. This hermitage is from the 15 century. Si cruzamos al otro lado podremos descansar en un área de descanso habilitada con mesas donde dejar las mochilas pero con escasa o ausente sombra. There is a spring called Fuente Santa that according to the legend is good for those mums that are breastfeeding. After stopping here you will continue through the Montes de Pedras Loiras mount and then through Cheda mount, this time you will be walking through uncomfortable paths that could be complicated to cyclists. The next temple is San Pedro Mártir, here you will also find a spring that according to the legend has healing powers. In this area you will find lots megalithic settlement and burial mounds hidden in the forests.
Siguiendo el trazado jacobeo y alrededor de dos kilómetros y medio más tarde una señalización nos advierte de la cercana presencia del cruceiro da Armada, recomendando totalmente este rodeo de apenas doscientos metros para poder apreciar en todo su esplendor la bella Costa da Morte y el Cabo de Fisterra, considerado por los romanos como el punto más occidental del mundo conocido.
Reemprendemos el camino tras esta parada obligatoria afrontando un fuerte repecho negativo cuyo firme inestable tampoco mejorará la situación. Al llegar a un pequeño altar en honor a la Virgen vamos en busca del asfalto y giramos primero a la izquierda y luego a la derecha hacia Os Camiños Chans. El albergue se encuentra desviándonos a la izquierda pero si queremos continuar debemos seguir a mano derecha, adentrándonos en la villa marinera de Cee, donde encontraremos todo tipo de servicios. Si deseamos seguir hasta Corcubión tan sólo tendremos que dirigirnos a la calle Magdalena y salir al paseo marítimo. Desde allí seguiremos todo recto hasta la aledaña Corcubión.
If you decide to continue to get to Fisterra you will have to walk from the Plaza de Castelao square to get to the Calle de San Marcos street where you will find a gothic church. You are now closer to Fisterra, so you can stop here to taste and enjoy Costa da Morte. After crossing the streets called Mercedes and Campo do Rollo you will get out of Corcubión and you will have to walk up a little bit to get to a viewpoint where you will see Cee and Corcubión estuaries. After crossing Vilar you will have to cross the national road. Then you will cross San Roque hostel that will be the starting point for those people who decide to stay the night in Corcubión. You will leave the asphalted road a little bit after, through the right, through a path full of pine trees, but then you will return to the asphalted road. Where you will walk through the left side up to a curve, where you will cross to get again to a path. Before getting to Fisterra you will have to cross Sardiñeiro. Antes aún pasaremos por Sardiñeiro, desde donde nos desviamos a la derecha y a continuación a la izquierda, tal y como muestra una flecha amarilla pintada en un muerete de una casa. Before getting to Fisterra you will have to cross Sardiñeiro. Then you will continue your way crossing many streets to finally get to Fisterra. Un fuerte repecho descendente nos acercará a la idílica playa de Talón, muy frecuentada por las gentes del lugar. Los que así lo deseen pueden bajar al arenal, si el tiempo nos lo permite, y seguirla o continuar por el trazado jacobeo, en paralelo a ella y alejándonos poco a poco por un área de descanso. Un puente nos permitirá seguir por el paseo marítimo hasta el barrio de San Roque y a la cruz de Baixar, cruceiro de granito desde donde obtener una bella panorámica de las playas y de Fisterra. Siguiendo de frente enlazaremos con la avenida de A Coruña, que nos llevará hasta el centro urbano, por las calles de Santa Catalina y la Real, donde se encuentra el albergue municipal.
No debemos abandonar ahora, aún nos queda lo mejor de esta etapa: la subida al faro de Fisterra de unos tres kilómetros. Enlazamos desde la calle Real con las plazas de la Constitución y de Ara Solis hasta la carretera que conduce al famoso faro. No podemos irnos sin visitar las iglesias de Nuestra Señora del Buen Suceso y la de Santa María das Areas, un poco más adelante. Desde aquí tan sólo tendremos que continuar por el arcén de la carretera hasta la gran linterna que alumbra a los marineros que navegan por los confines del fin del mundo desde el siglo XIX.
Remember.
Para etapas con fuertes desniveles conviene repartir bien el peso de las mochilas para no sufrir cargas extras. We walk by your side! If you have any doubts about this stage or about other stages, please contact us, we will help you. Have a nice Way, pilgrim!
What to eat
Goose barnacle
Razor-shell
Typical fish
Octopus "à feira"
Typical fish and seafood
Typical beef
Porco celta (a typical pork from Galicia)
Typical wines
Pan de Carballo
Bear in mind
There are some parts of this stage that could be a little bit complicated. You have to take into account that there are not any available service between Logosto and Cee.
What to see
| Towns | Public Hostel | Bike rental | Medical assistance | Coffe bar | Teller | Pharmacy | Hotel | Touristic Information | Guesthouse | Restaurant | Supermarket | Veterinarian |
| --- | --- | --- | --- | --- | --- | --- | --- | --- | --- | --- | --- | --- |
| Olveiroa | ✔ | | | ✔ | | | | | ✔ | ✔ | | |
| Logoso | ✔ | | | ✔ | | | | | | ✔ | ✔ | |
| Hospital | | | | ✔ | | | | | | | | |
| Cee | ✔ | ✔ | ✔ | ✔ | ✔ | ✔ | ✔ | ✔ | ✔ | ✔ | ✔ | ✔ |
| Corcubión | ✔ | | ✔ | ✔ | ✔ | ✔ | ✔ | ✔ | ✔ | ✔ | ✔ | |
| Sardiñeiro de Abaixo | | | | ✔ | | | | | ✔ | ✔ | ✔ | |
| Fisterra | ✔ | ✔ | ✔ | ✔ | ✔ | ✔ | ✔ | ✔ | ✔ | ✔ | ✔ | ✔ |
Towns
Hostels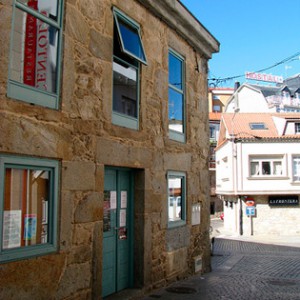 Albergue de Peregrinos de Fisterra
36 beds
---
C/Real, 2
Fisterra (A Coruña)
981 740 781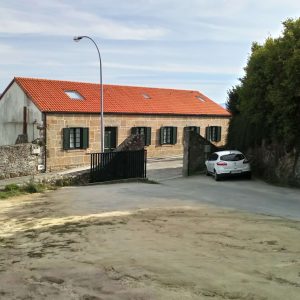 Apartamentos "O Almacén"
6 beds
---
Patres 24, 15155
Finisterre (A Coruña)
+44 7442 77 33 61 / +34 629 07 87 73