plan your way
plan your way
Do your own way
×
Planner
Thank you for planning with Pilgrim!

The price is a non-binding estimate subject to confirmation upon payment.
Get 5% off today! Click here and one of our travel agents will get in contact with you shortly.
Fisterra – Muxía (29,3 km – 18,2 miles)
Both villages are a must that you should visit. This stage goes through Costa da Morte, you will enjoy one of the best stages in the Way.

If you have stayed the night in Fisterra you will have to get to the Playa de Langosteira beach to get to the national road. A marker will take you through the left to get to San Martiño de Duio, a village linked with Dugium. It is believed that here was located the famous Roman village that was destroyed by the water due to its inhabitant sins. Recientes excavaciones han demostrado la existencia de un asentamiento en la zona, con la diferencia de que se cree fue destruido por la invasión sueva. Once you get to this village you will find a church devoted to San Martiño that is from the 18 century. Continuing your way you will get to Escaselas and Hermedesuxo de Abaixo. The way continues on a path to the right that will lead you to San Salvador, but there is an alternative route: Rostro that goes through Castrexe and Padris. If you continue through the official way you will get to San Salvador and you will leave this village going through a forest that will lead you to Rial and Buxán. Then you will get to the famous Playa de O Rostro beach that was deeply affected by the Prestige catastrophe and before by a boat called Casón. You will continue through Castreche, here you will return to the asphalted road and also rural paths to get to Padrís where you will see again Atlantic Ocean. Canosa and Lires are the following villages, a perfect place to rest for a while and see the Iglesia de San Estevo de Lires church. After visiting some streets you will get to the Castro river, you will have to cross to get to Muxía. After crossing the river you will have to walk up a little bit to get to Guisamonde where you will continue on a road to get to Morquintián. Once you get to a crossing you will have to be very careful because the way can become a little bit confusing. You will see a marker but you will have to go to the right. After 300 meters you will have to turn left and then to the left again to go through Facho de Lourido. Then you will have to descend through Xurarantes and Fonte do Bico. Then you will get to the Playa de Lourido beach. You will have to walk approximately two kilometers more to get to the city center, you will have to cross some streets such as Campo das Pinas, Os Malatos… in this village you will see the Santuario da Virxe da Barca sanctuary. Cuenta la leyenda que fue aquí donde Santiago el Mayor vio llegar en una barca a la Virgen, la cual venía a agradecerle por su labor de evangelización en nombre de su hijo, dejándole a su cargo la piedra de abalar (piedra de grandes dimensiones que se apoyan en tan sólo dos puntos y supuestamente servían como punto de iniciación o curación).
Remember.
This area is full of cultural, civil and religious heritage. Pilgrim chooses the best places for you to visit during your Camino.
What to eat
Stock
Razor-shell
Typical fish
Octopus "à feira"
Typical fish and seafood
Typical beef
Porco celta (a typical pork from Galicia)
Typical wines
Filloas
Bear in mind
You can do this stage going from Fisterra to Muxía and vice-versa. Para aquellos que en Olveiroa decidieron tomar la variante a Muxía tan sólo tendrán que seguir desde aquí el camino inverso hasta Fisterra.
What to see
| Towns | Public Hostel | Bike rental | Medical assistance | Coffe bar | Teller | Pharmacy | Hotel | Touristic Information | Guesthouse | Restaurant | Supermarket | Veterinarian |
| --- | --- | --- | --- | --- | --- | --- | --- | --- | --- | --- | --- | --- |
| Fisterra | ✔ | ✔ | ✔ | ✔ | ✔ | ✔ | ✔ | ✔ | ✔ | ✔ | ✔ | ✔ |
| Lires | | | | ✔ | | | ✔ | | ✔ | ✔ | ✔ | |
| Muxía | ✔ | | ✔ | ✔ | ✔ | ✔ | ✔ | ✔ | ✔ | ✔ | ✔ | |
Towns
Hostels
Albergue de Muxía
32 beds
---
C/ Enfesto, 2
Muxía (A Coruña)
610 264 325 / 620 112 902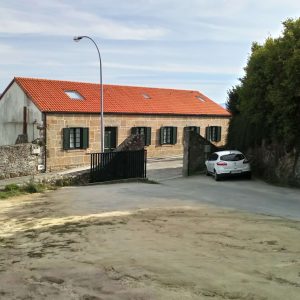 Apartamentos "O Almacén"
6 beds
---
Patres 24, 15155
Finisterre (A Coruña)
+44 7442 77 33 61 / +34 629 07 87 73