Do your own way
×
Planner
Thank you for planning with Pilgrim!
The price is a non-binding estimate subject to confirmation upon payment.
Get 5% off today! Click here and one of our travel agents will get in contact with you shortly.
Sigüeiro -Santiago de Compostela (16,7 km)
This is the last stage in the English Way, you are close to Santiago de Compostela. You will have to cross an industrial area before getting to this wonderful city, before getting there you will cross the old city.

You will leave Sigüeiro through a bridge over the Tambre river that is the boundary between these two cities. Then you will have to turn left to get to the Iglesia de San Andrés de Barciela church and then continue parallel to the river up to a turn away to the right among typical Galician trees. Once you get to a stone wall you will have to turn left towards the AC-250 and then you will have to cross it. From here you will have to take many turns aways, the first two through the left and the other two through the right, you are now close to the AP-9. You will cross an underpass under the AP-9 to get to San Vicente de Marantes and the to Rúa Travesa, A Torre and Agualada where you could visit its chapel. if you continue parallel to the road you will have to turn left through an underpass that will lead you to the Fuente del Inglés fountain. After crossing it you will have to turn left next to the N-550 towards the Sionlla river to cross O Barral and Garabal, both villages belong to San Caetano. Now you will get to Santiago's industrial area called Tambre. You should go through Vía Galileo to get to the Rúa do Tambre street in Meixonfrio. Once you leave this street you will have to turn right through the Calle del Río street and then turning left. You are very close to the cathedral, you will have to cross the Calle Guadalupe street towards Ponte Mantible, a medieval building.
You will get to the Avenida de Castelao Avenue after crossing the Parque Fermín Bouza park, near San Caetano, where the main building of Xunta de Galicia is located. Then you will have to cross the Rúa dos Basquiños street and also Santa Clara street. Then you will get to Os Loureiros through Porta da Pena and then you will get to the Rúa da Troia street. At the end you will go through the Rúa da Azabachería street, near the cathedral. Podemos dejarnos guiar por nuestra intuición o perdernos a propósito por las callejuelas santiaguesas, así la primera vista de la majestuosa Catedral aún será más impresionante.
Remember.
Today you will get to Santiago, congratulations! After so many hard stages it's time to rest for a while before visiting Santiago. If you have any doubts about this city, please contact us, we will help you.
What to eat
All the typical Galician gastronomy, especially fish and seafood. But you also should taste all types of meat and dishes made with meat. Todo ello deberá ir acompañado de los caldos más exquisitos de la Ribeira Sacra, godellos, mecías… De postre no podemos dejar de probar la típica tarta de Santiago regada por licores caseros de orujo, hierbas y de café o de una buena queimada.
Bear in mind
We recommend you get to Santiago early to be able to visit all the monuments, buildings and museums. You will have to go to the pilgrim's office to get the Compostela.
What to see
| Towns | Public Hostel | Bike rental | Medical assistance | Coffe bar | Teller | Pharmacy | Hotel | Touristic Information | Guesthouse | Restaurant | Supermarket | Veterinarian |
| --- | --- | --- | --- | --- | --- | --- | --- | --- | --- | --- | --- | --- |
| Sigüeiro | ✔ | | ✔ | ✔ | ✔ | ✔ | ✔ | ✔ | ✔ | ✔ | ✔ | ✔ |
| Santiago de Compostela | ✔ | ✔ | ✔ | ✔ | ✔ | ✔ | ✔ | ✔ | ✔ | ✔ | ✔ | ✔ |
Towns
Santiago de Compostela
Population>

95.612

Town >

Santiago de Compostela

Province >

A Coruña
See more
Hostels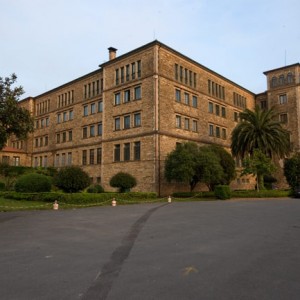 Albergue Seminario Menor
177 beds
---
Avda. Quiroga Palacios s/n
Santiago de Compostela (A Coruña)
981 573 660
Albergue San Lázaro
80 beds
---
Rúa San Lázaro, s/n
Santiago de Compostela (A Coruña)
981 573 660