Do your own way
×
Planner
Thank you for planning with Pilgrim!
The price is a non-binding estimate subject to confirmation upon payment.
Get 5% off today! Click here and one of our travel agents will get in contact with you shortly.
Pontedeume – Betanzos (20,2 km 13 miles)
Today's stage will be a little bit complicated, nevertheless is a wonderful and pretty stage. Al igual que Pontedeume, Betanzos nos aguarda protegida entre sus antiguas murallas, declaradas conjunto histórico artístico junto al resto del casco histórico.
From the hostel you will have to return to the medieval bridge and turn right to get to the Rúa Real street. You will cross a country house from the 18 century that used to belong to Rajoy y Losada. You will have to keep walking up and then turn left to get to the Plaza de las Angustias square and also to some streets called Empedrado and Souto da Vila. You should keep calm while walking this path because it is a little bit complicated. Once you get to the end you will enjoy a wonderful view. Once you get to the N-651 you will have to turn right towards O Barro, turning right first and then left to get to San Miguel de Breamo. Here you will have to turn right if you want to visit the Capilla de San Miguel chapel and then continue straight forward. This church is from the 12 century and there are lots of stories about it. Then you will have to turn left through a rural path and then you will get to Miño, to A Xesta and Buiña. Now you should walk through the AC-4802 and border a gold course that is located in Costa Miño. Then you will walk through the forest parallel to the highway towards Viadeiro and Outeiro. After crossing some villages you will start walking up towards the Baxoi river, you will cross it through a bridge from the 14 century paid by the Andrade family. You are now in Camino Real, close to Miño. This way will take you to the city center. You will cross the streets called Playa Fonte and also Pardiñeira to get to a crossing where you will see the way that you should follow to get to the hostel. If decided to continue you will leave this city through A Barrosa street towards a flyover over the train rails. You are now walking towards A Ponte do Porco, here it used to be a road that linked Pontedeume and Betanzos. After this bridge you will have to turn right to find the Playa de la Alameda beach that is the most important establishment in this village. Desde el puente a mano derecha se encuentra la playa de la Alameda, considerada Lugar de Importancia Comunitaria y donde podremos encontrar algún que otro establecimiento.
You will have to cross the river and enter in Paderne, now you will have to start a walking up that will lead you to a park. Then you will have to turn left to descend through an asphalted road. Then you will get to the city center where the Iglesia de San Pantaleón de AS Viñas is located, this church is from the 12 century and it is a Romanesque church. In front of this church, you will find the Pazo de Montecelo country house, from the 17 century that also belonged to the Andrade family. Then you will have to walk until you find the N-651 and after some meters you will have to turn left towards Chantada. Near a fountain called O Xiro it used to be a pilgrim's hospital. You will get to Souto, near Betanzos, but first you will have to cross Gas and Tiobre. You will have to ascend and descend again before getting to Betanzos before you will visit some amazing monuments. Esta última data del siglo XII y destaca por sus capiteles corintios de ornamentación vegetal. De nuevo otro fuerte repecho, en este caso descendente, pondrá a prueba nuestras ya cansadas piernas, pero tan sólo restan unos cuantos metros para alcanzar nuestro objetivo de hoy. Descendemos por a costa do Sabugueiro hasta el Pazo de Barral y el santuario de Nuestra Señora del Camino del siglo XVI y de estilo renacentista. Su historia está muy ligada a leyendas sobre apariciones de la Virgen en ese mismo templo, el cual previamente fue un hospital para peregrinos. Seguimos bajando para rozar por fin las aguas del río Mandeo, a la altura de la Puerta del Puente Viejo, el cual nos abre las puertas de esta ciudad muy ligada a la familia Andrade y concretamente a Fernán Pérez de Andrade, conocido como O Bo (El bueno). Nos internamos en sus callejuelas empedradas, transportandonos irremediablemente a la época medieval, para subir a la plaza de los hermanos García Naveira, lugar próximo al albergue de peregrinos, donde damos por finalizada la etapa de hoy. Esta ciudad está considerada la capital del gótico gallego, albergando uno de los cascos históricos más bellos y mejor conservados de toda la comunidad. Además fue capital de una de las siete antiguas provincias del Reino de Galicia.
Remember.
If you want to make any variations in the established stages or route you just have to call us and we will plan the best option for you. We walk by your side!
What to eat
Fish and shellfish.
Octopus and shellfish
Galician beef
Typical omelet
Typical wines
Bear in mind
This is a hard stage due to all the ups and downs People with reduced mobility and cyclists should take this into account to plan their stage.
What to see
| Towns | Public Hostel | Bike rental | Medical assistance | Coffe bar | Teller | Pharmacy | Hotel | Touristic Information | Guesthouse | Restaurant | Supermarket | Veterinarian |
| --- | --- | --- | --- | --- | --- | --- | --- | --- | --- | --- | --- | --- |
| Pontedeume | ✔ | ✔ | ✔ | ✔ | ✔ | ✔ | ✔ | ✔ | ✔ | ✔ | ✔ | ✔ |
| Miño | ✔ | ✔ | ✔ | ✔ | ✔ | ✔ | ✔ | ✔ | ✔ | ✔ | ✔ | ✔ |
| Betanzos | ✔ | ✔ | ✔ | ✔ | ✔ | ✔ | ✔ | ✔ | ✔ | ✔ | ✔ | ✔ |
Towns
Hostels
Albergue de Betanzos
32 beds
---
Rúa Pescadería, 4
Betanzos (A Coruña)
616 944 470 / 618 331 787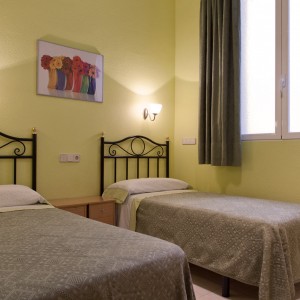 Pensión Universal
5 rooms.
---
Av. de Linares Rivas, 18
Betanzos (A Coruña)
981 770 055