Viana do Castelo – Caminha (26,8 km – 13,2 miles)
In this stage we will reach the border between Portugal and Spain in Galicia, so these will be the last kilometers of the Portuguese landscape before entering the no less amazing Galician sights. We must remark that at the beginning of this stage, at Viana do Castelo, you will have to decide if you want to follow the inland Way or to take the diversion to the coast and walk on near the sea, although this means to miss the signals to follow the Way.
Once we leave Viana do Castelo you will need to choose between two alternatives: the official one, through the inlands of Portugal, or the coastal one, even this is not official. Both variants will join each other later on, at Vila Praia de Ancora.
Official Route: we will walk by Passeio das Mordomas from Praça da República until Rua de São Tiago. We will walk down this street until the shopping centre next to the train station. We will cross by the railway and then turn to our left by Rua Don Moisés Alves Pinho. We move forward passing by Santa Luzia mount. We turn to our left in Rua Pedreira da Areosa towards the roundabout.Then, we walk by Rua Entre Quintas and cross a bridge to the mansion Quinta da Boa Viagem. Later on we will reach the villages of Areosa and Carreço until Vila Praia de Ancora.
Coastal route: though there are no indications, this is an easy route. After passing by Avenida do Atlántico from Viana do Castelo, the Norte beach and Areosa's fort towards Carreço, we will move on next to the GR-1 road and the coast. We will reach the point where both routes get together at Vila Praia de Ancora.
Once at Lagarteira de Vila fort, we will walk for 2 kms before reaching Moledo. When leaving this village, we will walk by Avenida Santana towards Caminha, end of this stage where we will spend the night.
What to see
Clock Tower (Caminha)
Matriz church (Caminha)
Fountain at República square (Viana do Castelo)
Misericordia building and church (Viana do Castelo)
Eiffel bridge (Viana do Castelo)
Remember.
You can visit our website to find more information about the stages. You will also find some useful tips and some pieces of advices that you can follow before start your way.
What to eat
Fish: salmon, trout, sole and sardines.
Caldeirada à pescador
"Cabrito" estofado o asado al horno (stewed)
Caminhenses and mokas
Bear in mind
In this stage we will find again a diversion that will split the Way in two, through the inland and through the coast. We recommend you to do it through the coast so you can enjoy the Portuguese coastal landscape.
| Towns | Public Hostel | Bike rental | Medical assistance | Coffe bar | Teller | Pharmacy | Hotel | Touristic Information | Guesthouse | Restaurant | Supermarket | Veterinarian |
| --- | --- | --- | --- | --- | --- | --- | --- | --- | --- | --- | --- | --- |
| Viana do Castelo | ✔ | ✔ | ✔ | ✔ | ✔ | ✔ | ✔ | ✔ | ✔ | ✔ | ✔ | ✔ |
| Areosa | | | | ✔ | ✔ | ✔ | | | | ✔ | ✔ | |
| Afife | | | | ✔ | ✔ | | ✔ | | ✔ | ✔ | ✔ | |
| Caminho da Tomenga | | | | ✔ | ✔ | ✔ | | | | ✔ | ✔ | |
| Vila Praia de Âncora | ✔ | ✔ | ✔ | ✔ | ✔ | ✔ | ✔ | ✔ | ✔ | ✔ | ✔ | ✔ |
| Caminha | ✔ | ✔ | ✔ | ✔ | ✔ | ✔ | ✔ | ✔ | ✔ | ✔ | ✔ | ✔ |
Towns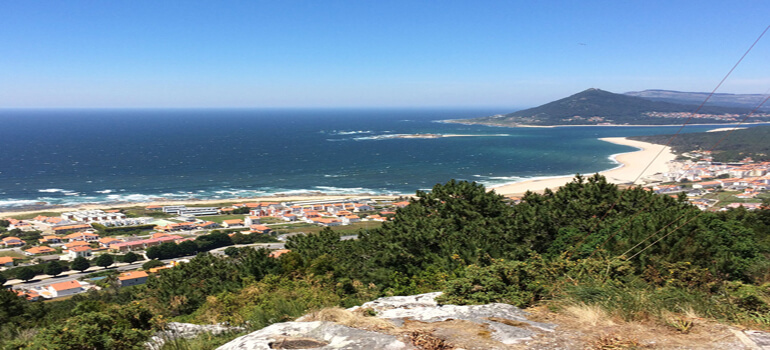 Caminha
Inhabitants >

16.684

Municipality>

Caminha

District >

Viana do Castelo