Marinhas – Viana do Castelo (20,8 km)
During this stage we will leave the beaches and sights to the sea but do not worry: this will happen only during the 20 kms of this stage. But this does not mean you will not enjoy beautiful landscapes, such as the path to Neiva river and the old town of Viana do Castelo, end of this 4th stage of the Portuguese Coastal Way.
Once in Säo Miguel church, we will turn to the right and then to the left by Rua de Sáo João. After walking by some streets we will reach the Civic Centre. We will follow the arrows until Rua Padre Almeida and the Belinho church.
We will walk on until Rua Barão de Maracaná, which will lead us to a chapel. Moving on we will be entering Antas.
Once at the crossroad with the EN-13 road, we will go on to Rua da Carvalha until getting to a forest. We will walk through a path to river Neiva, which we will cross to reach Nuestra Señora de Guadalupe chapel. To our right we will find the EN-13-3 road and we will follow a shortcut called Travessa de Santiago to São Tiago church.
We will see a car parking. Leaving it to our left, we will follow an ascending dirt path until reaching São Romão de Neiva church. To our left we will walk a path until reaching the village of Chafé.
Once at Chafé we will walk on until the cemetery, then we will take a diversion to our left to Vila Nova de Anha. After passing by this village we will arrive at Darque, where we will follow the N-13 road to the next roundabout that will take us to the famous Eiffel bridge. We will cross Lima river and reach Viana do Castelo.
What to see
San Bartolomé do Mar church
Neiva castle
Quinta da Boa Viagem chapel
Remember.
We recommend you not to try walking more kilometers than you really can. Usually, there are intermediate stops where you can spend the night and split the stage in two. We walk by your side! If you have any doubt about this stage or about other stages, please contact us, we will help you. Have a nice Way, pilgrim!
What to eat
Roasted sea bass or with rice
Sardines and cod
Quinta green wine
Bear in mind
During this stage we will not pass by any beach but do not worry: we will do so in the next stage. Meanwhile, enjoy the great landscape of the Neiva river and its paths.
| Towns | Public Hostel | Bike rental | Medical assistance | Coffee bar | Teller | Pharmacy | Hotel | Touristic Information | Guesthouse | Restaurant | Supermarket | Veterinarian |
| --- | --- | --- | --- | --- | --- | --- | --- | --- | --- | --- | --- | --- |
| Marinhas | ✔ | | | ✔ | | ✔ | | | ✔ | ✔ | ✔ | |
| Belinho | | | | ✔ | | ✔ | | | | ✔ | ✔ | |
| Antas | | | | ✔ | ✔ | ✔ | | | ✔ | ✔ | ✔ | |
| Neiva castle | ✔ | | | ✔ | | | | | | ✔ | ✔ | |
| Chafé | | | | ✔ | ✔ | | | | ✔ | ✔ | ✔ | |
| Anha | | | | ✔ | ✔ | | | | ✔ | ✔ | ✔ | |
| Darque | ✔ | | ✔ | ✔ | ✔ | ✔ | ✔ | | ✔ | ✔ | ✔ | |
| Viana do Castelo | ✔ | ✔ | ✔ | ✔ | ✔ | ✔ | ✔ | ✔ | ✔ | ✔ | ✔ | ✔ |
Towns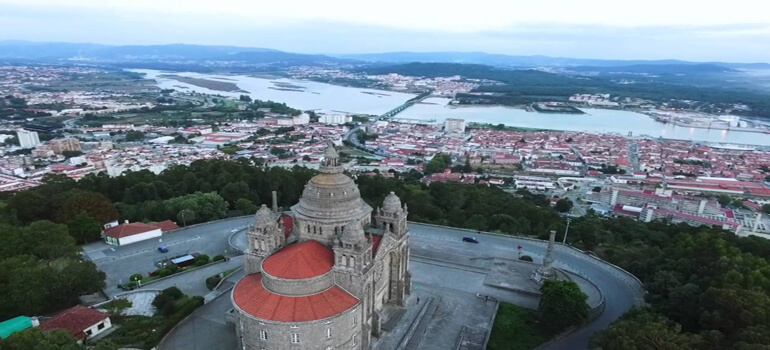 Viana do Castelo
Inhabitants >

88.725

Municipality >

Viana do Castelo

District >

Viana do Castelo