In this post, we tackle one of the most recurring issues from the very moment we decide to embark on the Camino de Santiago: what type of shoes should I wear?
Any pilgrims with a credentialfull of stamps know that all the information shown here is of great importance.
Those of you who have not experienced the Jacobean routes yet and are thinking about starting your adventure soon should pay attention to the following tips.
One of the main questions that comes to mind before starting the Caminois how to take care of your feet, as they will be your greatest allies along this adventure.
It is no surprise that there are numerous online forums and articles about "the best footwear".
One important thing to remember is that not everyone's body is the same and something that works perfectly to one person, might not have the same result for someone else.
In any case, there are 3 key factors to pay attention to at the time of choosing the right footwear.
FIRST OF ALL… SOCKS
Before diving into the world of footwear itself, let's have a quick look at socks.
No matter how good your footwear is, if you do not select well your socks, you might end up needle in hand treating those annoying blisters that will not take long to show up .
Woollen and cotton socks can be ruled out, as they do not allow a proper perspiration of your feet, which leads to more sweating and, therefore, to the appearance of blisters.
Another important feature of your chosen socks is that they are seamless in order to avoid abrasion.
Anti-friction socks
The best option is to get some anti-friction socks, which have a double layer, thicker on the outside and thinner on the inside. This offer better breathability to ensure your feet are never wet, which is key to avoid the so-feared blisters.
THE BEST FOOTWEAR FOR THE CAMINO DE SANTIAGO
Pilgrims walk over all sorts of surfaces: tarmac, concrete, gravel, pebbles, clay…
Such a wide range of grounds makes anyone question what the right choice of footwear is, since you need something that adapts properly to every one of them.
It is also important to take into account the time of the year you are going to undertake this experience, as this might tilt the balance towards one option or another.
The 3 most recommended types of footwear for the Camino de Santiago are:
TREKKING BOOTS
They offer great ankle support and proper grip to all surfaces, essential for stony and broken ground.
Over-the-ankle boots have the perfect design for hiking in different conditions, keeping fatigue to a minimum. The lacing system also plays an important role in fit and comfort, and should never be overlooked.
Your selected boots must have toe and heel protection, with rubber reinforcements in case you kick a rock on the trail. As for the outsoles, we recommend double density soles made of rubber, that offer stability and grip. There are brands that specialise in these types of footwear, such as Teva, Chiruca, Salomon and Boreal.
If you are thinking about doing the Camino de Santiago in winter, make sure your boots have a proper waterproof system that allow breathability, so as to keep your feet dry and protected in rainy weather.
This type of footwear is more recommended for wintertime, as it can make your feet feel a little overheated in the warmer months, apart from being heavier than the types we are going to mention next.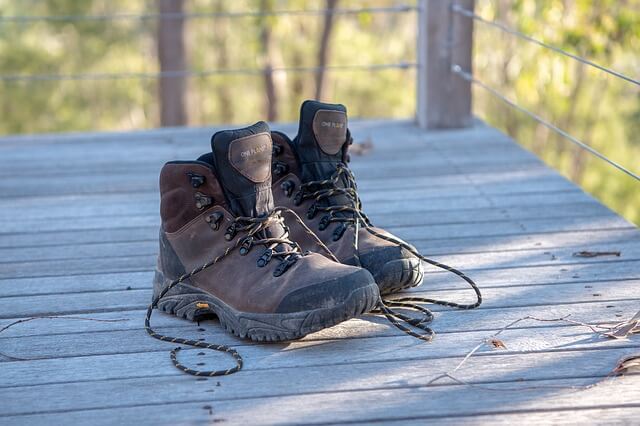 TREKKING SHOES
This type of footwear is perfectto walk the Camino Specialised brands offer designs that bring technology, comfort and maximum performance together.
They are the best option for pilgrims who look for freedom of movement, light weight and breathability. Perfect for walking, as their outsoles offer durability and traction and their detachable insoles and EVA midsoles provide a high level of cushioning and stability.
In short, they are lighter than boots and, nowadays, their materials, fabrics and sturdiness allow to complete the Camino easily, especially in spring and summer.
The best brand for trekking shoes is, undoubtedly, Gore Tex, offering a wide range of footwear, although well-known houses such as Adidas have a very good quality selection.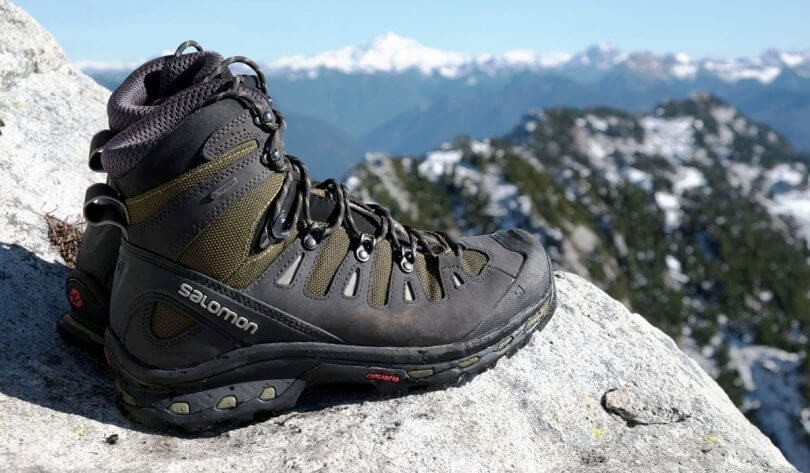 TREKKING SANDALS
This alternative is perfect for summer.
Trekking sandals are multifunctional and are designed to offer, mainly, breathability and comfort.
They are good for walking but also come in handy to rest your feet after a hard day of walking.
The most recognised brands when it comes to trekking sandals are Keen, Arpenaz and Quechua.
Regardless what footwear you choose, take your time every morning to put your shoes on, so as to avoid wrinkles or twisted socks, which might cause serious abrasion to your skin.
We also recommend that, if you have any plasters on, take a look at their condition and also apply some Vaseline on your feet to protect your skin from heavy friction.
KEY FACTORS AT THE TIME OF CHOOSING FOOTWEAR
Below, we list some of the most important key factors to take into consideration when selecting your footwear. It is important not just for comfort during the stages, but also to avoid injuries.
Should you injure yourself during the walk, Pilgrim offers physiotherapy services along the Jacobean routes, so you can have any injuries treated on the spot and continue your pilgrimage.
SIZE
Be careful not to get the size wrong, it is important that your footwear does not feel tight.
If your toes touch the front end of your shoes or boots, you will need to look for another size which allow your toes not to rub against each other. Otherwise, your Camino will become a nightmare.
DO NOT TAKE BRAND NEW FOOTWEAR TO THE CAMINO
If you buy new footwear for the Camino,
make sure you have been using it for at least a month to ensure it has adapted to your feet.
AT THE END OF THE STAGE
Use sandals or flip flops to give a good rest to your feet and keep them ventilated. This is really important to avoid the appearance of blisters.
CHECK YOUR FEET ON A DAILY BASIS
Examine your feet every day for signs of sore skin or future possible blisters, so as to apply protective plasters that prevent them from getting worse.
VISIT THE PODIATRIST
If you get to the point where blisters and wounds prevent you from continuing to walk, visit a podiatrist.
There are many of them along the different routes of the Camino de Santiago and they are used to treating pilgrims and their most common conditions.
INSIDE YOUR BACKPACK
Make sure you always carry some Vaseline, adhesive tape, special silicone plasters (like Compeed) and a small pair of scissors or a file so you can treat the different skin conditions that might appear on your feet.
Following these tips, you will be able to choose well your footwear and that you will not have any problems along the stages until you reach Santiago de Compostela, allowing you to have the best of times discovering all the secrets hidden along the route.
Ultreia pilgrims!
Plan your adventure!
We can fill you in, no strings attached!