Zafra – Villafranca de los Barros (19,2 km- 12 miles)
This is an easy stage. There are approximately 20 kilometres between Zafra and Villafranca de los Barros. You can visit the amazing Gothic-Renaissance church and walk along the streets of the so called "city of music".

You will start early in the morning leaving Zafra through Torre de San Francisco, where you will cross the road and get to a path that will lead you to Sierra de San Cristóbal, in the South of Los Santos de Maimona. In this mount there are lots of vines, olive trees, almond trees and other fruit trees due to its wonderful climate. In this villageyou will have to buy and take all the necessary things because you won't find any services until get to villafranca de los Barros. Then you will cross a bridge called Rivera de Robledillo and then you should follow the yellow arrows that will lead you to a road that goes towards Ribera del Fresno. You should continue through it and then turn right, you will get to a national road, near the train rails. A little bit after you will have to leave the asphalted road to the right and then you will have to turn left to get to Villafranca de los Barros that is located for kilometres form here. You will get to this village through a road and the first streets in the village are: Cabballeras and Zurbarán, the you will walk through Martínez and Larga to get to the Iglesia de Nuestra Señora del Valle church. This temple was built over another one pretty much older and modest, remarkable due to its Gothic and Renaissance elements. One of the most remarkable ones is the vault, of the 16th century, and the main entrance. You have walked for approximately 20 kilometres, so lots of pilgrims decide to stay the night here, in this village, but there are other that want to continue to Almedralejo that is located 17 kilometres from here.
Remember.
This division is just for your information, you can decide how to divide your own stages ore ven make them longer.
What to eat
Cold meats
Migas
Typical stews
Game meat
Ajo y Laurel
Pestiños (typical pastries)
Bear in mind
You can make this stage longer and get to Almendralejo that is located 17 kilometres from Villafranca de los Barros. This stage is easy for everyone. This stage is easy for everyone.
What to see
| Towns | Public Hostel | Bike rental | Medical assistance | Coffe bar | Teller | Pharmacy | Hotel | Touristic Information | Guesthouse | Restaurant | Supermarket | Veterinarian |
| --- | --- | --- | --- | --- | --- | --- | --- | --- | --- | --- | --- | --- |
| Zafra | ✔ | ✔ | ✔ | ✔ | ✔ | ✔ | ✔ | ✔ | ✔ | ✔ | ✔ | ✔ |
| Los Santos de Maimona | ✔ | | ✔ | ✔ | ✔ | ✔ | ✔ | | ✔ | ✔ | ✔ | ✔ |
| Villafranca de los Barros | ✔ | ✔ | ✔ | ✔ | ✔ | ✔ | ✔ | ✔ | ✔ | ✔ | ✔ | ✔ |
Towns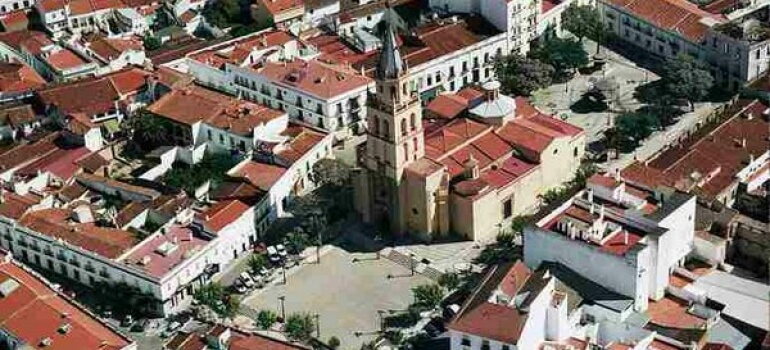 Villafranca de los Barros
Population>

13.289

Town>

Villafranca de los Barros

Province >

Badajoz
See more