Do your own way
×
Planner
Thank you for planning with Pilgrim!
The price is a non-binding estimate subject to confirmation upon payment.
Get 5% off today! Click here and one of our travel agents will get in contact with you shortly.
Aldeanueva del Camino – La Calzada de Béjar (22,2 km – 13,8 miles)
Today you will leave Extremadura and you will get to Castilla y León. You will get there through the Puerto de Béjar mountain pass. You will continue through the old Roman Road, you will go through some villages very touched by the Roman Empire.

You will start this stage in Aldeanueva del Camino, in the square where the town hall is located and the you will walk towards the national road. You will have to continue straight forward and then you will get to a roundabout, then you will have to continue and then turn left once you see a huge a signal that indicates the way to Hervás. This village is not in the original route so you will have to walk 4 kilometres to get there, but we strongly recommend visit it due to its beauty. Sobre todo destacan las edificaciones que aún se conservan en la zona baja del río, donde varias familias judías comenzaron a instalarse desde el siglo XV. Here you will also see the Iglesia de Santa María church.
Then you will return to the original route and you will walk next to the Embalse de Baños reservoir and then you will get to Baños de Montemayor, after eight kilometres walking through the national road. Once you get there you can visit its establishments and services and also its monuments. Then you will walk to a mountain pass called Béjar. Now you will change the asphalted road for and old Roman road, you will continue through it until get to the national road N-630 a little bit after. You will have to cross it and then continue through a path to the left to finally get to Castile and León. Then you will get to a neighbourhood called Estación. Then you will get to a path to the left that will get you to a bridge and then to a recreational area. Then you will have to get to the Cuerpo de Hombre river and you will have to cross it to walk through a path full of oak trees. A escasos metros deberemos desviarnos ligeramente de la ruta hacia la derecha, saltando una pequeña valla de madera a la derecha para poder ver de cerca uno de los miliarios mejor conservados de todo el trazado jacobeo. You will have to continue through some paths until get to Béjar that is lovely small village where you will find some monuments. Esta pequeña pero acogedora población de apenas cien habitantes nos ofrece la posibilidad de visitar la iglesia de la Asunción en la plaza mayor o la ermita del Santísimo Cristo de la Misericordia, pudiendo descansar en condiciones tras las duras jornadas anteriores.
Remember.
We walk by your side! We walk by your side! If you have any doubts about this stage or about other stages, please contact us, we will help you. Have a nice Way, pilgrim!
What to eat
Typical potatoes
Typical cod
Typical suckling lamb
Cold meat
Cold meat
Bear in mind
In spite of being a small village, La Calzada de Béjar has a private hostel and some holiday cottages. La Calzada de Béjar es una localidad de apenas unos noventa habitantes. Sin embargo, cuenta con un albergue privado y varias casas rurales. This stage does not pose any additional difficulties for cyclists or people with reduced mobility.
What to see
| Towns | Public Hostel | Bike rental | Medical assistance | Coffe bar | Teller | Pharmacy | Hotel | Touristic Information | Guesthouse | Restaurant | Supermarket | Veterinarian |
| --- | --- | --- | --- | --- | --- | --- | --- | --- | --- | --- | --- | --- |
| Aldeanueva del Camino | ✔ | | ✔ | ✔ | | ✔ | ✔ | ✔ | ✔ | | ✔ | |
| Baños de Montemayor | ✔ | | | | | | ✔ | | ✔ | | | |
| Puerto de Béjar | ✔ | | | ✔ | | | ✔ | | | ✔ | | |
| La Calzada de Béjar | ✔ | | | ✔ | ✔ | ✔ | ✔ | ✔ | | ✔ | ✔ | |
Towns
Hostels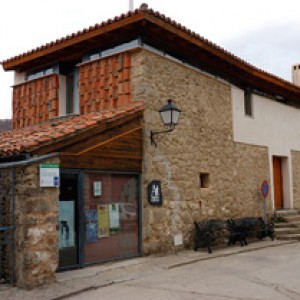 Albergue de Baños de Montemayor
3 rooms.
---
Calle Castañar, 40
Baños de Montemayor (Cáceres)
655 620 515
Albergue Rural Alba y Soraya
28 beds
---
C/ Baños, s/n
Calzada de Béjar (Salamanca)
923 416 573 / 646 410 643