Do your own way
×
Planner
Thank you for planning with Pilgrim!
The price is a non-binding estimate subject to confirmation upon payment.
Get 5% off today! Click here and one of our travel agents will get in contact with you shortly.
Short stage in which we can choose the way to enter Cea: through Tamallancos, saving a couple of kilometers, or through Canedo. The two options are similar, with a number of roadsides and the constant presence of the road, the second alternative being the one known as the "costiña de Canedo". Finally, in Cea we will be able to taste its famous bread and visit some of its points of interest, such as the proclaimed "Escorial Gallego" or Monastery of Oseira.


We will leave the city of Ourense in search of the San Lazaro Park. To do this, from the hostel, turn right and then left into Bedoya Avenue. Once in the park, we continue along Rúa do Concello until we reach Plaza Concepción Arenal and quickly reach the Miño River, continuing along its banks following Avenida de As Caldas. A few metres later, we will be presented with the two possible alternatives to continue to Cea.
If we turn right, we will go to Cea passing through Tamallancos and Sobreira, adding up to a total of about twenty-two kilometers in total stage. After turning, we enter the Avenida de Santiago until we reach a service station, where we turn right again. By Camiño Real Street, we arrived at the national road, which we crossed to get into the Pereira neighborhood. A little further on, turn left along a cobbled path and go up to a small square. After recovering our breath for a while, we continued our ascent, meeting again the national road and, little by little, transforming the paved path into another much more comfortable one. The first nucleus we will cross today is Sartédigos, but we will not find any service to Tamallancos, almost six kilometers from here. Just as you exit onto a track, turn right to connect with another road to the road. Less than a hundred metres further on, we leave it on the right, going up Outeiros da Forca and crossing the national road again. We continue straight on by another road, which will again lead us to the N-525, after passing through some industrial buildings. In Tamallancos we can stop and have a drink in one of its establishments or buy supplies for the rest of the stage. In the meantime, we can visit the Romanesque church of Santa María, and then continue along tracks to Bouzas, already in the Vilamarín district. There we will have to go again in search of the national road, crossing it again and going into a path between granaries. We cross the village of Sobreira and the Barbantiño river a little further on to change town hall in the place of Faramontaos, which already belongs to the Cea council. There are still some five kilometres of asphalted tracks ahead of us, some of which are very steep, and the nearby presence of the N-525 to Viduedo. As soon as we leave this town, we leave the national road by a way to the right and leads to Casasnovas, just a couple of kilometers from our destination, San Cristovo de Cea. This concello is famous for the quality of its bread and the presence of the imposing monastery of Oseira.
On the other hand, if we choose to continue straight ahead, we will save a couple of kilometres but, in return, we will have to climb up the well-known "costiña de Canedo". Before you get there, follow the national road for a little over two kilometres to a restaurant, where you turn left along an uphill street between industrial buildings. We will then save the new AVE tracks and then the train track, where we will begin the famous ascent. In addition to the slope, we will have to suffer the monotony of the local road and asphalt, paying close attention to traffic at all times. After another two kilometres, we reach Castro de Beiro, where we cross the road again to continue straight on along a dirt track that dies again on the road. We now continue along the OU-526 for a moment until we leave it on the right near Reguengo, an ideal place to take a break and have a drink. Always continue straight ahead to cross the road again and turn right along a tree-lined path to the bridge that leads to Mandrás. . Always continuing straight ahead, cross this town to take a road and continue on the right until you reach Casanovas. We left from here along a track surrounded by trees and after a while we went out to the OU-405, crossing it by a lower promenade and finally entering the town of Cea.
Remember.
The budget you will need to have will depend on your preferences, especially for accommodation. For example, if you decide to travel as a true medieval pilgrim, you can adjust your budget and stick to the mere six or eight euros that public hostels charge.
What to eat
Cea bread
Beef Meat
D.O. Ribeira Sacra, Ribeiro, Valdeorras, Monterrei Wine
Bear in mind
The budget you will need to have will depend on your preferences, especially for accommodation. For example, if you decide to travel as a true medieval pilgrim, you can adjust your budget and stick to the mere six or eight euros that public hostels charge.
What to see
| Towns | Public Hostel | Bike rental | Medical assistance | Coffe bar | Teller | Pharmacy | Hotel | Touristic Information | Guesthouse | Restaurant | Supermarket | Veterinarian |
| --- | --- | --- | --- | --- | --- | --- | --- | --- | --- | --- | --- | --- |
| Ourense | ✔ | | | ✔ | ✔ | ✔ | ✔ | ✔ | | ✔ | ✔ | |
| Cudeiro | | | | ✔ | | | | | | | | |
| Castro de Beiro | | | | ✔ | | | | | | | | |
| Mandrás | | | | ✔ | | | | | | ✔ | ✔ | |
| Tamallancos | ✔ | | | ✔ | | | | | | | ✔ | |
| Viduedo | | | | ✔ | | | | | | | | |
| Casanovas | | | | ✔ | ✔ | | | | | ✔ | ✔ | |
| Pazos | ✔ | ✔ | ✔ | ✔ | ✔ | ✔ | ✔ | ✔ | ✔ | ✔ | ✔ | ✔ |
| Cea | | | | ✔ | ✔ | | | | | | ✔ | |
Towns
Hostels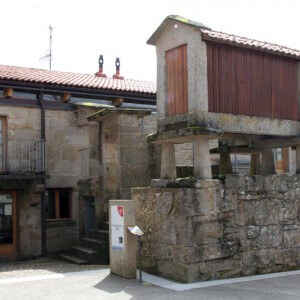 Albergue de peregrinos de Cea
42 beds
---
C/ Santo Cristo, s/n
San Cristovo de Cea (Ourense)
988 282 000 / 600 878 289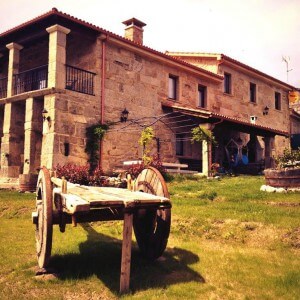 Alojamiento Rural Pazos
6 rooms.
---
Pazos, s/n
San Cristovo de Cea (Ourense)
619 445 640 / 662 267 873