Do your own way
×
Planner
Thank you for planning with Pilgrim!
The price is a non-binding estimate subject to confirmation upon payment.
Get 5% off today! Click here and one of our travel agents will get in contact with you shortly.
Lezama – Bilbao (10,8 km – 7 miles)
Before getting to Bilbao you will have to walk for a while and also walk up to the Monte Avril mount. Nevertheless this stage is easy compared with the other ones. Once you get to the top of the mount you will see the most populated city in the community. Bilbao was founded in the 13 century and is famous because there you can see the Museo Guggenheim museum, next to the estuary.

You will leave Lezama through the BI-637 and you will get to a neighborhood called La Cruz and then to Zamudio. Then you will get to the Iglesia de San Martín church located in Arteaga. After crossing it you will have to turn left to see the Torre de los Marqueses de Malpica tower also known as Torre de Zamudio because is the place where is located; this tower is from the 15 century and was ordered by Malpica marquess. You will continue and you will cross Pinoa industrial area and also the national road 637 through a bridge; then you will have to turn right to leave the industrial area for a while and get to a forest full of trees. Then you will get to an asphalted road that gets into San Antolín and after crossing this neighborhood you will return to the national road.
Your way to get to the Monte Avril mount continues now through a path that is the same path that the old Sendero Real that started in Bermeo. Your way to get to the Monte Avril mount continues now through a path that is the same path that the old Sendero Real that started in Bermeo. You will see all Bilbao, a city that you will reach after descending the mount. After crossing again the road through a flyover you will get to Begoña where you will find a church devoted to Virgen de Begoña. In the 16 century this temple was partially destroyed and many things where stolen, it was rebuilt many times. If you continue straight forward you will get to a street called Andra Mari and after crossing another one called Mallona you will cross the Plaza Miguel de Unamuno square. This is a very crowded area due to the important points of interest of the surroundings, such as the archaeological and historical museum, Miguel de Unamuno's monument and its proximity to Bilbao's Nueva Square. There always a lot of people here because there are located the most part of the interesting places to see and visit. As its name says, Apostle Santiago is the saint patron of this big city.
Remember.
Bilbao has lots of things to see and to do. We can tell you what the best plans in this city are when you are here.
What to eat
Elvers
Typical cod
Typical hake
Txakolí (typical white wine)
Canutillos de Bilbao (typical pastries from Bilbao)
Bear in mind
In spite of having to walk up to the Monte Avril mount it is an easy stage. Sometimes the way can be a little bit monotonous because you will have to cross some industrial areas.
What to see
| Towns | Public Hostel | Bike rental | Medical assistance | Coffe bar | Teller | Pharmacy | Hotel | Touristic Information | Guesthouse | Restaurant | Supermarket | Veterinarian |
| --- | --- | --- | --- | --- | --- | --- | --- | --- | --- | --- | --- | --- |
| Lezama | ✔ | ✔ | ✔ | ✔ | ✔ | ✔ | ✔ | ✔ | ✔ | ✔ | ✔ | ✔ |
| Bilbao | ✔ | ✔ | ✔ | ✔ | ✔ | ✔ | ✔ | ✔ | ✔ | ✔ | ✔ | ✔ |
Towns
Hostels
Albergue de Bilbao
60 beds
---
Kobeta Bidea, 60
Bilbao (Bizkaia)
609 031 526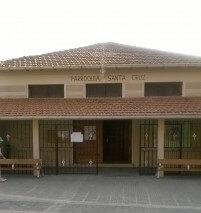 Albergue de peregrinos Santa Cruz de Begoña
22 beds.
---
C/ Padre Remigio Vilariño, 1
Bilbao (Bizkaia)
687 529 606