Do your own way
×
Planner
Thank you for planning with Pilgrim!
The price is a non-binding estimate subject to confirmation upon payment.
Get 5% off today! Click here and one of our travel agents will get in contact with you shortly.
Baamonde – Sobrado dos Monxes (41,2 km – 26 miles)
Today you will leave Terra Chá and you will get to A Coruña. You will cross again lots of villages and small villages.You won't find many services. Once you get to Sobrado dos Monxes you will enjoy its wonderful monastery.

If you have stayed the night in Baamonde you will have to see the previous' stage itinerary to know how to get to Miraz because this will be the starting point in today's stage. The first thing that you will see is the Iglesia de Santiago church and then you will have to go through a path to the left, the yellow arrows will indicate you the way. You will walk through the Monte Vilaldar mount. After some kilometers, you will get to A Braña where you will have to get to a path towards San Mamede de Nodar that belongs to Friol. You will leave this path to get to the LU-P-2119 that will lead you to Roixaca and A Cabana where you will have to turn right to get to another path. After some small villages, you will cross the LU-934. Ya hemos recorrido algo más de la mitad del trayecto, siempre a la sombra de pequeños pueblos y carreteras comarcales y locales. You will cross Marco das Pías a village located between Sobrado dos Monxes and Friol and also between A Coruña and Lugo. Comenzamos a descender hasta Sobrado, a unos nueve kilómetros de distancia, dejando la carretera comarcal de lado a la altura del lugar de Mesón, justo a la altura de un bar a mano derecha. Pasaremos por los núcleos de Esgueva y Muradelo, por caminos mayormente descendentes. You will have to go through the AC-934 towards Guitiriz, where you will see an artificial reservoir called La Laguna de Sobrado built by the monks of the Monasterio de Santa María monastery. After crossing this reservoir you will get to the village, where you will find all the needed services. A pesar de ser obra del ser humano, actualmente se encuentra totalmente integrada en el entorno, rodeada de prados y bosques de abedules, fresnos, robles y sauces. Toda esta zona supone un claro exponente del tradicional bosque atlántico gallego, destacando sus humedales repletos de fauna y flora de lo más variada. Tras bordearlo, el peregrino accederá al centro histórico de este municipio, donde se encuentra tanto el albergue como el resto de servicios. Here you can visit the Monasterio de Santa María de Sobrado monastery, also known as Monasterio de sobrado dos Monxes that was declared a World Heritage Site by UNESCO due to its beauty. Si tenemos algo de tiempo y no nos importa desplazarnos, también podemos visitar el campamento romano de la Ciudadela, a unos cinco kilómetros, o la Carballeira de la Casa do Gado, lugar que inspiró la obra "El bosque animado" de Wenceslao Fernández Flórez.
Remember.
We walk by your side! If you have any doubt about this stage or about other stages, please contact us, we will help you. Have a nice Way, pilgrim!
What to eat
Typical cheese
Typical cheese from Arzúa
Doce de Leite – Dulce de Leche
Typical Galician beef
Trout
Bear in mind
This stage will be easy for everyone, unless some parts where we recommend cyclist and people with reduced mobility to go through the national road, AC-934 from Marco das Pías till the end of the stage.
What to see
| Towns | Public Hostel | Bike rental | Medical assistance | Coffe bar | Teller | Pharmacy | Hotel | Touristic Information | Guesthouse | Restaurant | Supermarket | Veterinarian |
| --- | --- | --- | --- | --- | --- | --- | --- | --- | --- | --- | --- | --- |
| Miraz | ✔ | | | ✔ | | | ✔ | | | ✔ | | |
| Regüela | | | | | | | ✔ | | | | | |
| A Roxica | ✔ | | | ✔ | | | | | | ✔ | | |
| Mesón | | | | ✔ | | | | | | ✔ | | |
| Sobrado dos Monxes | ✔ | | ✔ | ✔ | ✔ | ✔ | ✔ | ✔ | | ✔ | ✔ | |
Towns
Hostels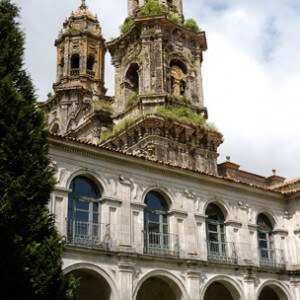 Albergue de peregrinos de Sobrado dos Monxes
60 beds
---
Ala del Claustro del Monasterio de Santa María de Sobrado
Sobrado dos Monxes (A Coruña)
981 787 509 / 628 838 965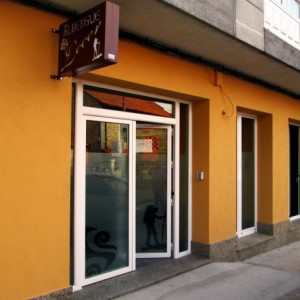 Albergue Lecer
28 beds
---
C/ Casiñas, 12
Sobrado dos Monxes (A Coruña)
981 787 534 / 699 372 684