Do your own way
×
Planner
Thank you for planning with Pilgrim!
The price is a non-binding estimate subject to confirmation upon payment.
Get 5% off today! Click here and one of our travel agents will get in contact with you shortly.
Castro Urdiales – Laredo (26,6 km – 16 miles)
You will leave the sea for a while to finally get to Laredo. The only difficult part is getting to Lugarejos, apart from this complication is an easy stage.

You will say goodbye to Castro Urdiales going through the Iglesia de Santa María de la Asunción church next to the Cantabrian Sea. Then you will walk through some streets such as Arturo Dúo Vidal and Silvestre Ochoa to get to the national road, where you have to turn right to get to Campijo. Once you get there you have to turn left towards a camping and then cross the dual carriageway through an underpass and then turn right. In the next crossing, you will have to turn left again to get to Allendelagua. In this village that belongs to Castro Urdiales has the remains of a Medieval Tower from the 14 century. If you continue you will go through the Templo de San Marcos church and you will get near the dual carriageway, walking through a parallel path to get tot Cerdigo. To get to the city center you will have to cross the A-8 and then the N-634. Then you will walk through an asphalted road and also through a path that will take you to the cost line in Islares. The way goes through the Calle Casal street but if you want to buy something you will have to get to the national road. Then you will cross a camping and then walk through the road's hard shoulder. You will have to get to the Agüera river. After crossing an underpass you will have two options: the first one continues through the hard shoulder going through Mollaneda and after crossing Iesca Vieja return to the original route.
The traditional route goes through an upwards path that starts just after the viaduct. This way will lead you to Nocina, where you will find a hostel. If you continue through the CA-151 you will go through Rioseco where the Iglesia de San Vicente de la Maza church is located; this church is from the 16 century. Once you get to Rioseco you will have to turn left and go through Pomar and cross its stream. After crossing it you will have to continue through a path in the right side that will lead you to a neighborhood; you will cross the Ermita de San Lorenzo hermitage and also the Hermita de San Blas hermitage, in Revilla.
You will walk again through the road to get to a roundabout near El Puente, where you will find all kind of services. The way continues through La Magdalena, you will cross a river with the same name to get to a church. You will walk next to lots of pine trees through a path called Camino de Liendo. Then you will get again to the dual carriageway you will have to cross it through an underpass and then you will get to Rocillo, Sopeña, and Hazas that could be the end of the stage if you want. If you want to continue you will have to get to the N-634 and then you will get to Terrauseza. Advertimos que luego habrá que volver a subir a la nacional para seguir hasta Laredo. Si seguimos por la carretera tendremos que desviarnos más adelante hacia la derecha por La Arenosa, alcanzando el excelente mirador de La Torre, punto perfecto para sacar la cámara de fotos y descansar un momento.
You are close to Laredo, once you get to a stone cross you will have to go through the left side and continue through a staircase. Then you will get to the Capilla del Espíritu Santo chapel. The hostel is near. Por la calle del mismo nombre alcanzaremos el albergue de peregrinos, dando por finalizada la etapa de hoy.
Remember.
Para superar con éxito las cuestas del Camino es aconsejable tener cierta resistencia física. Desde Pilgrim recomendamos realizar un entrenamiento previo específico para poder afrontar lo mejor posible este reto que supone la Ruta Jacobea. Puedes informarte en nuestra sección de Consejos.
What to eat
Anchovy
Typical fish and shellfish
Meatballs
Typical stew
Typical chicken
Pollo marino
Respigos
Bear in mind
Getting to Lugarejos could be a little bit complicated. This is an easy stage for everyone.
What to see
| Towns | Public Hostel | Bike rental | Medical assistance | Coffe bar | Teller | Pharmacy | Hotel | Touristic Information | Guesthouse | Restaurant | Supermarket | Veterinarian |
| --- | --- | --- | --- | --- | --- | --- | --- | --- | --- | --- | --- | --- |
| Castro Urdiales | ✔ | ✔ | ✔ | ✔ | ✔ | ✔ | ✔ | ✔ | ✔ | ✔ | ✔ | ✔ |
| Allendelagua | | | | ✔ | | | | | ✔ | | | |
| Islares | ✔ | | | ✔ | | | ✔ | | ✔ | ✔ | ✔ | |
| El Pontarrón de Guriezo | ✔ | | | ✔ | ✔ | ✔ | | | | ✔ | ✔ | |
| Hazas | ✔ | | | ✔ | | | | | ✔ | ✔ | | |
| La Ventilla | | | | | | | | | ✔ | | | |
| Tarrueza | ✔ | | | | | | | | | | | |
| Laredo | ✔ | ✔ | ✔ | ✔ | ✔ | ✔ | ✔ | ✔ | ✔ | ✔ | ✔ | ✔ |
Towns
Hostels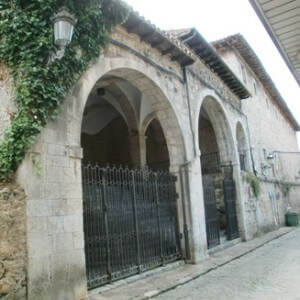 Albergue Casa de la Trinidad
12 beds
---
C/ San Francisco, 24
Laredo (Cantabria)
942 606 141 / 639 053 072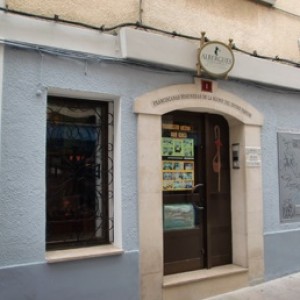 Albergue El Buen Pastor
20 beds
---
C/ Fuente Fresnedo, 1
Laredo (Cantabria)
942 606 288