Tolosa – Beasain (18.6 km)
This stage continues along industrial areas, although we also continue to go along the Valley of the River Orosa, which offers us some beautiful views. We recommend that those pilgrims who are in good physical shape and looking for a challenge could possibly join stages 3 and 4. This would mean that the entire route would be a little more than 35 km, but considering this is a challenge that can be done, do you accept the challenge?
We leave the region of Tolosa, heading towards the banks of the River Oria, crossing San Francisco Street. Once at the river, we continue along its banks until we reach a bridge which we cross. Having crossed the bridge, we continue along the path that has to the right which takes us to an industrial area. After passing through this industrial estate, we again cross the river and enter Alegia.
We go through this Pleasant village, where we can find the Church of San Juan Bautista. When we reach a bike lane, we should follow it in the direction of the A-1, which we should cross beneath and continue along the banks of the River Oria. Before reaching Ikaztiega, we will cross in front of more industrial areas. Go through the village, once again beneath the A-1, passing alongside the hermitage of Pilar, and we continue our path along the river until we reach another industrial area, which marks the spot where we should once again, cross the A-1 in the direction of Legorreta, crossing the River Oria. We follow this path as far as Berostegi and Itsasondo.
Having passed this last region, we follow the GI-4761 as far as Ordizia where we can stock up if necessary. We leave this village along Urdaneta street, which takes us once again to the River Oria, which we should follow until we finally reach Beasain. Once here, we can decide whether to stay, or to keep going along the next stage.
What to see:
Aramburu y Atodo Palace (Tolosa)
Letamendi Village (Beasain)
Igartza Palacio (Beasain)
Santa María Church (Tolosa)
Remember:
If you decide to face the challenge of joining stages 3 and 4, check that you have everything you need in order not to have to stop along the way, or that if you do have to stop, that it's a short one, as otherwise we might not arrive until nighttime.
What to eat:
Tolosa Beans
"Tejas" and "Cigarrillos", typical pastries from Tolosa
Xaxus, another typical cake
Hake "a la koskera"
Bear in mind:
For pilgrims on bikes, it will be much easier to join stages 3 and 4, seeing as they don't include complicated terrain. For those people with any physical disability, we recommend doing the stages one by one.
| Towns | Public Hostel | Bike rental | Medical assistance | Coffee shop | ATM | Pharmacy | Hotel | Touristic Information | Guest house | Restaurant | Supermarket | Veterinarian |
| --- | --- | --- | --- | --- | --- | --- | --- | --- | --- | --- | --- | --- |
| Tolosa | ✔ | ✔ | ✔ | ✔ | ✔ | ✔ | ✔ | ✔ | ✔ | ✔ | ✔ | ✔ |
| Alegia | ✔ | ✔ | ✔ | ✔ | ✔ | ✔ | ✔ | ✔ | ✔ | ✔ | ✔ | ✔ |
| Ikaztegieta | | | | ✔ | | | | | | ✔ | ✔ | |
| Legorreta | ✔ | ✔ | ✔ | ✔ | ✔ | ✔ | ✔ | ✔ | ✔ | ✔ | ✔ | ✔ |
| Itsasondo | | | | ✔ | | | | | | ✔ | ✔ | |
| Ordizia | | | | ✔ | | ✔ | | | | ✔ | ✔ | |
| Beasain | ✔ | ✔ | ✔ | ✔ | ✔ | ✔ | ✔ | ✔ | ✔ | ✔ | ✔ | ✔ |
Towns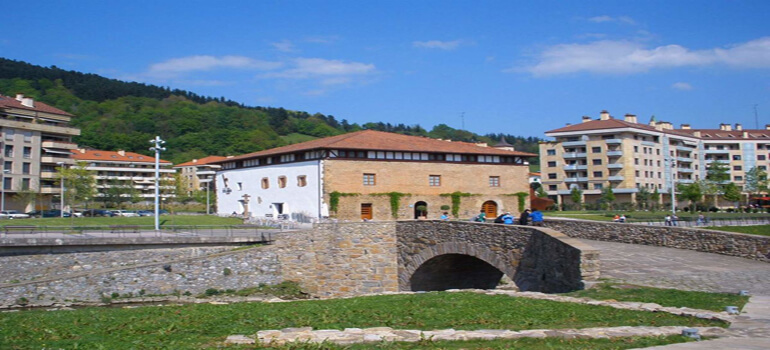 Beasain
Population >

13,965

Municipality >

Goierri

Province>

Gipuzkoa