Mougás – Ramallosa (16 km)
In this stage, a remarkable location is Baiona. This village has beautiful sights where many pilgrims decide to end the 7th stage and enjoy the village, while some others choose to move on until reaching Ramallosa village.
We start parallel to the coast until reaching the PO-552 road. Moving on, we will take a diversion to the left, towards the camping at Pedra Rubia. In this village a milestone will show us the way to the coast and then back again to the road towards Silleiro cape. We will be entering A Ermida.
We will walk passing by a camping, where the arrows will tell us to cross the road and walk through a dirt path to mount Camiño da Portela. We will be passing by beautiful places until the forest, where we will take a road towards Baredo.
Once in Baredo we must follow the arrows to leave by Camiño do Río Pequeno, which will turn to the left in Baredo's road. Next to the crossroad we must take the exit to the left and pass by a viaduct. We will go to the right towards San Antón neighborhood, in Baiona. Once in Baiona we will pass by a football pitch and Santa Liberata church.
To leave Baiona we must take Rúa Manuel Valverde towards the promenade. However, the arrows will show us a diversion through Rúa do Conde. From here, we will walk on by Loureiral and do Burgo streets near the coast. We will enter Sabarís neighborhood past Rúa do Cruceiro.
Moving on we will reach Rúa Viso de Calvos and then Avenida José Pereira until we take the left to Camiño do Lindeiro. This path will take us to Miñor river, after crossing A Ramallosa bridge Here we must take an important decision and choose between Vigo through the Official Way, following the yellow arrows, or the Coastal Way, with green arrows.
What to see
Santa Liberata chapel (Baiona)
Hospital Santi Spiritus (Baiona)
Romanesque bridge in A Ramallosa
Islas Cíes
Remember.
It is very important to keep yourself hydrated. We walk by your side! If you have any doubts about this stage or about other stages, please contact us, we will help you. Have a nice Way, Pilgrim!
What to eat
Seafood: barnacles, octopus, crab, sea urchin…
Typical fish
Torroña cheese and chorizo
Santa Comba lamb
Burgueira's honey
Wine "Rías Baixas"
Bear in mind
Cyclists must follow the cycle path parallel to the PO-552 road, near the coast to Baiona and beyond. This is an easy stage with no slopes. Being next to the road, you must pay attention to avoid incidents.
| Towns | Public Hostel | Bike rental | Medical assistance | Coffee bar | Teller | Pharmacy | Hotel | Touristic Information | Guesthouse | Restaurant | Supermarket | Veterinarian |
| --- | --- | --- | --- | --- | --- | --- | --- | --- | --- | --- | --- | --- |
| Mougás | ✔ | | | ✔ | ✔ | ✔ | | | | ✔ | ✔ | |
| Pedra Rubia | | | | ✔ | | ✔ | | | ✔ | | | |
| A Ermida | ✔ | | | ✔ | ✔ | | ✔ | | | ✔ | ✔ | |
| As Mariñas | | | | ✔ | ✔ | | ✔ | | | ✔ | ✔ | |
| Baredo | | | | ✔ | | | | | | ✔ | ✔ | |
| Baiona | ✔ | ✔ | ✔ | ✔ | ✔ | ✔ | ✔ | ✔ | ✔ | ✔ | ✔ | ✔ |
| A Ramallosa | ✔ | ✔ | ✔ | ✔ | ✔ | ✔ | ✔ | ✔ | ✔ | ✔ | ✔ | ✔ |
Towns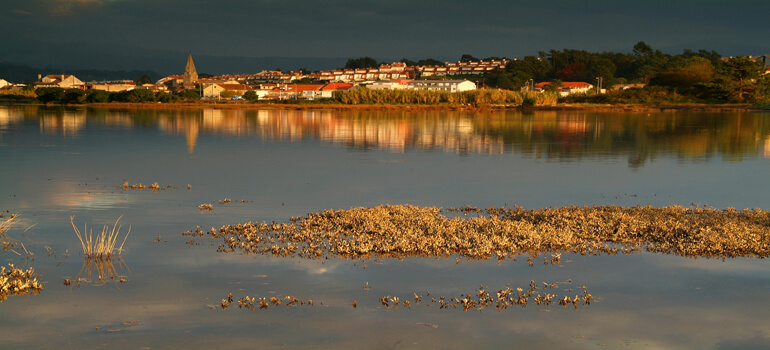 A Ramallosa
Inhabitants >

4.702

Municipality >

Nigrán

Province >

Pontevedra