Ramallosa – Vigo (22,6 km)
There is an important decision we will need to take during the last but one stage on the Coastal Way. From Ramallosa we can reach Vigo through the Official Way, by following the indications of the yellow arrows, or to walk on instead through the path next to the sea and enjoy the sights of the Atlantic Ocean, signaled by green arrows instead.
During this stage we have these two variants, the inland or the coastal one. We will just need to follow the yellow arrows if we take the inland one. As we have been walking through coastal stages so far, we choose the Portuguese Coastal Way.
Once we have passed by A Ramallosa bridge we will take a path to our left, to continue by Torrente Ballester avenue by the Miñor river towards Foz. Following the green arrows that will guide us through the coastal way we will pass by Monte Lourido to América beach, which will lead us to the mouth of river Muiños. If we follow the river, we will reach Panxón beach and then Patos and Canas beach. Then we will enter Camiño do Portiño towards Saiáns.
Then we will walk by Avenida Ricardo Mella towards Oia. Arriving at Oia we will walk down Canido and Vao beaches through Avenida Cesáreo Vázquez. Moving on next to the coast we will reach river Lagares. We will cross it through the bridge next to the football pitch.
Going forward we will reach Samil beach, the most popular one in Vigo. Once here there will be no arrows to show us the way to Vigo, but it is easy to reach the end of the stage: Vigo.
What to see
Pazo de Pías = Apostolic Dames
Pazo de Cea
San Pedro de Matamá church
Saiáns forest park
De los Picos church
Remember.
We walk by your side! If you have any doubts about this stage or about other stages, please contact us, we will help you. Have a nice Way, pilgrim!
What to eat
Seafood from ría de Vigo
Steamed mussels
Octopus "à feira"
Empanada de zamburiñas
Oysters
Grilled meat
Bear in mind
This coastal stage will be the last one with beaches and sights to the Atlantic coast, as we will not the see this landscape in the next one. We will have the Cíes isles on the horizon during this stage to enjoy their beauty.
| Towns | Public Hostel | Bike rental | Medical assistance | Coffe bar | Teller | Pharmacy | Hotel | Touristic Information | Guesthouse | Restaurant | Supermarket | Veterinarian |
| --- | --- | --- | --- | --- | --- | --- | --- | --- | --- | --- | --- | --- |
| A Ramallosa | ✔ | ✔ | ✔ | ✔ | ✔ | ✔ | ✔ | ✔ | | ✔ | ✔ | ✔ |
| Saiáns | | | | ✔ | ✔ | ✔ | | | | ✔ | ✔ | |
| Oia | | | | ✔ | ✔ | ✔ | | | | ✔ | ✔ | |
| Vigo | ✔ | ✔ | ✔ | ✔ | ✔ | ✔ | ✔ | ✔ | ✔ | ✔ | ✔ | ✔ |
Towns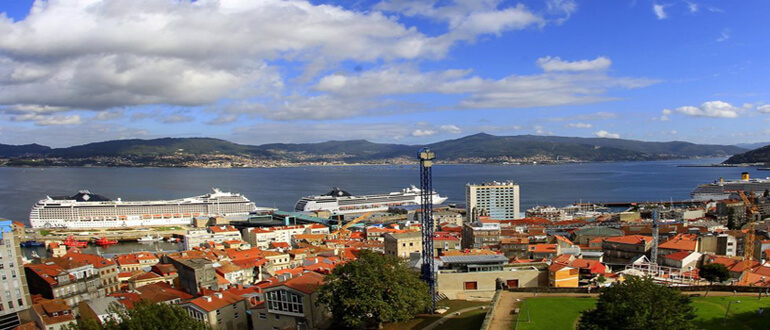 Vigo
Inhabitants >

292.817

Municipality >

Vigo

Province >

Pontevedra