Labruge – Póvoa de Varzim (14 km)
This stage will take us to Póvoa de Varzim, where we will see why it is so popular due to its beaches and typical dishes. Before arriving to this location we will cross among different places such as Castro de Sampaio, a place that holds the ruins of an old village from the Iron Age. Also, the Bird Sanctuary of Mindelo or even the church of Santa María de Azurara, original of the 16th Century and close to the Ave river.
On our way towards the end of the stage we will cross Vila do Conde, a city with a great cultural heritage represented by its aqueduct, its main church and San Juan fortress.
Once at Póvoa de Varzim we will see the beauty of this town: we will need to take a tour to appreciate all its monuments and heritage.
This is a short stage in which we will leave the village of Labruge through its beach, following the wooden walkways and admiring the landscape on our way. Once arriving to Vila Cha, we will cross it through Marginal avenue to enter Louçá neighborhood. We will continue to Mindelo beach to pass by Mindelo Bird Sanctuary.
After passing by some apartments placed in Árvore beach, we will take again our way towards the wooden walkways at the beach, in order to keep on moving next to the camping. After the camping, we will walk on to the inland until we see a yellow pavement that will tell us to move to the left until we see one of the arrows that will show us our Way. This arrow will tell us to move on to our right and cross a bridge over the river. Then we will take Francisco Gonçalves Monteiró street to the left towards Azurara.
When arriving at the airport through the N13 road we will turn to our left to cross Ave river and get into Vila do Conde village. We will go on by the left side of the river until we get to Praça da República.
We will walk on through Rua da Igreja and a little forward we turn to our right through Rua da Costa until reaching a turnaround in Rua dos Benguiados. We will go on through these streets until reaching Póvoa de Varzim, end of this stage.
What to see
Castro Sampaio (Labruge)
Santa María de Azurara church
Santa Clara church (Vila do Conde)
Vila do Conde aqueduct
Fortaleza de Nossa Senhora da Conciençao (Póvoa)
Mindelo Bird Sanctuary (Vila do conde)
Remember.
There is always the possibility to divide the stage in two, Pilgrim puts in your hand all the available information, advising you on everything you need and helping you to plan the best way of your life.
What to eat
Roasted kid
"Espadín á moda das Caxinas"
Fish and seafood
Dulces de huevos
"Rosca de folar de Páscoa"
«Rabanada à poveira»
«Caldeirada de Peixe»
Bear in mind
This stage will take place mainly through wooden walkways next to the sea, so every now and then you may feel like walking on the sand or even, if the weather is nice, to have a bath in the Portuguese coast.
| Towns | Public Hostel | Bike rental | Medical assistance | Coffe bar | Teller | Pharmacy | Hotel | Touristic Information | Guesthouse | Restaurant | Supermarket | Veterinarian |
| --- | --- | --- | --- | --- | --- | --- | --- | --- | --- | --- | --- | --- |
| Labruge | ✔ | | | ✔ | | | | | | ✔ | ✔ | |
| Vila Cha | ✔ | | | ✔ | ✔ | | ✔ | ✔ | ✔ | ✔ | ✔ | |
| Areia | ✔ | | | ✔ | | | | | ✔ | ✔ | ✔ | |
| Azurara | ✔ | | | ✔ | ✔ | | ✔ | ✔ | | ✔ | ✔ | |
| Vila do Conde | ✔ | ✔ | ✔ | ✔ | ✔ | ✔ | ✔ | ✔ | ✔ | ✔ | ✔ | ✔ |
| Póvoa de Varzim | ✔ | ✔ | ✔ | ✔ | ✔ | ✔ | ✔ | ✔ | ✔ | ✔ | ✔ | ✔ |
Towns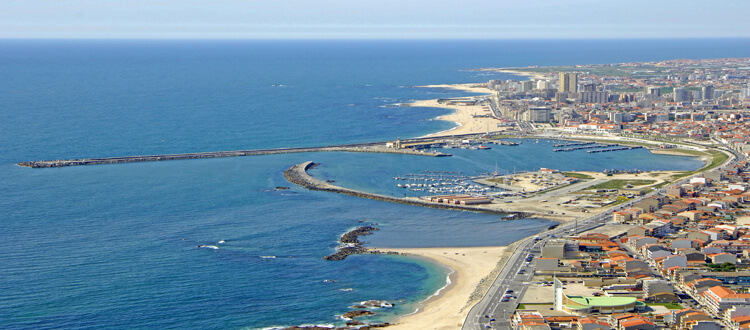 Póvoa de Varzim
Inhabitants >

63.408

Municipality >

Póvoa de Varzim

District >

Oporto