Do your own way
×
Planner
Thank you for planning with Pilgrim!
The price is a non-binding estimate subject to confirmation upon payment.
Get 5% off today! Click here and one of our travel agents will get in contact with you shortly.
Mansilla de las Mulas – León (18,5 km – 11miles)
There are approximately 20 kilometers between Mansilla de las Mulas and León. León is very famous due to its gorgeous cathedral. To get to León you will leave Esla river and now you will meet the Porma and the Torío rivers.

After leaving Mansilla you will go through a bridge over the Esla river and then you will turn left and lead to Villamoros de Masilla. A little bit after a huge signposting will indicate you a turn away that will lead you to the Monasterio de Santa María de Sandoval monastery that is not entire. Destaca por su ornamentación de la portada oeste, la puerta del cementerio y el claustro adosado al muro sur de la iglesia.
The original way doesn't cross Villamoros, but lots of pilgrims decide to get into this village to avoid walking through the national road N-601. An hour after leaving Villamoros you will get to Puente Villarente. Here you will leave the Esla river and you will meet the Porma river. Now you will see a medieval bridge that will welcome you to this medieval village. You will go to the city center that is full of establishments. You have to pay attention because a great signposting will indicate you where to leave the main street.
After taking this path you will cross Arriola canal and then you will cross the dual carriageway through a tunnel to finally go straight forward and get to Arcahueja. You will go through another rest area in Valdelafuente and after leaving a cemetery at the right side you will take to the left in the crossing. Now you will enter in the industrial state located in the skirts of the city, walking through a path to avoid the national road. You will have to go through Puente Castro that is a neighborhood separated from the city due to the Torío river. Now you will get to the Plaza de Santa Ana square where you will continue through the Calle Barahona street and the Escurial street up to get to the hostel. Here you will finish today's stage one of the largest and hardest. But you will appreciate León.
Remember.
León es una gran ciudad y por ello el número de establecimientos donde pernoctar es elevado. A pesar de ello, la alta afluencia de peregrinos y turistas que ello implica puede resultar en determinadas épocas del año un problema. If you have any doubts about this stage or about other stages, please contact us, we will help you. Have a nice Way, Pilgrim! We walk by your side!
What to eat
Typical vegetable stew
Cocido Maragato stew
Cocido Maragato stew
Picadillo de Cerdo
Trout
Bear in mind
There are no complications in this stage for any kind of pilgrim. You have to be careful and pay attention. Los ciclistas no hallarán problema alguno para resolver esta etapa con éxito, salvo algunos tramos pedregosos donde el firme puede ser algo irregular.
What to see
| Towns | Public Hostel | Bike rental | Medical assistance | Coffe bar | Teller | Pharmacy | Hotel | Touristic Information | Guesthouse | Restaurant | Supermarket | Veterinarian |
| --- | --- | --- | --- | --- | --- | --- | --- | --- | --- | --- | --- | --- |
| Mansilla de las Mulas | ✔ | ✔ | ✔ | ✔ | ✔ | ✔ | ✔ | ✔ | ✔ | ✔ | ✔ | |
| Mansilla Mayor | | | | ✔ | | | ✔ | | | | ✔ | |
| Villamoros de Mansilla | ✔ | | | ✔ | | | | | | | ✔ | |
| Puente de Villarente | ✔ | | | ✔ | | | | | ✔ | ✔ | ✔ | |
| Arcahueja | ✔ | | | ✔ | | | ✔ | | | ✔ | ✔ | |
| Lion | ✔ | ✔ | ✔ | ✔ | ✔ | ✔ | ✔ | ✔ | ✔ | ✔ | ✔ | ✔ |
Towns
Hostels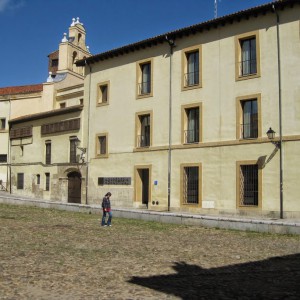 Albergue del Monasterio de las Benedictinas (Carbajalas)
132 beds
---
Plaza Santa María del Camino (León)
987 252 866 / 680 649 289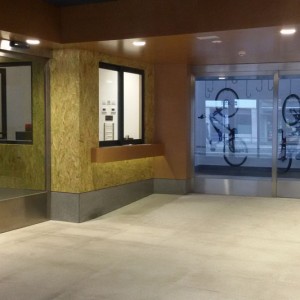 Albergue San Francisco de Asís
100 beds
---
Avenida Alcalde Miguel Castaños, 4. (León)
987 215 060 / 637 439 848