plan your way
plan your way
Do your own way
×
Planner
Thank you for planning with Pilgrim!

The price is a non-binding estimate subject to confirmation upon payment.
Get 5% off today! Click here and one of our travel agents will get in contact with you shortly.
Markina-Xemein – Gernika Lumo (24,6 km – 15 miles)
Today you will walk through some forests and paths next to the river to finally get to Gernika, a city famous worldwide due to what happened there on the 26th April 1937; it was bombed by the German army. Pablo Picasso has a painting with the same name where he illustrates what this bombing meant to him. Nowadays this painting is in the Museo Nacional Centro de Arte Reina Sofía Museum (Madrid).

You will leave Markina to get to the BI-633, through the Avenida Erdotza avenue, after having crossed the Artibai river. You will get to the Ermita de Nuestra Señora de Erdotza hermitage and then you will leave the road to go to the left. The way will lead you to the riverside, and you will walk next to it to get to Kareaga bridge, after crossing this bridge you will have to turn left and walk through a path towards Irtuzubieta. Once you get to this village you can have breakfast in any of its cafeterias, the yellow arrows will lead you to the road, to the BI-2224 and then you will leave it at a restaurant. You will walk now among fields, farmhouses small neighborhoods such as Altzaga and Arta, this last one belongs to Ziorta Bolivar. You will have to leave the path among pine trees to get to the asphalted road that is famous because Símon Bolívar's grandfather was born here, his name was Bolívar "el Viejo". The way goes through the town hall and also see a museum devoted to him. Moreover, you can visit the Iglesia de Santo Tomás church, from the 10 century. Two kilometers from the old city you will find a medieval road that will lead you to the Colegiata de Cenarruza collegiate church that belongs to Orden de la Estrecha Observancia. Emplazado estratégicamente en la Ruta Jacobea gozó de gran importancia siglos atrás, sobre todo desde el aumento de las peregrinaciones a Santiago en el siglo XIV. Este conjunto arquitectónico declarado Bien de Interés Cultural consta de un templo que alberga uno de los órganos más antiguos de toda la provincia. Además destaca por su claustro renacentista y sus portadas, orientadas al este y al oeste. Merece la pena detenerse a visitar en profundidad este lugar para admirar toda su belleza y detenerse a leer la inscripción que narra la leyenda de este lugar, que no dejará indiferente a nadie.
You will continue through the forest to get to Alto de Gontzagarinaga. Once you get here you will leave the road to go to the left towards a neighborhood called Uriona where you will find the Leona river. After this part you will return to the road that will lead you to Gerrikaitz, where you will see the Iglesia de Santa MAría church; then you will have to cross the Lea river to get to Munitibar, a small village where you can rest for a while and also buy some food or water. The you will have to get to Aldaka and to see the Ermita de Santiago hermitage, a key point in the way's history because lots of pilgrims used to rest here. Then you will continue through an asphalted road and you will have to turn right and then to the left. Once you get to a farmhouse you will have to go to the right to go through a path to the right near the Golako river, then you will cross it in Berriondo. Then you will return to the road and you will get to Zarra, that belongs to Olabe. A little bit after you will see an arrow that will indicate you where the hostel is located. If you want to continue you will have to turn right and leave the asphalt and going through the Ermitas de San Pedro and San Cristóbal hermitages. If you continue through the original way you won't see the Torre de Montalbán tower, but you will find a path that will lead you there if you want to visit it. Esta edificación de carácter claramente defensivo se sitúa en un lugar privilegiado, en lo alto de la colina, pudiendo por lo tanto dominar los extensos dominios bajo ella. Actualmente se encuentra en un claro estado de abandono. Then you will have to cross a bridge over the Gola river Then you will get to a neighborhood called Elexalde and also to a church devoted to Santo Tomás. You will also go through Marmiz, you will get to the Monte Burgonaga mount. Before getting to Gernika you will have to go through Ajangiz where you can visit its church. Destaca por su iglesia de la Asunción, de estilo neoclásico y construcción de tipo basilical. Nos encontramos ya muy cerca de nuestro destino, al cual accederemos por carretera. Then you will have to walk through some streets to get to the hostel, the end of today's stage. No podemos irnos de Guernika sin visitar la iglesia parroquial de Santa María, uno de los mejores ejemplos del gótico vasco y su famoso roble, situado en la Casa de Juntas y que simboliza las libertades vizcaínas (Fueros de Vizcaya).
Remember.
We walk by your side! We walk by your side! If you have any doubts about this stage or about other stages, please contact, us, we will help you. Have a nice Way, pilgrim.
What to eat
Pintxos (small portions of food)
Typical haricot bean from Gernika
Txakoli (Typical white wine)
Typical cake from Gernika
Bear in mind
Cyclists should go through the road from Berriondo and do not turn away once they get to the restaurant as the other pilgrims should do. Como en la etapa anterior, al caminar por zonas inundables próximas al cauce de los ríos es probable que en determinadas épocas del año encontremos el firme bastante embarrado. Como siempre recomendamos ir bien equipados, con un buen calzado impermeable para evitar complicaciones.
What to see
| Towns | Public Hostel | Bike rental | Medical assistance | Coffe bar | Teller | Pharmacy | Hotel | Touristic Information | Guesthouse | Restaurant | Supermarket | Veterinarian |
| --- | --- | --- | --- | --- | --- | --- | --- | --- | --- | --- | --- | --- |
| Markina | ✔ | ✔ | ✔ | ✔ | ✔ | ✔ | ✔ | ✔ | ✔ | ✔ | ✔ | ✔ |
| Bolivar | ✔ | | | ✔ | | | | | ✔ | ✔ | | |
| Gernika | ✔ | ✔ | ✔ | ✔ | ✔ | ✔ | ✔ | ✔ | ✔ | ✔ | ✔ | ✔ |
Towns
Hostels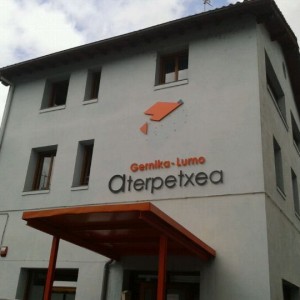 Albergue Gernika Lumo Aterpetxea
40 beds
---
C/ Kortezubi, 9
Gernika (Bizkaia)
946 126 959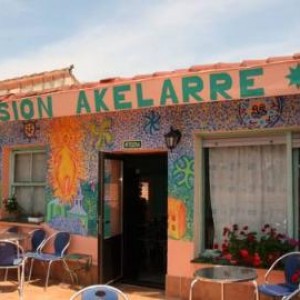 Pensión Akelarre ostatua
17 rooms.
---
Barrenkalea, 5
Gernika (Bizkaia)
946 270 197