plan your way
plan your way
Do your own way
×
Planner
Thank you for planning with Pilgrim!

The price is a non-binding estimate subject to confirmation upon payment.
Get 5% off today! Click here and one of our travel agents will get in contact with you shortly.
Zarautz – Deba (21,8 km – 13,55 miles)
You will start this start near the cost, but then you will get to the inside part of the community. First, you will cross some beaches such as Deba and also some lovely cliffs.

You will leave Zarautz towards Getria and here, in the very beginning you will have two options. Dependiendo de nuestra condición física o cansancio acumulado podremos decantarnos por una u otra. La primera alternativa discurre por un paseo a ras de mar, paralelo a la carretera nacional. Sin embargo, si nos encontramos con fuerzas suficientes para comenzar la etapa se puede ascender a la ermita de Santa Bárbara, ya que las vistas desde lo alto son inigualables. En este caso, deberemos tomar la carretera que desemboca en Meagas, justo al lado de la iglesia de Santa María. Once you get to the road you will have to go through a path that will lead you to the Ermita de Santa María hermitage going through Getaria. This temple is from the 18 century, there were many problems to build it because there was no money, but local fishers made money to conclude the constriction. Then, after getting to this hermitage you will return to Getaria.
However, if can't continue because we're too tired, we can continue the way along the coast. From Zigordia and Orape street, we will go out to the national road looking for the path next to the coast. We'll walk next to the sea until reaching the lookouts of Ailla and Iteiko, from where we can see the Getaria village.
You will get to the city where Juan Sebastián Elcano was born. You will get to this city through a passageway known as Katrapona under the Iglesia de San Salvador church and getting this way to the Calle Mayor street through a staircase. This gothic temple is from the 14 century and is a must for all pilgrims. Inside this temple took place some of the most important episodes in the Spanish history such as Juntas Generales de Gipuzkoa at the end of the 14 century. Destaca su prebisterio en una posición elevada, debido al terreno desnivelado sobre el que se asienta. At the end of the port, you can see the Monte de San Antón mount, this mount used to be an island until the 15 century; nowadays it is a natural park. Es así como el casco urbano de esta localidad se encuentra en un tómbolo, enlazándose así a la antigua isla. A este monte también se le conoce por el nombre de "ratón" ya que su forma recuerda a la de este roedor en algunos puntos, asemejándose el mismo a la cola del roedor.
A pesar de la belleza de esta villa marinera no debemos entretenernos demasiado ya que tenemos que continuar con la etapa. Desde la calle Herrerieta sufrimos un breve pero intenso repecho hasta el barrio de San Prudencio, en Akarregi. Desde allí proseguimos por el asfalto de la GI-3392 para abandonarla tan sólo unos metros más adelante por la izquierda hacia el caserío de Aziategi. Siguiendo por este camino, por momentos ascendente, hasta el templo de San Martín de Tours de Askizu. Templo también de estilo gótico y del siglo XVI y con única bóveda nos recibe para dar paso a una fuente donde poder reponer fuerzas. A la salida de Getaria podemos encontrar dos albergues, el Kanpaia en el anterior barrio de San Prudencio y el de Agote Aundi un poco más adelante de la iglesia de San Martín. Si decidimos continuar descendemos de nuevo en busca de la carretera nacional y de la ermita de Santiago, justo al lado de la casa museo de Ignacio Zuloaga, uno de los principales pintores españoles de finales del siglo XIX destacado por sus retratos y pinturas de estilo costumbrista. Ascendemos de nuevo en este caso para dirigirnos a Zumaia, a cuyo casco histórico accedemos tras cruzar el río Urola y girando a la derecha por unos jardines que dan paso a otro puente sobre el río Narrondo.
Por las calles Ángeles Sorazu, Nagusi y Arritokieta alcanzamos el convento de San José de las Carmelitas Descalzas, reconvertido durante los meses estivales en albergue municipal, y por la anexa ermita de Arritokieta, la cual alberga la talla de la patrona de dicha localidad del siglo XVI. Tras pasar por un área de descanso llegamos al primer barrio del ayuntamiento de Deba, Elorriaga. Desde aquí se puede proseguir por el trazado original o continuar por la costa, marcado por GR-121. Si seguimos por la carretera tendremos que ascender vertiginosamente para descender tras este tramo rompepiernas de nuevo a la N-634 en el barrio de Mardari. Tras un paso sobre la autovía continuamos el trazado de esta carretera intercalando fuertes repechos que pondrán a prueba a más de un peregrino. Al llegar a Itziar es probable que tengamos que hacer un alto, después de tantas subidas y bajadas, pudiendo visitar su iglesia dedicada a Santa María, construido sobre un antiguo templo románico. De nuevo, no encontraremos problemas para abastecernos en esta localidad. Estamos muy cerca de Deba, a la cual accedemos descendiendo por una vista que nos acerca previamente a la ermita de San Roque. Continuamos por la calle Mogel para llegar al albergue municipal, en el cual solo podremos pernoctar paso previo por la oficina de Turismo. Esta villa marinera destaca por la belleza de su playa y de su arbolada alameda.
Remember.
We know everything about the way. You should taste all the typical gastronomy, we will recommend you the best restaurant to taste its typical dishes.
What to eat
Pintxos (small portions of food)
Txakoli (typical white wine)
Haricot beans
Anchovy
Northern Albacore Tuna
Bear in mind
There are lots of ups and downs but it is a lovely stage. We recommend you enjoy the sea as much as you can because the next stage will be the last one where you will see the sea. It is not a complicated stage for anyone.
What to see
| Towns | Public Hostel | Bike rental | Medical assistance | Coffe bar | Teller | Pharmacy | Hotel | Touristic Information | Guesthouse | Restaurant | Supermarket | Veterinarian |
| --- | --- | --- | --- | --- | --- | --- | --- | --- | --- | --- | --- | --- |
| Zarautz | ✔ | ✔ | ✔ | ✔ | ✔ | ✔ | ✔ | ✔ | ✔ | ✔ | ✔ | ✔ |
| Askizu | ✔ | | | ✔ | | | | | | ✔ | | |
| Zumaya | ✔ | | ✔ | ✔ | ✔ | ✔ | ✔ | ✔ | ✔ | ✔ | ✔ | ✔ |
| Deba | ✔ | ✔ | ✔ | ✔ | ✔ | ✔ | ✔ | ✔ | ✔ | ✔ | ✔ | ✔ |
Towns
Hostels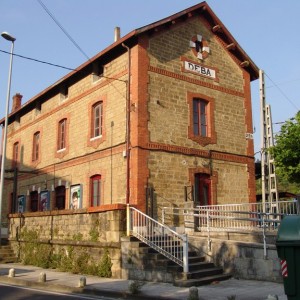 Albergue de Deba
56 beds
---
Plaza de Arakistain, s/n
Deba (Gipuzkoa)
943 192 452 / 689 125 889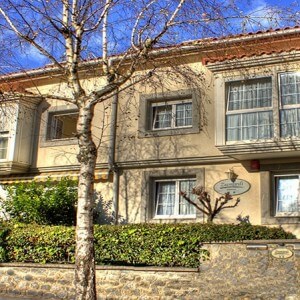 Zumardi Pentsioa
9 rooms
---
Marina Kalea, 12
Deba (Gipuzkoa)
943 192 368