Do your own way
×
Planner
Thank you for planning with Pilgrim!
The price is a non-binding estimate subject to confirmation upon payment.
Get 5% off today! Click here and one of our travel agents will get in contact with you shortly.
Abadín – Vilalba (20,7 km – 13 miles)
This stage is very level. You will walk through Terra Chá that means flat land. You will walk among green fields and full of cattle, but always near the national road. In this stage you will find a lot of services.
You will start today's stage next to the post office, just after one kilometre you will see for the last time the Iglesia de Santa María church. Then you will get to a path to the right that is surrounded by lots of trees. This path will lead you to the Abadín river, you will have to cross it. You will have to walk through some asphalted roads and some paths to get to Martiñán, where you will get again to the national road to get to one of the most famous bridges in Terra Chá. Before getting to this bridge you will have to cross the dual carriageway through a bridge towards Castromaior and then you will have to get again to the river to return to the dual carriageway, you will have to cross it again but this time through an underpass. Once you get here you won't find any kind of service in seven kilometers until you get to Viladóniga.
After some small villages you will get to the first one that belongs to Vilalba: Corbelle. You are now close to the Puente de Martiñán bridge, you just have to cross the national road to get to this bridge from the 17 century.
After a little walk up you will get to Terra Chá: you will have to walk approximately 10 kilometres through flat land and combining asphalted roads with paths. The following small village that you will cross is Goiriz where you will find a church. You will have to walk through the national road for some meters to get to a path. Vilalba is very close, the hostel is located in an industrial area. In Vilalba you will find lots of monuments and things that you should visit. También podemos visitar la iglesia parroquial de Santa María y el Pazo de Penas-Corbeiras, situado a poca distancia del centro.
Remember.
We walk by your side! If you have any doubts about this stage or about other stages, please contact us, we will help you. Have a nice Way, pilgrim!
What to eat
Typical cheeses
Capones de Vilalba (typical chicken)
Bear in mind
Al tratarse de una orografía suave y sin pendientes pronunciadas, los peregrinos no encontrarán escollo alguno para finalizar esta etapa. Tampoco hay que transcurrir demasiado por carretera, pero como siempre recomendamos prestar atención en los cruces de la N-634. This stage is easy for everyone.
What to see
| Towns | Public Hostel | Bike rental | Medical assistance | Coffe bar | Teller | Pharmacy | Hotel | Touristic Information | Guesthouse | Restaurant | Supermarket | Veterinarian |
| --- | --- | --- | --- | --- | --- | --- | --- | --- | --- | --- | --- | --- |
| Abadín | | | ✔ | ✔ | ✔ | ✔ | ✔ | | ✔ | ✔ | ✔ | |
| Martiñan | | | | ✔ | | | | | | | | |
| Goiriz | | | | | | | ✔ | | | | ✔ | |
| Vilalba | ✔ | ✔ | ✔ | ✔ | ✔ | ✔ | ✔ | ✔ | ✔ | ✔ | ✔ | ✔ |
Towns
Hostels
Albergue de peregrinos de Vilalba
48 beds
---
Polígono industrial de Vilalba, s/n
Vilalba (Lugo)
659 494 969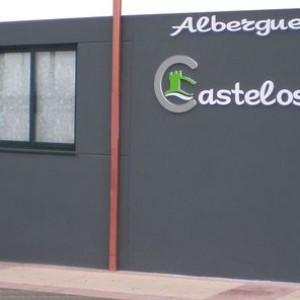 Albergue Turístico Castelos
38 beds
---
Rúa das Pedreiras, 16
Vilalba (Lugo)
982 100 887 / 676 153 184