Nájera – Santo Domingo de la Calzada (20,7 km- 13 miles)
In this stage you will walk to a wonderful village, Santo Domingo de la Calzada where according to the legend took place the miracle of the rooster and the chicken. This ninth stage goes through huge cereal fields and agricultural areas. This is one of the largest stages in the French Way; But this is not a problem because this amazing stage has the most amazing landscape.

You will start today's stage crossing the Monasterio de Santa María la Real monastery, here you can see the different architectural styles in its façade. It was built by Don García Sánchez III and it was devoted to a virgin. According to a legend this virgin helped Don García Sánchez III during a hunt. The man fin in a cave the virgin, a bell and a vase with iris. This building is famous due to its Claustro de los Caballeros cloister where many nobles of the 16 century were buried.
After crossing the monastery you will continue through the Calle Costanilla Street that will lead you out of Nájera to Azofra after crossing Pozuelos and Valdecañas. An asphalted road will lead you to the first village of this stage. You will cross Azofra through its main street where you will find lots of services. You have to know that you won't find more services in ten kilometres so it is better if you now get what you need especially to have enough water. This street-village of Arabic origins was built just for the Way, long time ago it had a pilgrim's hospital that worked until the 19 century. Here you can visit the Iglesia de Nuestra Señora de los Ángeles church that has inside an image of St. James.
Once you get to a park you have to decide which route you will follow: one goes straight forward through the original way to Cirueña and the other one goes through San Millán de la Cogolla. The monastery of San Millán de la Cogolla has lots of treasures inside. Both ways get unified a little bit later to get to Cirueña.
If you decide to go through San Millán you will use the road LR-206 to Alesanco. Lots of pilgrims decide to go to San Millán because it has lots of monuments declared World Heritage. Lots of pilgrims decide to go to San Millán because it has lots of monuments declared World Heritage. Suso and Yuso monasteries are currently called San Millán monastery in spite of being two separate buildings. There you will find wonderful treasures and such as Escritorio de San Millán that is one of the oldest in Europe; and also lots of codex that contain information about the cultural value of this village. In these texts you can find the first words written in Basque and Navarro-aragonés, so San Millán is famous because it is considered 'the cradle of the language'. You have to walk through the LR-204 to get Villar de Torres where this route get unied with the original way.
If you don't want to visit San Millán you should walk through the road to Alesanco on its right side. You should pay attention to see the Fuente de los Romeros spring because it is a little bit hidden and underground. Here you will have to take a turn away to the left to walk for a few kilometres more.
Before getting to Cerro de los Templarios you will cross a monument from the 16 century that indicates you that you are in a Crown area. This stone column used to be used to execute bandits and criminals.
f you continue through the N-120 you will see that there is a big change in the landscape. You are leaving La Rioja and entering in Castilla you could see it in the cereal fields. ow it comes the hardest part of this stage, there are no services and you will have to walk through paths with no shade. You will find a picnic area where you can rest for a while and then continue to Cirueña, where you will find all kind of services and establishments. Then you will cross a golf cours. We can take a diversion on the right side towards Ciriñuela, a village with all facilities. If we keep on walking the residential area, after surpassing a steep slope, we"ll turn to the left and we'll pass through the golf club`s bar. And finally, through Bajero District street you will get to a road and a roundabout and then you will go through a path.
After a wonderful walk among cereal fields you will see the wonderful Catedral de Santo Domingo de la Calzada cathedral. In this location we'll walk by the industrial zone and the football field. You will walk through this village and then you will turn left in Calle del 12 de Mayo street and Calle Mayor street and then it finishes today's stage. Before finishing the stage we recommend you visit the most famous monument in this village the church-cathedral that was built on a medieval church of the 12 century this is the reason why this church cathedral has different architectonical styles. In front of the tomb, we could recall the legend of the cock and the hen. According to the popular chronicles, in the 14th century , a local gal fell in love with a German pilgrim accommodated with his parents in a log, but she was unfortunately rejected by him. By spite, she placed a silver glass among his belongings which caused him to be accused of robbery. He was consequently sentenced to death by hanging, but after being unfairly executed, he suddenly opened his eyes to explain his parents he's alive by the Apostle's Grace. When his parents communicated the event to the alderman, who was lunching a poultry dish, he replied " your son is as alive as the cock and the hen I was about to eat before you bother me" In that precisely moment, the birds jumped from the plate singing and flying leaving everybody speechless. From that moment on , there is a saying that In Santo Domingo is where hens can chuckle after being roasted.
Remember.
If you want to get more information about interesting spots, facilities or any other info, just visit the villages files in this stage.
What to eat
Typical potatoes La Rioja style (stewed potatoes)
Chickpeas with meat and vegetables
Ahorcaditos (typical pastries from this region mainly made with almond)
Bear in mind
This is an easy stage and it hasn't complicated parts. If you are a person with reduced mobility we recommend you avoid the ascent to Cirueña going through the N-120 but being careful due to the traffic. So it is recommended to follow N-120 road, staying safe as this road is pretty busy depending on the moment of the day or on the section.
This stage is very easy for cyclists For them it would be very easy to get to San Millán.
What to see
| Towns | Public Hostel | Bike rental | Medical assistance | Coffe bar | Cash Point | Pharmacy | Hotel | Touristic Information | Guesthouse | Restaurant | Supermarket | Veterinarian |
| --- | --- | --- | --- | --- | --- | --- | --- | --- | --- | --- | --- | --- |
| Nájera | ✔ | ✔ | ✔ | ✔ | ✔ | ✔ | ✔ | ✔ | ✔ | ✔ | ✔ | ✔ |
| Azofra | ✔ | | | ✔ | ✔ | ✔ | ✔ | ✔ | ✔ | ✔ | ✔ | |
| Cirueña | ✔ | | | ✔ | | | ✔ | | | ✔ | | |
| Santo Domingo de la Calzada | ✔ | ✔ | ✔ | ✔ | ✔ | ✔ | ✔ | ✔ | ✔ | ✔ | ✔ | ✔ |
Towns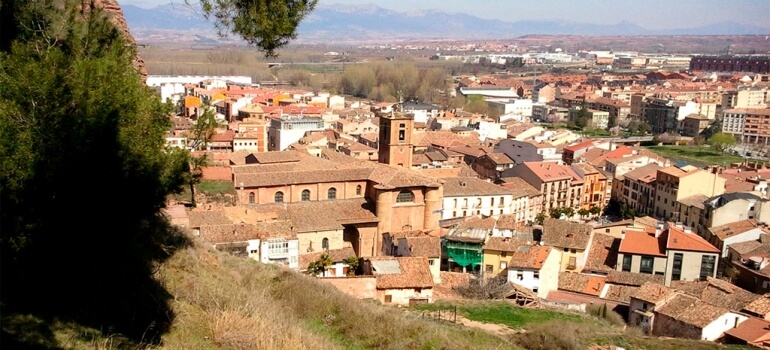 Santo Domingo de la Calzada
Population>

6.520

Town>

Santo Domingo de la Calzada

Province >

La Rioja
See more