Do your own way
×
Planner
Thank you for planning with Pilgrim!
The price is a non-binding estimate subject to confirmation upon payment.
Get 5% off today! Click here and one of our travel agents will get in contact with you shortly.
Nájera – Santo Domingo de la Calzada (20,7 km- 13 miles)
In this stage you will walk to a wonderful village, Santo Domingo de la Calzada where according to the legend took place the miracle of the rooster and the chicken. This ninth stage goes through huge cereal fields and agricultural areas. This is one of the largest stages in the French Way; but this is not a problem because this amazing stage has the most amazing landscape.

You will start today's stage crossing the Monasterio de Santa María la Real monastery, here you can see the different architectural styles in its façade. It was built by Don García Sánchez III and it was devoted to a virgin. According to a legend this virgin helped Don García Sánchez III during a hunt. The man fin in a cave the virgin, a bell and a vase with iris. This building is famous due to its Claustro de los Caballeros cloister where many nobles of the 16 century were buried.
After crossing the monastery you will continue through the Calle Costanilla Street that will lead you out of Nájera to Azofra after crossing Pozuelos and Valdecañas. An asphalted road will lead you to the first village of this stage. You will cross Azofra through its main street where you will find lots of services. You have to know that you won't find more services in ten kilometres so it is better if you now get what you need especially to have enough water. This street-village of Arabic origins was built just for the Way, long time ago it had a pilgrim's hospital that worked until the 19 century. Here you can visit the Iglesia de Nuestra Señora de los Ángeles church that has inside an image of St. James.
Once you get to a park you have to decide which route you will follow: one goes straight forward through the original way to Cirueña and the other one goes through San Millán de la Cogolla. The monastery of San Millán de la Cogolla has lots of treasures inside. Both ways get unified a little bit later to get to Cirueña.
If you decide to go through San Millán you will use the road LR-206 to Alesanco. Lots of pilgrims decide to go to San Millán because it has lots of monuments declared World Heritage. Lots of pilgrims decide to go to San Millán because it has lots of monuments declared World Heritage. Suso and Yuso monasteries are currently called San Millán monastery in spite of being two separate buildings. There you will find wonderful treasures and such as Escritorio de San Millán that is one of the oldest in Europe; and also lots of codex that contain information about the cultural value of this village. In these texts you can find the first words written in Basque and Navarro-aragonés, so San Millán is famous because it is considered 'the cradle of the language'. You have to walk through the LR-204 to get Villar de Torres where this route get unied with the original way.
If you don't want to visit San Millán you should walk through the road to Alesanco on its right side. You should pay attention to see the Fuente de los Romeros spring because it is a little bit hidden and underground. Here you will have to take a turn away to the left to walk for a few kilometres more.
Before getting to Cerro de los Templarios you will cross a monument from the 16 century that indicates you that you are in a Crown area. This stone column used to be used to execute bandits and criminals.
f you continue through the N-120 you will see that there is a big change in the landscape. You are leaving La Rioja and entering in Castilla you could see it in the cereal fields. ow it comes the hardest part of this stage, there are no services and you will have to walk through paths with no shade. You will find a picnic area where you can rest for a while and then continue to Cirueña, where you will find all kind of services and establishments. Then you will cross a golf cours. Aquí podremos desviarnos a mano derecha hasta Ciriñuela, localidad que cuenta también con todos los servicios. Si seguimos por el área residencial, tras superar un pequeño repecho giraremos a la izquierda y pasaremos por delante del bar del campo de golf. And finally, through the Calle Barrio Bajero street you will get to a road and a roundabout and then you will go through a path.
After a wonderful walk among cereal fields you will see the wonderful Catedral de Santo Domingo de la Calzada cathedral. Nos internamos en esta localidad a través de un conjunto de naves industriales en las afueras y de su campo de fútbol. You will walk through this village and then you will turn left in Calle del 12 de Mayo street and Calle Mayor street and then it finishes today's stage. Before finishing the stage we recommend you visit the most famous monument in this village the church-cathedral that was built on a medieval church of the 12 century this is the reason why this church cathedral has different architectonical styles. Frente al sepulcro, podremos rememorar la leyenda del gallo y la gallina. Según crónicas populares, en el siglo XIV una joven riojana se enamoró de un peregrino alemán que se hospedaba con sus padres en una posada, pero esta es rechazada. Por despecho, coloca una copa de plata entre sus pertenencias y posteriormente lo acusa de robo. Como respuesta, el muchacho es condenado a la horca pero, tras ser ajusticiado injustamente, abre los ojos y les dice a sus padres que está vivo gracias a la gracia del Apóstol. Cuando sus progenitores se disponen a comunicárselo al regidor, el cual estaba comiendo en ese mismo momento unas aves asadas, este proclama: "vuestro hijo está tan vivo como este gallo y esta gallina que me disponía a comer antes de que me importunarais". Inmediatamente después, las aves salen cantando y volando del plato, dejando a todos los presentes petrificados. Así nació el dicho de "en Santo Domingo de la Calzada, donde cantó la gallina después de asada".
Remember.
Si deseas obtener más información sobre los puntos de interés, establecimientos o cualquier otro tipo de información, tan solo tienes que visitar la ficha correspondiente a los pueblos de esta etapa.
What to eat
Typical potatoes La Rioja style (stewed potatoes)
Chickpeas with meat and vegetables
Ahorcaditos (typical pastries from this region mainly made with almond)
Bear in mind
This is an easy stage and it hasn't complicated parts. If you are a person with reduced mobility we recommend you avoid the ascent to Cirueña going through the N-120 but being careful due to the traffic. En este caso es preferible continuar por la N-120, siempre tomando muchas precauciones ya que se trata de una carretera con alta densidad de tráfico en determinados puntos y momentos del día.
This stage is very easy for cyclists For them it would be very easy to get to San Millán.
What to see
| Towns | Public Hostel | Bike rental | Medical assistance | Coffe bar | Teller | Pharmacy | Hotel | Touristic Information | Guesthouse | Restaurant | Supermarket | Veterinarian |
| --- | --- | --- | --- | --- | --- | --- | --- | --- | --- | --- | --- | --- |
| Nájera | ✔ | ✔ | ✔ | ✔ | ✔ | ✔ | ✔ | ✔ | ✔ | ✔ | ✔ | ✔ |
| Azofra | ✔ | | | ✔ | ✔ | ✔ | ✔ | ✔ | ✔ | ✔ | ✔ | |
| Cirueña | ✔ | | | ✔ | | | ✔ | | | ✔ | | |
| Santo Domingo de la Calzada | ✔ | ✔ | ✔ | ✔ | ✔ | ✔ | ✔ | ✔ | ✔ | ✔ | ✔ | ✔ |
Towns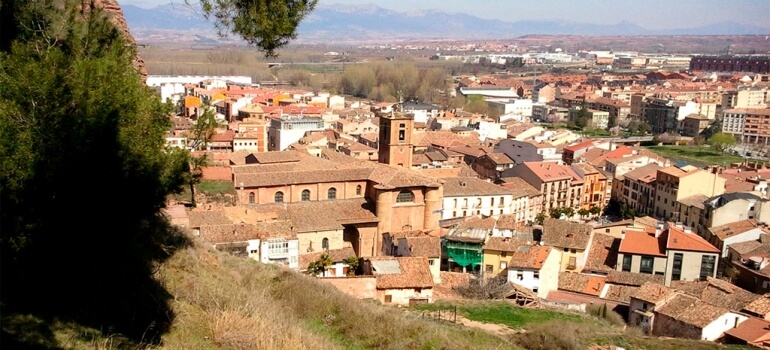 Santo Domingo de la Calzada
Population>

6.520

Town>

Santo Domingo de la Calzada

Province >

La Rioja
See more
Hostels
Albergue Municipal de Peregrinos de Azofra
60 beds
---
C/ Las Parras, 7
Azofra (La Rioja)
941 379 325 / 638 261 432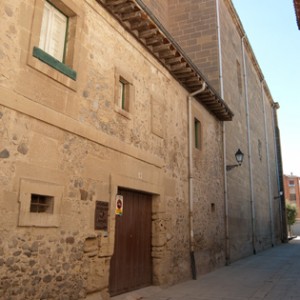 Albergue de la Abadía Cisterciense Nuestra Sra. De la Anunciación
33 beds
---
C/ Mayor, 29
Santo Domingo de la Calzada (La Rioja)
941 340 700