Do your own way
×
Planner
Thank you for planning with Pilgrim!
The price is a non-binding estimate subject to confirmation upon payment.
Get 5% off today! Click here and one of our travel agents will get in contact with you shortly.
Triacastela – Sarria (18,4 km – 16 miles)
Before starting today's stage you have to know that there are two different options to get to Sarria. One of them goes through San Xil, some people believe that this is the original way. The other one goes through Samos, this is a secondary option that has some inconvenient such as a lot of asphalt parts; in Samos it is located a wonderful monastery.
This stage is difficult due to a rise in the first part of it, then you will be accompanied by the most wonderful and magic landscapes ever. You have to take into account that in all the small villages that go between this two villages there are just a few services.

San Xil alternative
First you have to cross all Triacastela's main street to leave the village and then is when you have to make a decision because the fork is there. If you go left, you will go through Samos; and if you go through the right path you will go through the original road through San Xil this right path has a little walk up in the first kilometres of the route.
After start walking through an asphalted road you will then enter in a path that will lead you to A Balsa where the walk up becomes a little bit harder. You will go through fields full of trees to A Fonte dos Lameiros where you can see the crossing that will lead you to San Xil if you go through the left. If you continue straight forward, after crossing a little river and get to Riocabo, the Way offers you the most amazing landscape in today's stage.
Now you will start to descend that in some seasons could be a little bit difficult and dangerous. This path goes through O Real, Montán and Fontecruda before returning again to the asphalt. You should follow the yellow arrow for many metres to get again to a path to the left where you will walk next to a river and sometimes you will have to cross it. Then you will get to A Furela, a little village where there are no services for pilgrims so you have to cross the road; a huge signal will indicate you that you are now in Sarria, if you get to Pintín you will find a bar and a restaurant where you can eat something, buy some snacks and also rest for a while.
You will leave Pintín through an asphalted road and after a few metres you will return to a path that goes through the forest and that will lead you to Calvor here you will walk next to a public hostel. You will be able to visit the Iglesia de San Esteban church that is from the 8 century.
After crossing the hostel you will see a roundabout, here you can follow the same indications as for vehicles and go straight forward to Sarria. The way goes parallel to the national road up to Aguida. In this village both options get unified so pilgrims coming from Samos and pilgrims that went through San Xil get back together again. In this point you will walk parallel to the national road leaving at the right the famous Ferreiros crossing and also Mendros to enter in Sarria.
This village is the one with the highest amount of hostels in the French Way because it is the point where lots of pilgrims decide to start the Way because there are approximately 100 kilometres left to Santiago de Compostela. The first street that you will see is the Calle del Peregrino street. After crossing Sarria through a small bridge you will be in the centre of the village, where you will find a lot of services to enjoy the end of today's stage.
Samos alternative
This is the non-official option. The distance that you have to walk is longer than in the other option, the total distance will be 25 kilometers that you will start going to the left in the fork that you will see at the beginning of today's stage. You will leave Triacastela to walk through the LU-633, this will be a little bit dangerous because you have to walk through the road. First you will get to San Cristovo do Real that belongs to Samos, there you will find the Pazo de Lusío country house. If you are walking through the right side of the road you will get to Renche. It is also on this side where you will find the yellow arrows, but you have to know that this side is more dangerous because you will be walking in the same direction as the vehicles. In the left side, there are no arrows or signposting you will find a village called Vigo.
You will continue your way NEXT TO THE Sarria River that goes through Lastres first and then through Freituxe to a little bit after start descend that will lead you to San Martiño di Real; its church is from the 12 century.
Then you will leave this village to go again through the road to get to Samos that has a Benedictine monastery from the 17 century that has a great wall. This monastery is open to everyone Just 100 kilometres after you will find the Capilla del Salvador chapel, another interesting monument that is must if you are walking through this variant; it is from the 9 century and it has in front of it a tree known as one of the most important trees in Galicia that is famous because it is an old cypress.
After visiting this incredible places you should cross all the village through its main street and go to the exit of it to return to the LU-663. It is better if you walk through its left side because it is safer. After crossing a monument devoted to pilgrims you will get to Teiguin a place where you can rest and have a break for a while.
You will leave the road to walk now through a path that will lead you to Pascais and then you will walk through a cobbled paving over a stream that will lead you to the village's church, the Iglesia de Santa Uxía de Pascais church. You will continue walking and leaving behind small villages such as Gorolfe or Veiga and then you will cross Sivil after crossing the Sarria river through a medieval bridge that links both villages.
You will leave Samos and you immediately get to Sarria going through Perros in Calvor, then you will get to Aguida there you will meet again people that went through San Xil, now there are just 5 kilometres left to the end of the stage.
Remember.
Sarria es el punto de inicio preferido por miles de peregrinos debido a cumplir el requisito de estar al menos a 100 km de Santiago, lo que nos permitirá obtener la Compostela. Nuestro personal de la oficina de receptivo en Sarria estará encantado de solventar todas tus dudas e informarte en todo cuanto necesites. Have a nice Way, Pilgrim!
What to eat
Porco Celta (typical pork from Galicia)
Pulpo á Feira (typical octupus)
Typical Galician beef
Fried milk
Roscones (typical pastries made with flour, eggs, yolks, eau-de-vie and lard)
Freixós (pastries mainly made with eggs, milk, flour and lard)
Bear in mind
For cyclists, this is an easy stage that goes mostly on asphalt, so the ones that go walking should be very careful. If you decide to go through Samos, once you leave this village you have to walk through an asphalted road to Sarria. There are some complicated parts for cyclists and for people with reduced mobility.
It is very important to take into account that there is no hard shoulder so you have to walk through the road, be careful, especially cyclists and people with reduced mobility. Es muy importante tener en cuenta que la inexistencia de arcén supone un problema serio para todos, pero especialmente si avanzamos en sillas de ruedas o en bicicleta.
What to see
| Towns | Public Hostel | Bike rental | Medical assistance | Coffe bar | Teller | Pharmacy | Hotel | Touristic Information | Guesthouse | Restaurant | Supermarket | Veterinarian |
| --- | --- | --- | --- | --- | --- | --- | --- | --- | --- | --- | --- | --- |
| Triacastela | ✔ | | ✔ | ✔ | ✔ | ✔ | ✔ | ✔ | ✔ | ✔ | ✔ | |
| A Balsa | ✔ | | | | | | | | | | | |
| Furela | | | | ✔ | | | | | | | ✔ | |
| Pintín | | | | | | | | | ✔ | | | |
| Calvor | ✔ | | | | | | | | | | | |
| San Mamede do Camiño | ✔ | | | | | | | | | | | |
| San Cristovo do Real | ✔ | | | | | | | | | | | |
| Renche | | | ✔ | | | | | | | | | |
| Samos | ✔ | | ✔ | ✔ | | ✔ | ✔ | | ✔ | ✔ | ✔ | |
| Sarria | ✔ | ✔ | ✔ | ✔ | ✔ | ✔ | ✔ | ✔ | ✔ | ✔ | ✔ | ✔ |
Towns
Hostels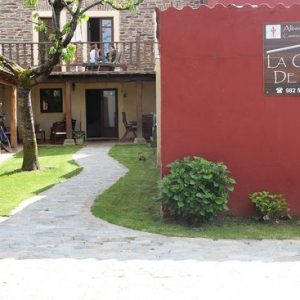 Albergue La Casona
38 beds
---
Rúa San Lázaro, 24
27600 Sarria (Lugo)
982 53 55 56
Pensión DP Cristal
30 beds
---
Rua Calvo Sotelo, 198
27600 Sarria, Lugo
669 79 95 12