Do your own way
×
Planner
Thank you for planning with Pilgrim!
The price is a non-binding estimate subject to confirmation upon payment.
Get 5% off today! Click here and one of our travel agents will get in contact with you shortly.
Terradillo de los Templarios – Bercianos del Real Camino (23,2 km – 14miles)
Today you will leave Palencia and you will enter in León. Most part of the French Way goes through this province, approximately 200 kilometers. After Sahagún the Way divided into two different ways do you will have to options to get to El Burgo Ranero going before to Bercianos del Real Camino.

You will start with a first goal set: Moratinos that will be the first stop of today's stage; it is located three kilometres from your starting point. The road will lead you to a path. Along with this path, the cereal fields will be with you until getting to Moratinos. Here you can stop to visit a wonderful place the Templo de Santo Tomás de Aquino temple, which has an image of Virgin Mary and Jesus from the 16 century. After leaving this temple you will turn right to get out of the city center and continue to get to the last village in Palencia: San Nicolás del Real Camino.
This village was created for the way. It has a hostel and also many establishments where you can rest before continuing to Sahagún. You will get there walking parallel to the N-120. You will get to the city center through the Calle de Ronda de la Estación street, after crossing a flyover above the train rail. La expansión de esta villa está ligada al santuario allí presente dedicado a los mártires Facundo y Primitivo, consolidándose como templo con la llegada de la Orden de Cluny. Here there are two main monuments that were declared heritage of cultural interesting: the Iglesia de San Lorenzo church and also the Iglesia de San Tirso de la Peregrina church, and also the ruins of the Monasterio Real de San Benito monastery; all of them of Mudejar style.
You will leave this village through the Calle de la Herrería street and also the Calle Antonio Nicolás street, and cross the Cea river. In this case, trees will be the perfect shelter in the path that goes parallel to the N-120. A few kilometers after you should pay attention in the forks because you could be mistaken. Continuaremos por una senda elaborada especialmente para los peregrinos durante algo más de treinta kilómetros. Tras una hora aproximadamente de trayecto, encontraremos al margen izquierdo del camino la ermita de Nuestra Señora de Perales. Then you will get to Bercianos del Real Camino that has a spring in its Calle Mayor street. Here you will find all the necessary establishments and also accommodation.
Remember.
Esta etapa no se caracteriza por su elevado kilometraje pero recuerda que Pilgrim puede proporcionarte información referente a rutas alternativas o paradas intermedias. We walk by your side! If you have any doubts about this stage or about other stages, please contact us, we will help you. Have a nice Way, Pilgrim!
What to eat
Typical black pudding, cured meat and chorizo
Game meat
Typical dishes made with legumes and vegetables
Amarguillos (pastries mainly made with almonds, sugar and eggs)
Bear in mind
During this stage you won't find any complications nor dangerous points. For people with reduced mobility this will be an easy and calm stage. For cyclists will be easy too.
What to see
| Towns | Public Hostel | Bike rental | Medical assistance | Coffe bar | Teller | Pharmacy | Hotel | Touristic Information | Guesthouse | Restaurant | Supermarket | Veterinarian |
| --- | --- | --- | --- | --- | --- | --- | --- | --- | --- | --- | --- | --- |
| Terradillo de los Templarios | ✔ | | | ✔ | | | | | ✔ | ✔ | ✔ | |
| Moratinos | ✔ | | | ✔ | | | | | | ✔ | | |
| San Nicolás del Real Camino | ✔ | | | ✔ | | | | | | | | |
| Sahagún | ✔ | ✔ | ✔ | ✔ | ✔ | ✔ | ✔ | ✔ | ✔ | ✔ | ✔ | ✔ |
| Sahagún | ✔ | | | | | | | | ✔ | | | |
Towns
Hostels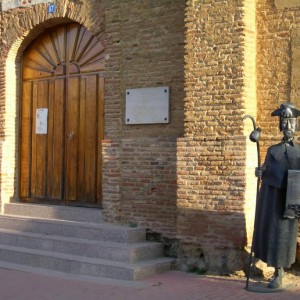 Albergue de Peregrinos Cluny
64 beds
---
Iglesia de la Trinidad
Sahagún (León)
987 781 015 / 662 147 431
Albergue Bercianos
46 beds
---
C/ Santa Rita, 11
Bercianos del Real (León)
987 784 008